Emmitt: Four down, six to go
10/04/06 10:07 PM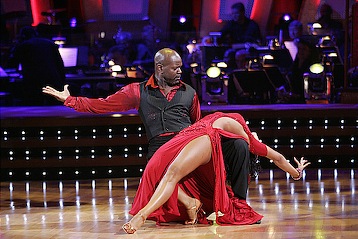 By ED BARK
Emmitt Smith and partner Cheryl Burke cake-walked through another
Dancing with the Stars
elimination round Wednesday night, leaving him game to find the end zone.
"We're all in this crazy world, and I love it. I'm not ready to go," he said shortly before learning he'd live to do either the samba or the rhumba next week. Eat your heart out, Neon Deion.
Given a thumbs up early in the show, Emmitt first had to withstand an interrogation from co-host Samantha Harris.
"Where did you find your inner matador?" she wondered, referring to the previous night's
paso doble
(above in an ABC photo).
"I had to go back to my roots," Emmitt answered as best he could. So he supposedly recalled the heated Dallas Cowboys-Washington Redskins rivalry, "a team that I definitely do not like." That enabled him to "conjure up some of that old negative energy to bring to the dance floor."
And if you believe that...
Punched out were Vivica A. Fox and pro partner Nick Kosovich, which reduces the original field of 11 to seven for next week's festivities. The night also saw a
Dancing with the Stars
no-no from Tony Dovolani, who's partnered with country singer Sara Evans.
"Oh (s-word)," he visibly exclaimed on live TV after learning they'd be back to dance again. ABC censors deftly used a delay button to silence him, but you can bet that Tony got a loud-and-clear lecture after the show.
Emmitt and the others kept their feet out of their mouths. And that's no small feat when you're asked about your "inner matador."