D-FW's onetime "Lizard Man" burns some more bridges
05/29/08 09:05 AM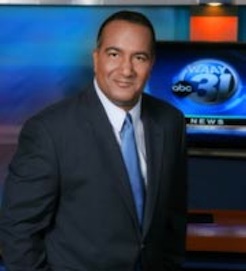 By ED BARK
Former NBC5 weekend anchor Michael Scott, whose youtube moment arrived when a
little lizard jumped on him
during a live broadcast, has been fired by his latest station after reportedly insulting a news producer last week.
According to the subscription service NewsBlues, Scott no longer is employed at WAAY-TV, the ABC affiliate in Huntsville, Alabama. He joined the station in September 2007 after a well-traveled career that had taken him through TV news departments in D-FW, Los Angeles, Denver, Omaha, Kansas City and Charlotte.
Scott's alleged spewing of racial slurs at the producer reportedly punctuated a series of incidents during his brief stay at WAAY. In somewhat happier times, he was anchoring NBC5's
DFW Today
in August 2002 when a gecko sprung onto his suit jacket and prompted a hysterical reaction from Scott.
The clip quickly made its way to the
Tonight Show
and many other venues. Scott retained a sense of humor about it, linking to the "Famous Leapin' Lizard Episode" on his WAAY Web site bio, now inoperative.