NBC News execs turn their backs on Belo8's Byron Harris
01/18/08 10:52 AM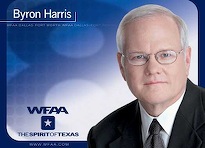 By ED BARK
Belo8 investigator Byron Harris' prize-winning investigation of
Dateline
's "To Catch a Predator" series didn't sit well with NBC News executives at Wednesday's duPont-Columbia awards ceremony in New York.
So they got up and walked out while the veteran gumshoe made his acceptance speech. Led by NBC News president Steve Capus, the Peacock contingent then returned after Harris had finished. NBC News spokeswoman Allison Gollust later told
tvnewser.com
that "our executives' actions speak for themselves."
"I really don't have any big reaction," said Belo8 president and general manager Mike Devlin, who attended the ceremony with Harris and news director Mike Valentine. "I don't know what point it made. They did it, and that's their choice."
Devlin, in a Friday telephone interview with unclebarky.com, said he talked to Harris about the incident and "he just smiled. And that was that."
Harris, who has won multiple national awards during his long career at Belo8, had a
series of reports on Dateline
and its partnership with the Perverted Justice Web site. His stories focused on a November, 2006 "sting" operation in Murphy, TX, which so far has resulted in no convictions of the 24 alleged sexual predators arrested by police.
Harris, who couldn't immediately be reached Friday, earlier responded on this site to questions about whether his ABC affiliated station would have been as aggressive if the program were
Dateline ABC
.
"It wouldn't keep me from trying," he said. "It's not my decision. If someone were to tell me not to do the story, it wouldn't be me . . . I think it's less probable certainly (that he could investigate an ABC program)."
Devlin declined to comment on that aspect.
Informed sources say NBC sent a letter of protest to the duPont-Columbia board after Harris' award was announced.
Dateline
also was among Wednesday's honorees, for a story titled "The Education of Mrs. Groves."
Harris accepted his award without criticizing
Dateline
, Devlin said.
"It wasn't attack mode, it wasn't judgmental," he said. "He said that we all make mistakes, and it was a very classy statement that he made. And NBC missed that."