New Series Review: Help Me Help You (ABC)
09/25/06 06:03 PM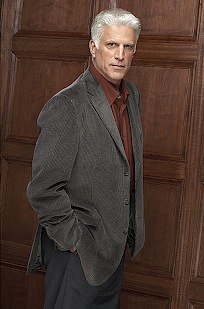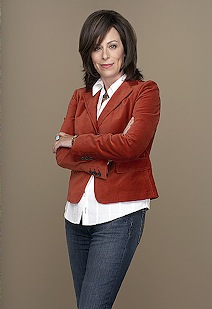 Danson with a star (Jane Kaczmarek) on ABC's Help Me Help You
Premiering:
Tuesday night, 8:30 central, 9:30 eastern, ABC
Starring:
Ted Danson, Jane Kaczmarek, Charlie Finn, Suzy Nakamura, Jim Rash, Darlene Hunt, Jere Burns
Created by:
Jennifer Konner, Alexandra Rushfield (Copyright, ABC photos)
By ED BARK
An old pro learns new tricks. Working without a net (laugh track) for the first time in his broadcast TV career, Ted Danson seems almost as liberated as a certain new Web site that's been crying uncle (barky.com) for just over a week now.
He's upped this ante by also shucking his toupees and hair dyes in the new, promising ABC comedy
Help Me Help You
. Danson learned from his recurring appearances on HBO's
Curb Your Enthusiasm
that it's more fun to go
au naturel
in his autumn years. The first episode's funniest scene has him swinging away at what proves to be an indestructible car. A single-camera show operating outside traditional studio confines gives Danson lots more room to get physical. So he's also free to end Tuesday's premiere by driving with carefree abandon while belting out "You Can Call Me Al." Danson in the streets. What a concept. But it says "Mid-life crisis" in the on-screen print.
Danson's character, unconventional psychotherapist Bill Hoffman, indeed is in need of his own emotional rescue. Recently separated from his longtime wife, Ann (the always fine Jane Kaczmarek), Bill can't quite handle her new relationship with Kenny the car dealer. Nor is he enthused about daughter Sasha (Lindsay Sloane) dating a milquetoast psychology professor who's twice her age. She met him in his Advanced Freudian Dynamics class.
Bill otherwise administers to a collection of amusingly loopy out-patients. Jonathan (Jim Rash) carries a "Doesn't Know He's Gay" tag, and in fact made a gay reference to CNN's Anderson Cooper in the initial version of the pilot sent to TV critics. That riff since has been cut for time considerations, the producers keep saying with a straight face.
Inger (Suzy Nakamura) is a self-made millionaire whose "Total Lack of Social Skills" have rendered her dateless for six years. She's a hoot to watch opposite a speechless sad sack who at least looks game to jump in the sack with her.
Darlene (Darlene Hunt) has a too numerous to mention assortment of phobias. She has a crush on Dr. Bill, but is more or less dating trigger-tempered Michael (Jere Burns). In a lighter moment, he tells her, "My mother was a castrating, drunken freak show from hell."
Add semi-suicidal Dave (Charlie Finn), newest member of the group. Convinced that he can't ever get what he wants, he jumps out of an office window, only to land on his belittling boss's back.
Danson seems to be enjoying himself in this attempt to have a third longrunning comedy series.
Cheers
and
Becker
already have assured him of longterm financial security. But he's still got a lot to offer in
Help Me Help You
, a sometimes daring little comedy with an ensemble cast that looks like it'll keep him sharp.
Prospects:
Help Me Help You
gets a big boost on Tuesday night from the preceding 90-minute
Dancing with the Stars
. In future weeks, Danson's high-profile and overall likeability should make this a solid shot to last at least a full season.
Grade:
B