New Series Review: Ugly Betty (ABC)
09/28/06 06:57 AM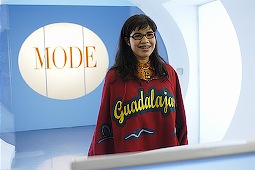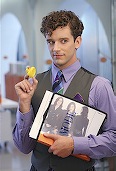 Premiering: Thursday night, 7 central, 8 eastern, ABC
Starring:
America Ferrera, Eric Mabius, Ana Ortiz, Becki Newton, Tony Plana, Ashley Jensen, Vanessa Williams, Michael Urie, Kevin Sussman
Produced by:
Salma Hayek, Silvio Horta, Ben Silverman
By ED BARK
Tell a friend about this Americanized version of the hit telenovela
Yo Soy Betty La Fea
.
Unlike the new MyNetworkTV's
Fashion House
and
Desire
, ABC's
Ugly Betty
isn't lost in translation. Amusingly over the top, it filets the oft-haughty fashion world while making one cheer for the character caught in it all. She's Betty Suarez (America Ferrera), whose passion is fashion but who's hardly a fashionista. Bespectacled, pudgy and smiling through heavy-duty braces, she's initially a guppie in a tank of piranhas. Viewers in turn get a watchable feast, an hour-long comedy with a melt-in-your-mouth center. Sometimes the social messages are a bit too overt, particularly in a second episode sent for preview. All in all, though,
Ugly Betty
is pretty irresistible.
The title character is hired as personal assistant to new
Mode
magazine editor Daniel Meade (Eric Mabius). His mogul father, Bradford (Alan Dale), figures that Daniel's playboy ways will be curbed at least slightly by the close proximity of an eyesore. Betty also is seen as such by the magazine's assortment of scheming staffers and vacuous models. In the second episode, they even steal and torment the little stuffed bunny she's brought to decorate her desk. It seems that
Mode's
only down-to-earthers are the seamstresses, led by kindly Britisher Christina (Ashley Jensen).
Betty shows up for her first day of work in a loud, snicker-provoking "Guadalajara" poncho. Politically correct it's not. But lead executive producers Salma Hayek and Silvio Horta are willing to poke a little fun at the Hispanic culture, too. Hayek herself has a cameo as a saucy, sex-crazed maid in a telenovela that's a favorite of Betty's widower dad, Ignacio (Tony Plano). But she's replaced by another actress in
Betty's
second episode.
The series' principal dragon lady is Wilhelmina Slater (Vanessa Williams), who's incensed at being passed over for
Mode's
top job. Her toadying assistant, Marc (Dallas native Michael Urie, pictured above), is both pretty in pink and fun to watch. They need to give him more to do.
Thursday's premiere puts Betty through various humiliations in hopes of making her quit. She finally does just that after being ordered to participate in a fashion shoot for which she's woefully ill-suited. But this also is the break-point for callow Daniel, whose dormant conscience finally kicks in. They'll now be allies, although hardly equal partners, with Wilhelmina hatching one devious plot after another. She appears destined to be the Wile E. Coyote of the series, but at least an anvil hasn't fallen on her head yet.
Ferrera is terrifically appealing as Betty. Her brassy big sister, Hilda (Anna Ortiz), and supportive nephew Justin (Mark Indelicato) add extra spice to her utilitarian home life, where getting dad's meds at a reasonable cost is of prime real world importance.
For the first episode's big finish, look for guest star Gina Gershon camping it up as a cosmetics empress named Fabia. She has a delicious way of saying, "Just make sure it's not too sappy."
That's
Ugly Betty's
task as well. Will the show show settle into a nice groove without getting too preachy? And can the plots, counterplots and unsolved mysteries steer clear of complete absurdity?
If so, that'll be the lasting beauty of
Ugly Betty
.
Prospects:
They're pretty good, with a likely big tune-in for the first episode. Over the course of the season, a solid second-place finish to
Survivor
is all ABC is counting on.
Grade:
B-plus