New Series Review: Studio 60 (NBC)
09/16/06 03:27 PM
Premiering:
Monday, Sept. 18 at 9 p.m. central, 10 p.m. eastern, NBC
Starring:
Matthew Perry, Bradley Whitford, Amanda Peet, D.L. Hughley, Steven Weber, Sarah Paulson, Timothy Busfield
Created by:
Aaron Sorkin
By ED BARK
Inside baseball can be tricky, although us critic types always love it when the brush-back pitches are aimed at the TV industry.
Aaron Sorkin's fireballing
Studio 60 on the Sunset Strip
instead beans latenight television and sends it sprawling. The creator of
The West Wing
is back in bloom with the new season's best reason to jump up and shout, "I'm happy as hell, and I'm not gonna miss a minute of this!"
Monday's premiere begins with a full-blown screed from burned-out producer Wes Mandell (guest star Judd Hirsch), who's inflamed that a "Crazy Christians" sketch has been shot down at the last minute by an NBS network censor. It's a tirade worthy of a rooftop shout, even if it is a bit over-the-top. Butting into a live opening sketch, Mandell pounds away at real-life NBC meal-tickets such as Donald Trump and
Fear Factor
. And he's clearly referencing Fox News Channel when he shouts, "Guys are getting killed in a war that has theme music and a logo!"
Meanwhile, Mandell's own show, also titled
Studio 60 on the Sunset Strip
"has gotten lobotomized by a candy-assed broadcast network!" Or to put it even more succinctly, NBS has been "scared gutless" by the FCC and "every religious cult that gets positively horny at the mention of a boycott."
So yes, Wes Mandell gets fired. And new NBS entertainment president Jordan McDeere (Amanda Peet) immediately is determined to hire
Studio 60's
previously banished show-runners, writer Matt Albie (Matthew Perry) and director Danny Tripp (Bradley Whitford).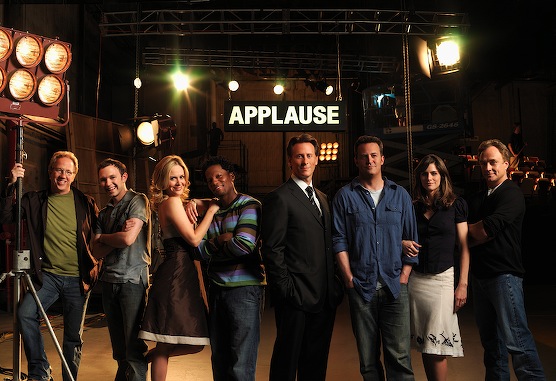 The cast of Studio 60 is ready to rock and sock latenight television.
NBC photo
Sorkin, whose own right-hand man is director Thomas Schlamme, has written a bravura opening act replete with his usual panoramic camera movements and crackle-pop dialogue. NBC, carrier of
Studio 60
professes to be unafraid, although perhaps it should be. In a second episode sent for preview, an opening satirical musical number plays better than most of last season's startups on the network's
Saturday Night Live
. And unfavorable comparisons might become epidemic what with all the ongoing cost-cutting at
SNL
.
Studio 60
also stars D. L. Hughley as a sketch player destined to become the fake news anchor, and Sarah Paulson cutting against the grain as born-again Christian Harriet Hayes, whose star power has been carrying the show. Underrated Steven Weber is suitably semi-demonic as NBS president Jack Rudolph.
Hayes also is Matt Albie's ex-girlfriend. They busted up after, in his words, "You put on a dress and you sang for a bigot" by appearing on
The 700 Club
to promote a new CD.
The fireworks between Albie and Hayes so far are the weakest part of
Studio 60
. But they're more than offset by three-way dynamics of Albie, Tripp and McDeere. Monday's signature exchange is between the latter two. Says he: "I have no reason to trust you and every reason not to."
"Why?" she wonders.
"You work in television."
Here's a television series that works on many levels, even if NBC's on-air promotions so far are doing it a disservice. They should be accenting the Paddy Chayefsky-ian
Network
aspects of the series. Instead they're focused on a broad, Matt Perry-driven comedic scene from next week's episode. It's similar to the misleading campaign for the dark feature film
North Dallas Forty
, which was promoted as a comedy. Wise up, NBC. Accept
Studio
for what it is, and celebrate it.
Epilogue:
The premiere episode finds Albie commenting on the abysmal quality of NBS by denigrating an old NBC hood ornament,
My Mother the Car
. Point of reference. Former esteemed NBC chairman Grant Tinker, who presided over the network's classy renaissance in the early-to-mid- 1980s, helped to develop the shortlived 1965 series about a talking 1928 Porter. During an interview in Dallas with Uncle Barky, he defended the series with a straight face, saying it had been unfairly lampooned as a low-point in TV comedy. Hmm, in deference to Tinker, maybe
Studio 60
should have twitted NBC's
Supertrain
or
The Misadventures of Sheriff Lobo
instead. There are so many options.
Prospects:
Time slot competitor
CSI: Miami
on CBS is strong but hardly invincible. And
Studio 60
should have no trouble at all dusting off ABC's weak-kneed
What About Brian
, which likely will be a goner before November.
Grade:
A