Milking the Serial Craze: 2 New Bowls
09/20/06 08:20 AM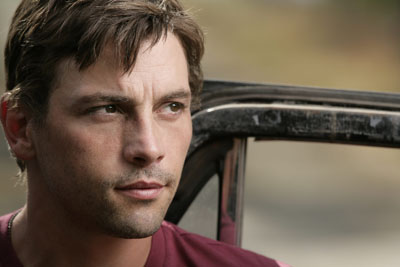 Skeet Ulrich is concerned, very concerned
By ED BARK
Some serials are rich and multi-grained.
Lost
and
24
, for instance. Others are served cold and dry. You know where we're going here.
Wednesday night's two newbies, CBS'
Jericho
and NBC's
Kidnapped
, aren't likely to stand the test of time, or your time.
Jericho
(premiering Sept. 20 at 7 central, 8 eastern) is especially flat, unless you still believe the earth is flat. Preposterous premise: a giant mushroom cloud rises in the distance, prompting Jericho, Kansas mayor Johnston Green (Gerald McRaney) to observe, "One explosion does not make an attack."
Well, you sure wouldn't know that from the over-caffeinated sound track. What's the mayor been dabbling in -- mushroom caps?
Prodigal son Jake Green (Skeet Ulrich) gets a more visceral reaction from the mayor, who's also his ball-busting dad. Returning home after a long absence, he takes some prototypical guff from the old man while Mama Gail (Pamela Reed) tries to mediate. Jake, of course, is destined to be a hero after that harmless mushroom cloud plunges Jericho into what CBS press materials describe as "social, psychological and physical mayhem."
Coming to the aid of a busload of terrified kids, Jake performs a tracheotomy with a juice drink straw while also bonding with comely Heather Lisinski (Sprague Grayden). Back in town, the townies are starting to go nuts, wondering if they might be all alone in this great big beanbag of a world. The mayor eventually gets around to giving a hoaky, buck-'em-up speech that General George S. Patton would throw back in the pond. His kicker: "And folks, don't you break my heart again."
Next week: The fallout shelter's in serious disrepair as radiation from the mysterious nuclear blast in Denver makes its way toward Jericho. What will they do? What
will
they do? Hey, maybe there's a previously undiscovered hatch somewhere.
Prospects:
CBS yearns for a long-running leadoff hitter on Wednesday nights, where the network's ratings problems have endured for more than a quarter-century. But few are likely to have a blast with this one.
Grade:
D
NBC has a better chance with
Kidnapped
, which plays a bit better than Fox's similarly themed
Vanished
. Premiering Sept. 20 at 9 central, 10 eastern, this string-along stars Timothy Hutton as super-rich New Yorker Conrad Cain. Able to summon life's big and little pleasures with a finger-snap, he's jolted by the sudden severe inconvenience of his 15-year-old son's disappearance. Cain and his creature-comforted wife Ellie (Dana Delany) quickly turn to a cryptic, lone wolf investigator named Knapp (Jeremy Sisto), who looks drained and in need of a nap after we see him rescuing a kidnapped girl.
"All I care about is retrieval," he says. "Everything else is abstractual."
Sisto, who's played both Jesus on CBS and unhinged Billy Chenowith on
Six Feet Under
, may not have the stature to play a man of action. Hutton looks a bit washed-out, too. But the kidnapped kid, 15-year-old Leopold Cain (Will Denton), is appealing. And one can never go wrong watching Delroy Lindo play anything. This time he's FBI agent Latimer King, who perhaps in time will take over this series. By then, though, it might be too late.
Kidnapped
is watchable, but not must-see TV. Catching it on a weekly basis looks like too much trouble.
Prospects:
It has no shot at outdrawing CBS'
CSI: Crime Scene Investigation
, but might have a ghost of a chance opposite ABC's new
The Nine
, another serial opus that won't premiere until Oct. 4.
Grade:
C-plus