New Series Review: The Nine (ABC)
10/04/06 07:50 AM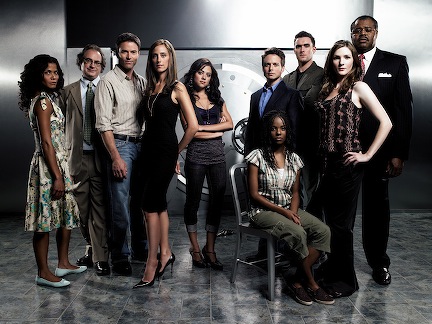 It's The Nine, but ABC pictures 10. Can you spot the bank robber?
Premiering:
Wednesday night (Oct. 4), 9 central, 10 eastern, ABC
Starring:
Tim Daly, Kim Raver, Chi McBride, Scott Wolf, Lourdes Benedicto, John Billingsley, Jessica Collins, Dana Davis, Camille Guaty, Owain Yeoman
Produced by:
Hank Steinberg, K.J. Steinberg, Alex Graves
By ED BARK
ABC's
The Nine
is teeming with familiar TV faces playing scarred hostages in a gone-bad bank robbery that's supposed to keep drawing interest.
Look, there's Tim Daly from
Wings
and an array of subsequent shortlived series. This time he's a cop with a gambling problem.
Chi McBride (
Boston Public
), is back in the game, too, as a sturdy but now shaken bank manager.
Scott Wolf from
Party of Five
doesn't look a day older since those days. He still seems too young to be playing a "hotshot surgeon."
And Kim Raver is fresh from smooching agent Jack Bauer in the closing minutes of last season's
24
. Now she's already dumped him to play a hard-driving assistant DA.
Their characters and six others are thrown together when crooks hit Los Angeles's Fidelity National Bank. What happened to them during a 52-hour ordeal will be doled out piecemeal from week to week. That's the "mythology." Otherwise the series will follow their newly interwined lives together, with some handling the aftermath much better than others. They've also been traumatized by the death of one of the hostages from gunshot wounds. In this case, you'll know who that is about halfway through Wednesday's premiere.
The brother-and-sister writing team of Hank and K. J. Steinberg has done a deft job of setting the stage and planting seeds. They've also managed to sell ABC censors on a rather daring slice of double entendre dialogue. It's put into play after the high-strung mother of attorney Kathryn Hale (Raver) is convinced that someone has stolen her valued cameo pin from a bank deposit box.
"I am telling you, somebody has been inside my box," she rails at bank manager Malcolm Jones (McBride).
But he assures her that "no one has been inside your box," prompting a stifled giggle from the daughter.
There's otherwise little levity. What happened inside the bank reverberates through the first episode. Some, such as formerly suicidal sad sack Egan Foote (John Billingsley), behaved heroically at crunch time. But how will he handle his fleeting fame?
Others apparently were less gallant. Dr. Jeremy Kates (Wolf) is getting a sudden cold shoulder from girlfriend Lizzie Miller (Jessica Collins), who's also hiding an important development from him.
"It was a moment. Does it have to mean everything?" he pleads.
Detective Nick Cavanaugh (Daly) also has post-hostage issues. First he slugs a negotiator whom he blames for bungling things. Then he gets a promotion in return for keeping his mouth shut.
Word of mouth will have to keep selling
The Nine
, although it likely will get a big opening night tune-in following
Lost's
much-anticipated third season premiere. ABC's
Invasion
initially reaped the same benefit last fall before many early viewers found it too obtuse.
Less surreal and better-grounded,
The Nine
looks like a better bet for longevity. Still, what will the show do for an encore once the bank robbery puzzle is put together? You presumably can't immerse these same people in another crisis situation at the outset of Season 2. And ABC already has a bunch of people stranded on a mysterious island, so there goes that option.
For now, the writers will have to walk a precarious tightrope between telling too much -- or too little. That's what ABC is banking on.
Prospects:
NBC's competing
Kidnapped
already is all but dead, giving
The Nine
a prime chance to place a solid second to CBS' still formidable
CSI: NY
.
Grade:
B+