Late bloomers: Suzanne Pleshette, Tom Poston married late, met their fates
22/01/08 13:25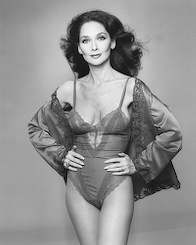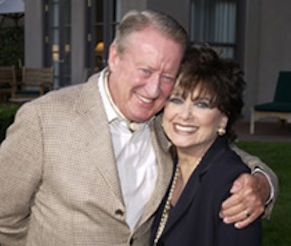 Note to readers: Suzanne Pleshette, who died on Jan. 17th at age 70, married fellow TV evergreen Tom Poston in May 2001. In the 45 years before that, she didn't like him very much. Poston died on April 30th of last year, but the two were very much alive and in love during an NBC lawn party in summer, 2002. This article first was published on July 26th of that year.
By ED BARK
PASADENA, Calif. -- Their first-blush romance went sour 45 years ago. Now that they're full-fledged TV icons, Suzanne Pleshette and Tom Poston finally are married, too.
The couple's true Hollywood story could be glimpsed firsthand the other night during their brief appearance at an NBC lawn party. Pleshette, enshrined as Emily Hartley on
The Bob Newhart Show
, is back in business as a bawdy grandma on the NBC sitcom
Good Morning, Miami
.
"I don't want to work too hard," she said. " 'Cause I want to go home to Daddy."
That would be Poston, whose TV career goes back 52 years to
Tom Corbett: Space Cadet
. He then graduated to featured comic roles on
The Steve Allen Show
before spending eight seasons as dense caretaker George Utley on Newhart's second long-running hit,
Newhart
. It ended memorably with Newhart's character, Dick Loudon, waking up next to Pleshette's Emily. Surprise --
Newhart
was all just a weird dream about running an inn in Vermont.
On
Good Morning, Miami
, "I'm hoping that I get to wake up in bed with Tom instead of Bob Newhart," Pleshette said.
"We'll work it in there somehow," Poston said.
"We'll have to rehearse a lot first, honey," said she.
Pleshette, 65, then finished off an ear of corn while Poston, 80, tried to master a jumbo hot dog. They first met in the late 1950s while co-starring on Broadway in
The Golden Fleece
.
"We were a big romance then," she said.
It didn't take. So much so that Pleshette didn't at all like the idea of Poston occasionally guest-starring as Bob Hartley's college roommate on the first Newhart series.
"I didn't like him," she said. "I kept telling Bob, 'Get rid of him.' "
They later became friends again. Then their romance became a rerun after both of their spouses died in recent years.
"We commiserated with each other and we ended up being married and I'm as happy as I've ever been in my life," Poston said.
They said "I do" on May 11 of last year. The throaty Pleshette, whose first big break was opposite Jerry Lewis in the 1958 feature film
The Geisha Boy
, lately has grown accustomed to making pointed jokes about her once supple posterior. In short, she'd like to see it digitized.
"I used to get every job I ever got walking out of the office," she said. "It was my best feature. But gravity does take its toll. I don't want you seeing it down around my ankles now."
Although Emily Hartley is her signature role, Pleshette also made strong impressions in Alfred Hitchcock's
The Birds
and in the title role of TV's
Leona Helmsley: The Queen of Mean
.
"And then there are those porno films that Tom and I have been doing," she cracked.
"I had to give that up. I got makeup poisoning," Poston rejoined.
With that, Pleshette declared, "OK, we're going home. We have to feed the dogs."
And so they went, with her husband still working on his hot dog. Ah, true love.