Boy, that Bart's really a mother
18/03/07 23:46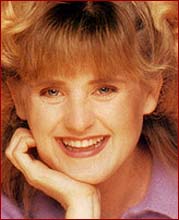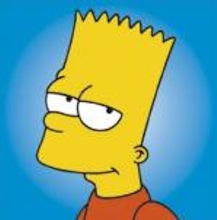 Nancy Cartwright knows Bart Simpson better than any man alive.
Note to readers: this story first appeared on July 12, 1990.
The Simpsons
was still in its infancy and few knew the secrets behind Bart's mouthpiece.
By ED BARK
LOS ANGELES -- The voice of TV superboy Bart Simpson:
A. Is a short, giggly, 32-year-old woman.
B. Is the mother of a 7-month-old daughter named Lucy Mae.
C. Has been under wraps until now.
Check all three and you have Nancy Cartwright, who finally let it all out at a party Tuesday for the stars of Fox Broadcasting's new and notable series.
"I'm telling you, I am in heaven," she says. "This is like the most ideal job. I'm in the most enviable position of any actor in this town. I've got a great husband, I've got a wonderful little 7-month-old baby, and I'm Bart Simpson! I mean, who ask for anything more?"
The Simpsons
, an instant hit as a midseason replacement series, will be moved from Sundays to Thursdays opposite NBC's
The Cosby Show
this season. It's the most talked about ratings-faceoff since
Dallas
slew
Miami Vice
in the 1986-87 season. Lucy Mae, slumbering in a stroller, is seemingly oblivious to all of this. But she's clutching a small, stuffed Bart doll sent from Indiana by her grandmother.
"It replaced the Raggedy Ann doll," Cartwright says.
The baby was born Dec. 18, the day after Fox aired the first half-hour
Simpsons
episode, "Simpsons Roasting on An Open Fire." The voices behind the characters had partied on premiere night at Barney's Bowl-a-Rama in Hollywood.
"I'm dressed up in this white satin outfit with a big red sash, like a bowling pin, doing the shimmy out on the bowling lane," Cartwright recalls. "She was born the next night."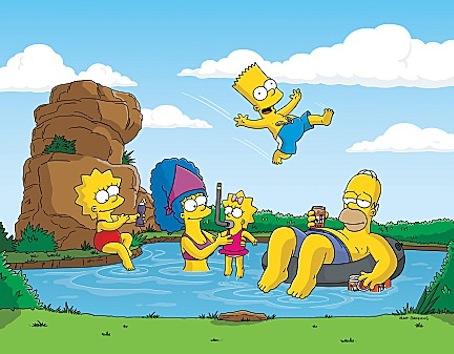 Cartwright had been muzzled by Fox executives, who still aren't keen on spreading the word that brat Bart is voice by a woman whose first cartoon character was Gloria the girlfriend on
Richie Rich
. Her arrival at the Fox party, with husband Warren pushing the stroller, went unannounced and unnoticed by most.
Wearing a bright red, decidedly unglamorous pantsuit, Cartwright looked more like a dream vacation winner from Carbondale, Ill. Initially wary of being interviewed, she proved to be talkative, engaging and as down-to-earth as a typical Jimmy Stewart film.
"I get a particular goose out of it, because it brings people joy," she says of doing Bart.
Cartwright, originally from Dayton, Ohio, began experimenting with voices during high school speech team competitions. Before Bart, she played cartoon characters on
Pound Puppies, Snorks, Galaxy High
and
My Little Pony
. She also has acted on-camera in a
Cheers
episode and
Twilight Zone: The Movie
. Bart is her first cartoon boy.
"People ask me if it hurts my throat -- and it doesn't," she says. "It was just a minor adjustment. I kind of said, 'Well, let' see, who's Bart and what does he sound like'?"
Cartwright originally was asked to audition for the role of Bart's sister, Lisa. "I can do that," she remembers telling the casting director. "But ya know what? I like the kid. I wanna do the boy. That's how I got it."
She also voices 10-year-old Bart's bully-boy nemesis, Nelson Muntz.
The Simpsons
originated in April 1987 as snippets bridging the skits on Fox's
The Tracey Ullman Show
. Bart was brattier then, Cartwright says. "He started out more violent and harsh. He's gotten more vulnerable. He's not as angry as he was before."
She considers Bart a part of her now. Lose her voice and you lose his essence.
"Nobody can give any of the characters the life that we have given them," she says. "There's only one Nancy Cartwright that can do that. They might find someone that can do a different kind of Bart. But it will never be what I give Bart. It's the same in any walk of life, because we're all individuals."
The crew has voiced 12 of next season's 26
Simpsons
episodes. Animation is then done in Tokyo. Because of the time required, the first new
Simpsons
episode probably won't air until at least mid-October.
Meanwhile, Cartwright says she tries to keep Bart's voice out of her daily life. But man, that sure sounded a lot like Bart talking to Lucy Mae.
"He's like inside me," Cartwright says. "So it's bound to come out in one way or another. Sometimes it's like I don't have any control over it."