Mr. Letterman's Neighborhood
07/05/15 13:23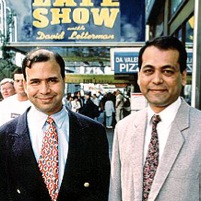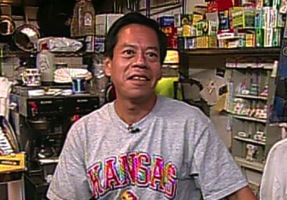 Part of the early Late Show scenery: Mujibur & Sirajul; Rupert Jee.
Note to readers: The early years of CBS'
Late Show with David Letterman
were marked by frequent remotes that took viewers to various venues in the vicinity of the Ed Sullivan Theater. Mujibur and Sirajul's Rock America store and Rupert Jee's Hello Deli were frequent founts of comedy gold. But there were other regulars, too. I visited them all during the show's first year. Damn, that was fun. (This article was first published on June 13, 1994.)
By ED BARK
@unclebarkycom on Twitter
NEW YORK -- Behold the official Letterman Hoagie, available only at the hole-in-the-wall Hello Deli. Its ingredients are listed on a plastic plate displayed next to a head shot of the man himself: turkey, ham, cheese, lettuce, tomatoe (sic) sweet peppers, oil and vinegar. Proprietor Rupert Jee has just fixed one for Michelle Riley, a Baylor University student and member of the touring THEE Power & Light singing group.
Michelle and three friends from the group are patronizing the Hello Deli solely because it has become a bread-and-butter attraction on CBS'
Late Show with David Letterman
. They can't leave without having their picture taken with the famous Rupert.
"Yeah, why not?" he says, agreeably sandwiching himself into a group shot.
Although it's drizzly and muggy, this is yet another beautiful day in Mr. Letterman's one-block Broadway neighborhood, where cash registers ring whatever the weather. Most business near the Ed Sullivan Theater have become part of the act since Letterman began taping his show here last August. Hello Deli, K&L's Rock America, the Longacre Copy Center, Academy Clothes, Flash Dancers -- they're all bit players in Letterman's ad hoc repertory company.
All of this seemed scary at first, at least to the show's producers. For 11 years at NBC, Letterman's
Late Night
neighborhood was 30 Rockefeller Plaza, where the fellow tenants were the stars of
Today, Donahue
, the
NBC Nightly News
and
Saturday Night Live
.
"When we moved here, we at first felt isolated and we were quite concerned about it," says co-executive producer Robert Morton. "What was the show going to be like without having Dave go out and harass the anchorpeople across the hall or steal a guest from the
Donahue
show?"
Late Night
also would be without famed commoner Meg Parsont, the Simon & Schuster Pocketbooks publicist who worked out of an adjacent high-rise office building. Meg did Dave's bidding on more than a dozen of the old shows.
"We were worried when we lost Meg," says co-executive producer Peter Lassally. "What were we going to do? Now we don't even think about Meg anymore. Poor Meg. She had her 15 minutes of fame."
Late Show's
new star attractions -- souvenir shop workers Mujibur Rahman and Sirajul Islam -- recently began selling T-shirts emblazoned with their pictures and the K&L Rock America logo. They also have been featured in
People
magazine and have had to join an actors union because of their frequent appearances on
Late Show
. Each earns between $500 and $1,000 per "guest shot."
"It just evolved naturally here," Morton says. "The guy next door at the sandwich shop (Rupert) was quite a character, and then we just hit gold with Mujibur and Sirajul. They were terrific, and the audience just warmed to them instantly. We've been very lucky. The neighbors have been very nice to us, and I think we've been pretty good to them."
(Very, very good to Mujibur and Sirajul, who on Monday will launch their series of summertime Coast to Coast reports from America's "most famous sites, historical landmarks and natural treasures." The first stop is Niagra Falls.)
On a recent Sunday afternoon, Sirajul is selling
Late Show
T-shirts at $19 a pop while a fellow employee, unheralded, stamps price tags on miniature Statues of Liberty. "They give limousine, they give hotel. Everything," Sirajul says of the pair's recent
Late Show
excursion to Los Angeles, where they received a standing ovation when Letterman brought them onstage.
Tourists eagerly snap up T-shirts -- the Mujibur-Sirajul edition is the cheapest buy at $16 -- and share the excitement of posing with the Bangladesh-born celebrities. "Next," says Sirajul, smiling broadly.
"Basically, before David Letterman, this neighborhood was almost like a jungle," says Mujibur, who has worked at Rock America for three years. "We had a lot of problems. People tried to rob. Muggings. After he moved here, the neighborhood got clean. No more hassling. No more problems here. It is very peaceful and quiet. A lot of decent people come from around the country."
Rock America is owned by a longtime friend of Mujibur's. He doesn't begrudge her the store's sudden profits.
"She treats me well. I don't mind working for her," he says. "It's too much pressure to have your own business."
The storefronts of Rock America and other nearby businesses are testaments to Letterman's most-favored-neighbor status.
The "Top Ten Reasons to Shop at Academy Clothes" include, "Our jackets are well hung" and "Dave window-shops here."
At the Longacre Copy Center, 15 identical pictures of Letterman's Xeroxed face are labeled, "The More Daves the Merrier."
Santino Photo Electronics' "Famous Wall" includes pictures of Letterman, band leader Paul Shaffer, Sylvester Stallone, Billy Crystal, Michael Jackson and John Forsythe. All are tastefully displayed above a "New York MAFIA" license plate.
"In the beginning we didn't like him," Santino employee Joe Russo says of Letterman. "We thought it was gonna hurt the business and everything. He wasn't doin' much for us. But it turned out OK. We got no complaints against him. He comes down here and does gigs and stuff. He's fun to work with, yeah."
Elliot Chapnick, owner of the Longacre Copy Center, has watched his wife, Fern ("The Copy Lady") become one of
Late Show
's supporting cast. She's at home this day, but her husband has become practiced in telling how it all began.
"Dave wasn't actually in the store, but he was talking through the camera. He asked, 'Who's in charge here?' and I pointed to my wife. Since then I haven't been on the show. My wife really enjoys this stuff, but I get nervous and upset when I have to appear on camera. The reason I tolerate this and do it at all is because my wife gets a kick out of being on TV. It really hasn't done anything at all for our business. But the area is more active, and they certainly take care of the streets a lot better now. In the winter I don't have to shovel the sidewalk anymore. Dave's guys do it for me."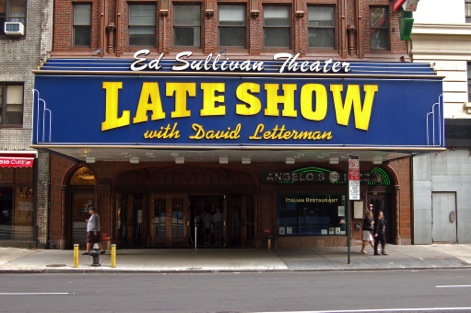 Across the street at the Flash Dancers strip joint, uniformed doorman John Stancil was first targeted when Letterman had a pizza delivered to him. He since has been given a manicure while on the job and has played himself in a taped "Strongman, Fatman, Genius" sketch. At age 38, Stancil still has ambitions of becoming an actor or songwriter. But first things first.
"My next kind of little goal is to do either
People
magazine or
Playboy
or something like that," he says.
Stancil says he has written a letter to
Late Show
suggesting "stuff I think would be cool to work with me on."
"It would be nice if I could be used away from the club in a (Larry "Bud") Melman-ish type of way. That would probably give me a new career, ya know? That's my dream, because to be just a doorman at a topless bar the rest of my life isn't what I aspire to."
Stancil's dream is quickly dashed by
Late Show's
Morton.
"That's the biggest danger," he says. "When you hear that, that kind of queers the deal. It's very nice when there are two guys who are very happy just working at the T-shirt shop and don't pretend to be anything else."
Lassally laughs at a strange set of circumstances in which people with low-paying or dead-end jobs suddenly are faced with "career decisions" about whether to quit or continue being
Late Show
regulars. Mujibur, for instance, had thoughts of returning to school and becoming a lawyer. Such plans are on hold, he says because "people like us. People want to wave the hand. And Dave is always nice to us. The whole thing is very exciting."
Morton says the
Late Show
neighborhood has "limitless" comedic possibilities. "Anything can happen in New York City. There's always something going on outside these doors."
Some doors have been broken down. Being on
Late Show
in particular and television in general isn't the intimidating big deal it used to be, Morton says. Witness the college student whom Letterman recently summoned off the street to co-host the show with him. She not only survived, but came off as a personable, seasoned pro. The latest word is that MTV wants to make a VJ of her.
"This is a generation that is used to performing before the video camera," Morton says. "My nephew watches the show, and he looks at Letterman as if he's just another one of his friends. It's the same feeling he gets when he watches his birthday party video. Young people just have that camera savvy that our generation didn't have."
Indeed, 37-year-old Rupert Jee of the Hello Deli has "kind of lost count" of how many times he's done
Late Show
. He has gracefully become an unassuming Somebody making Letterman hoagies and other sandwiches named after the show's personalities. Interviews with reporters, autographs and picture-posing have become the new side orders of his profession.
"I wouldn't say it's disruptive," Rupert says. "Dave has done a lot for this neighborhood. And the least we can do is reciprocate."
Email comments or questions to:
unclebarky@verizon.net