Vegging out: NBC nixes sexually suggestive PETA Super Bowl ad
01/30/09 13:37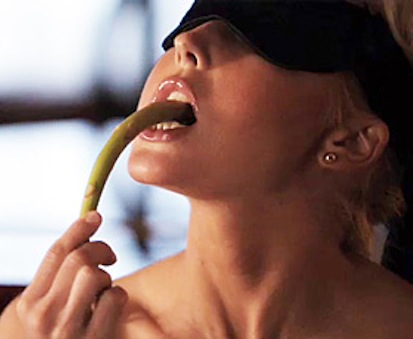 Veg-o-matic: Still pic of banned SB XLIII ad from PETA's Web site
By ED BARK
OK, I can kinda see why NBC rejected this now widely seen
PETA
ad for its Super Bowl XLIII festivities.
Still, vegetables never had it quite so good.
Basically, the 30-second spot depicts several scantily clad models pleasuring themselves with pumpkins, broccoli, eggplant and asparagus. The tagline: "Studies show vegetarians have better sex."
PETA is having a fine time chiding NBC over this, including the
publicizing of a letter sent to the organization
by the Peacock's vice president of advertising standards.
"The PETA spot submitted to Advertising Standards depicts a level of sexuality exceeding our standards," says NBC, which last spring presented a
30 Rock
episode built around a fake reality series titled
MILF Island
.
NBC's letter to PETA mandated eight editing changes. Some of the more printable ones are "rubbing pelvic region with pumpkin" and "touching her breast with her hand while eating broccoli."
PETA responds, "Wow, that list even made us blush!"
The infamous and by now exceedingly tiresome controversy over Janet Jackson's Super Bowl XXXVIII "wardrobe malfunction" continues to make all broadcast networks a bit gun shy. But at last glance, several youtube postings of the PETA ad have generated more than 400,000 views.
Here's the "offending" 30-second spot. Meanwhile, please pass the peas.