Multi-honored WFAA-TV investigator Byron Harris talks about exhaling after 40-plus years of pushing hard
08/24/15 09:37 AM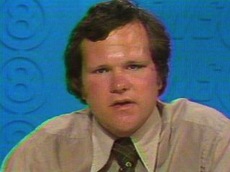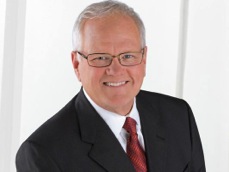 Then and now: award-laden investigative reporter Byron Harris
By ED BARK
@unclebarkycom on Twitter
Byron Harris, dean of D-FW television's investigative reporters, initially will be separating himself from WFAA-TV (TEGNA8) in a big way after retiring on Oct. 9th.
Although his right foot is in a cast from a recent mishap, "I'm gonna go flying-fishing in Slovenia with my wife (Linda), who's my fishing buddy," Harris said in a telephone interview Monday morning with unclebarky.com. "We enjoy going to weird places."
Harris, who celebrated his 40th year at the Dallas-based station on Oct. 20th of last year, has chosen to exit TV journalism on his 69th birthday. TEGNA8 officially announced his retirement on Friday, with president and general manager Mike Devlin saying in a statement, "Byron's body of work is so extensive that it is nearly impossible to adequately portray the impact and changes his reporting has produced."
His trophy case alone could buckle the knees of a circus strongman. Since coming to Dallas in 1974, Harris' investigations have won him two George Foster Peabody awards, four Edward R. Murrow awards, four Gerald Loeb awards and six duPont-Columbia awards. These are the most prestigious national honors in the television news business.
Harris was hired by late, legendary news director Marty Haag, in
whose name WFAA dedicated its newsroom
on Nov. 11, 2013 just before the Gannett Company officially took control of the station from Belo Corp., its longtime Dallas-based owner. (Gannett recently spun off its TV holdings into a separate company, TEGNA, Inc.).
Harris, reporter Doug Fox and anchor-reporter Tracy Rowlett all were hired in rapid succession from Oklahoma City's KWTV-TV, where they had resigned in protest of the station's handling of an expose on local car dealers. They were dubbed the "Oklahoma Mafia," but Harris said he doesn't remember how that came to be. "In fact, I don't think it was coined inside the station. I think it was someplace else."
He began his career as a film editor at Milwaukee's WTMJ-TV before hitting the streets as a photographer for an Amarillo TV station. There were no live shots back then and "most of the film we shot was silent," Harris said. "When you went out with a sound rig, it weighed about 50 pounds. You had all this stuff hanging off you . . . Now you can shoot a story with your phone."
Harris said he had hoped to retire earlier, but was waiting on the resolution of a lawsuit involving his investigation of
questionable spending of millions of dollars on dental Medicaid
. He won his sixth DuPont-Columbia for those reports and the suit was dismissed earlier this summer.
"Clearly it was a big load off my shoulders," Harris said. "When you get sued it has a way of dominating your life. It was a nuisance lawsuit but it went on for a long time."
The television news business now requires reporters to tailor their stories for three separate "platforms" -- TV, the Internet and "social media" (Facebook, Twitter, etc.).
"It's kind of like re-writing it in French," Harris said of retooling a TV story for the Internet. "Television relies on pictures and the Internet is like writing a print article. You have to re-think the whole thing in many cases. But it doesn't do any good to wish for the good old days. There are never any good old days in anything. It's only today and tomorrow. Is it a pain in the neck to have to do an Internet version? Yes, but ultimately more people read the print story than look at the TV story. You have a great reach on the Internet. But social media is frankly still mystifying to me."
Being an investigative reporter inevitably comes down to the big finish -- confronting the alleged wrongdoer. It's seldom if ever a walk in the park and oftentimes a gut-grinder. But it's what Harris signed on for.
"Whether it's by phone or by camera, it's always the last step in the process that you know is going to be there from the first moment of the story," he said. "And so you've been preparing yourself intellectually for it and how you're gonna do it. So it's really just acting it out. Some are more stressful than others. I'm probably going to do one today. We'll see what happens. You just never know. You have to kind of think of it as doing the right thing. If a journalist is doing the right thing, then this is the apotheosis of that."
Down the stretch, Harris said he had to face the fact that television is first and foremost a visual medium. In short, the older you are, the less telegenic you get.
"When you look at the world through your brain, it looks the same," he said. "But then I see myself on television and I think, 'My God, that guy looks old.' In some ways, being old can be an advantage. But in some ways it's a disadvantage. Television is a place for younger faces. To say that isn't an issue would be wrong. It's an issue."
Fellow veteran TV gumshoe
Becky Oliver recently retired
after a 24-year career at rival Fox4. But Harris' longtime running mate, Brett Shipp, remains in place at TEGNA8 and also has racked up numerous prestigious awards over the years.
"I'm sure Brett'll be here," Harris said. "He gives me energy every day, just looking at how hard he works. I don't expect his zeal to subside at all. I expect him to be allowed to continue for another decade to come, two decades, whatever."
Harris plans to make a clean break, first with that fly fishing trip to Slovenia and also by reading, taking photographs, "all kinds of things. In TV, you really have to devote your whole life to it. You don't have a lot of real mentally free time.
"I think a lot of people leaving this business have a big exhale."
Email comments or questions to:
unclebarky@verizon.net