"I don't want to be on TV. Thank you" (but she was anyway)
11/19/09 04:46 PM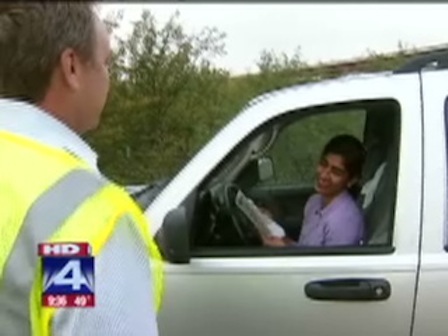 This motorist didn't seem to mind being on TV during Fox4's latest "Street Squad" segment. That's reporter James Rose on the left.
By ED BARK
Fox4 has an aggressive, hard-charging reporter in
James Rose
, whose "Street Squad" segments are featured weekly on the station's 9 p.m. newscasts.
In this case, though, he came off as a bit of a bully, too. Rose's Tuesday report originated from Lewisville, where many motorists are making illegal left-hand turns from a straight ahead-only lane to avoid an oft-crowded overhead bypass. Police supposedly wrote 97 tickets in 90 minutes while Rose observed the proceedings. The cost per ticket is $167. Not a bad revenue producer.
Rose approached several motorists after they received their tickets. One violator was reasonably friendly but firm after Rose asked her, "What's your reaction to the cops crackin' down?"
"No, no, I don't want to be on TV," the woman told him. "That's fine. People are breaking the law. But I don't want to be on TV."
"Why did you do it?" Rose persisted.
"I don't want to be on TV. Thank you," the woman reiterated before driving off.
She was shown on TV anyway, even though Rose seemingly had his pick of other motorists who didn't mind being seen with him while Fox4's cameras rolled.
"Virtually everyone we talked to was open and honest," Rose said. Three of them talked to Rose and also were a part of his story. The woman pictured above could be seen smiling at him.
None of these people are public figures. Nor are they heinous criminals. So shouldn't the woman who clearly
didn't
want to be on TV been allowed to drive away in peace rather than be shown for all to see? In effect, was she "ambushed?"
Here's the video from myfoxdfw.com. Let me know what you think.