Eye Opener gets makeover
03/27/12 12:36 PM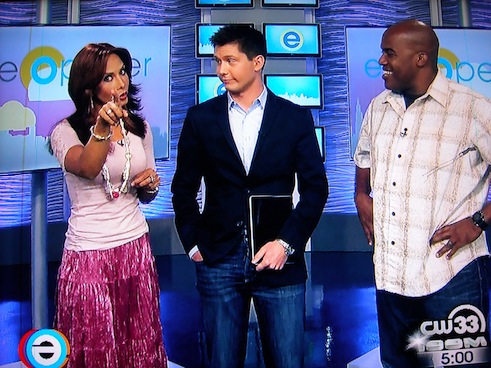 Hosting lately on Eye Opener: ex-CBS11/TXA21 anchor/reporter Nerissa Knight, holdover Sean Dowling and comedian Oliver Tull.
Photos: Ed Bark
By ED BARK
The Tribune company's early morning
Eye Opener
, which originates from CW33's Dallas studios, lately has given a wake-up call to some of the on-camera talent.
Out are two of the program's original co-hosts -- Ellen Fox and Douglas Caballero -- plus curvy traffic reporter Toni Duclottni. In, for the time being at least, are former CBS11/TXA21 anchor/reporter Nerissa Knight, comedian Oliver Tull and Danielle Volmar. The latter is described as a "host/reporter/meteorologist" on CW33's website. She previous worked at Fox25 in Oklahoma City.
Additionally, CW33 staffer Tommy Noel now will be doing double duty as both a local news updater and traffic reporter. Laura Thomas remains as the program's weathercaster.
A CW33 spokesperson said that the station's contingent of three
Eye Opener
contributors had to be down-sized to two because of budget considerations. So Duclottni got the ax, although the station hopes to keep working with her in some capacity.
Eye Opener
's executive producer Justin Allen, confirmed the changes via email Tuesday, but said that a "jammed" week didn't allow him any further time to elaborate on whether some of the latest host changes are envisioned as permanent or temporary.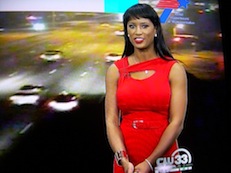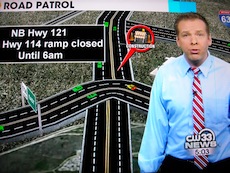 From Toni Duclottni to Tommy Noel: No more curve appeal.
As
previously posted on unclebarky.com
,
Eye Opener
premiered on Nov. 1st after being test-launched last May on Houston's KIAH-TV.
The show, which airs from 5 to 8 a.m. in D-FW, originally was produced out of Chicago. But in August, Tribune decided to revamp
Eye Opener
while at the same re-locating it to CW33 studios. The program also is syndicated to several other Tribune-owned stations. In the February "sweeps" ratings period,
Eye Opener
averaged 13,548 D-FW viewers.
Former host Caballero says on his Twitter page that "I'm working on new 'badazz' TV projects." Fox, who formerly worked for Al Gore's Current TV, has been mum on her social media sites. Duclottni still has her
"House of Haute"
blog.
Knight lately had been doing some freelance reporting for CW33's 9 p.m. newscasts. She
left CBS11/TXA21 in December 2010
after a three-year stint.
On
his website
, Tull describes himself as an actor, writer, director, comedian who has performed in over 3,500 live shows. He has been with the improv group Four Day Weekend for the past 11 years.
***
In other happenings at CW33, news director David Duitch confirmed the hiring of a new assistant news director. Denise Killian, who arrived earlier this month, most recently was news director at NBC affiliate KWQC-TV in the Quad Cities. The Lewisville High School and Texas A&M grad earlier produced D-FW-based CBS11's early morning newscast and also has been an executive producer at WKRN-TV, Nashville's ABC station.
"I'm thrilled to have her here," Duitch said.
Fox4, NBC5, WFAA8 and CBS11 all have women news directors. Earlier this year, WFAA8 made it a foursome by hiring the first female news director in its history, Carolyn Mungo.