New Series Review: 20 Good Years (NBC)
10/18/06 01:48 AM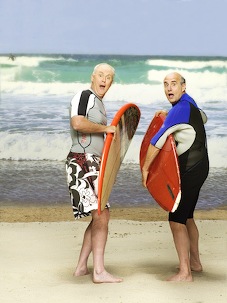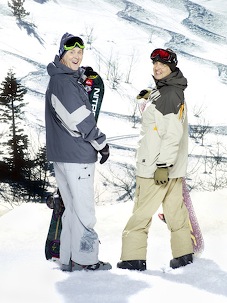 John Lithgow and Jeffrey Tambor are channeling their inner kids.
Premiering:
Wednesday night (Oct. 11), 7:30 central, 8:30 eastern, NBC
Starring:
John Lithgow, Jeffrey Tambor, Heather Burns, Jake Sandvig
Produced by:
Tom Werner, Marsh McCall, Jimmy Miller, Eric Gold
By ED BARK
Turning 60 -- let alone 50 -- is pretty much a death sentence on prime-time TV. That is, unless you're willing to regress to an age somewhere between 18 and 49. That's where the revenues meet the road with most advertisers.
NBC's ribald, retro-fitted
Twenty Good Years
attempts to turn warhorses John Lithgow and Jeffrey Tambor into a pair of Jack Blacks. Or Adam Sandlers. Or Will Ferrells. Or whatever younger size fits. Just don't think of them as set-in-their-ways, cardigan-carrying Bob Newharts, who probably wouldn't be caught dead in this.
Lithgow very loudly plays pompous, thrice-divorced surgeon Jack Mason. Forced into semi-retirement on his 60th birthday, he browbeats sedentary pal Jeffrey Pyne (Tambor) into joining him on a hellbent pursuit of rediscovered youth.
"Starting tonight, we live life to the
BRIM
!" he roars. Pyne, a pining widower judge who's been dating the same woman for three years, is initially opposed, of course. So Mason ratchets things up: "Are we tigers or are we tit mice?!" he bellows.
Well, if you're gonna put it that way.
Wednesday's premiere later sends the studio audience into a frenzy when Lithgow's character strips down to a Speedo. He sure is trying hard to make a go of this.
Twenty Good Years
also is populated with Mason's pregnant daughter, Stella (Heather Burns), and Pine's magazine modeling son, Hugh (Jake Sandvig). Not that they matter much. This comedy is in the hands of its two ripened pros, with NBC hoping that some 18-to-49-year-olds might watch just to goof on them. Which frankly is kinda sad.
Prospects:
The time period has just one behemoth, ABC's
Dancing with the Stars
. But pairing
Twenty Good Years
with NBC's preceding
30 Rock
makes for a very odd couple on what lately has been the Peacock network's weakest night of the week.
Grade:
C