New Series Review: Friday Night Lights (NBC)
10/02/06 03:54 PM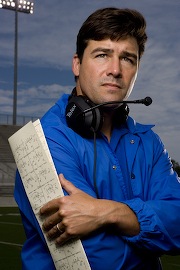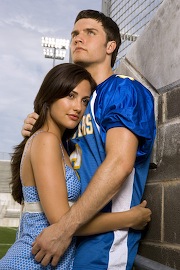 All of the X's and O's live in Texas when Friday Night Lights kicks off.
Premiering:
Tuesday night (Oct. 3), 7 central, 8 eastern, NBC
Starring:
Kyle Chandler, Scott Porter, Gaius Charles, Connie Britton, Minka Kelly, Zach Gilford, Taylor Kitsch
Produced by:
Peter Berg, Jason Katims, Brian Grazer
By ED BARK
Its toughest opponent may be the time slot. NBC's
Friday Night Lights
otherwise is a near-perfectly executed play about a talented high school football team and the West Texas town that worships at its cleats.
The Dillon Panthers and their heavily recruited star quarterback take on the formidable Westerby Chaps in Tuesday night's passionate, pulsating opening episode. The producers can control that outcome, but they might not be able to handle a blitz from rival networks' competing series.
House
on Fox;
Dancing with the Stars
on ABC;
NCIS
on CBS;
Gilmore Girls
on the CW. That's a fierce rush for any rookie to withstand.
Add this: a sports-themed drama series hasn't succeeded on broadcast TV since
The White Shadow
held court from 1978-81 on CBS. That includes NBC's little-seen
Against the Grain
, a 1993 Texas high football series that starred then unknown Ben Affleck as hotshot quarterback Joe Willie Clemons.
It'd be a big shame, though, if this Austin-made series gets sacked for no gain by the all-powerful Nielsen ratings. Loosely adapted from the controversial H. G. Bissinger bestseller,
FNL
paints a boldly textured picture of a hard-pressed new coach in a town without pity for losing football programs.
Kyle Chandler (left in the above NBC photo) is perfectly modulated as Coach Eric Taylor. Hard, fair and short-spoken, he's banking his hopes on senior star quarterback Jason Street (Scott Porter), pictured to the north of these words with his cheerleader girlfriend, Lyla Garrity (Minka Kelly).
Street's a modest straight-shooter with a gun for an arm and a softer touch for the kids who worship him.
"Mr. Street, do you think God loves football?" a half-pint Pee Wee Leaguer asks him.
"I think that everybody loves football," he says, prompting the kid to agree, "Me, too."
Although corny on paper, the scene manages to evoke the timelessly classic Mean Joe Greene Coke commercial. In fact, everything about
Friday Night Lights
resonates on some level. Authentic small-town sights and sounds are important core characters. They give Tuesday's curtain-raiser a sense of time, place and majesty that's rare for the small-screen. You can feel the vibe from the very first audio drop. "Good morning, West Texas," drawls a morning radio host before getting right to the football basics.
"He's no Mack Brown, I'll tell ya right now," a woman caller says of the as yet unproven new coach.
Mack Brown himself has a cameo, playing a rabid booster who doesn't mind giving Coach Taylor an earful during a pep rally tied to the grand opening of a car dealership.
Brown looks through his own funhouse mirror, though, before getting to the raw meat of a new season. Obviously referring to last season's Vince Young-led Texas Longhorns, he tells Taylor, "Some people think that you've got to have a great quarterback to win a championship. That's obviously not true."
Actually it is, as Brown well knows. Then it's time for him to dish out some of the same kind of guff he took for years until Young took Texas to the promised land. Damned if he's not convincing in this little riff: "I mean, you got that kind of deer in the headlights look...I'm a little worried about you steppin' up to the plate here...We don't want you to go out there and be soft and scared. We want you to be aggressive. Are you going to be able to answer the bell and bring championships back to this town? We want to win championships."
The new coach's other studs include cocksure running back Brian "Smash" Williams (Gaius Charles) and his carousing, ill-tempered backfield mate, Tim Riggins (Taylor Kitsch). There's also quiet, third string quarterback Matt Saracen (Zach Gilford), who's going to figure prominently in future games.
On-field action, to be downplayed in later episodes, is front and center Tuesday night. Director Peter Berg and his crew have expertly staged the big season opener, which never looks fake for a second. That's a huge plus when you're asked to buy into the central premise that Texas high school football is both larger than life and a way of life.
Now we'll see whether the rest of the country, or even Texans, will be willing to git along with this program. For its part,
Friday Night Lights
gets off to a rousing start. Everything about it is vividly drawn, with Chandler excelling as an up-against-it coach whose locker room rallying cry is "Clear eyes. Full hearts. Can't lose."
Let's win one for this Gipper.
Prospects:
You already know the score.
Grade:
A