New Series Review: I Pity the Fool (TV Land)
10/18/06 01:54 AM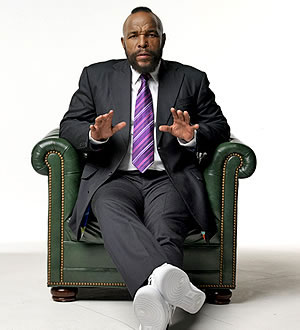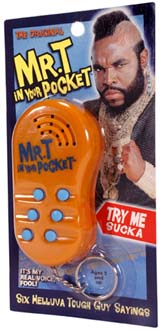 Sit down for a minute. Mr. T wants to talk to you, sucka.
Premiering:
Wednesday night (Oct. 11), 9 central, 10 eastern, TV Land
Starring:
Mr. T (real name: Lawrence Tureaud)
Concocted by:
Stephen Belafonte, Ken Druckerman, Banks Tarver
By ED BARK
This is all a sham, of course. Mr. T isn't really a "life coach." He
is
an enduring, arguably endearing commodity, though. So let's cool the jewelry, dress him up like Santa Claus --- in this case, in a suit --- and send him out to jack up a few schlumps.
"There's no shortage of fools that need my help," he crows with a certain amount of modesty. That said, he hits the road in TV Land's
I Pity the Fool
, likely to be the hottest show in the network's still relatively brief history.
Mr. T first heads to a car dealership in New York City, where the ostensible bossman, Scott Perlstein, is being beaten down by his auto-cratic father-in-law, Tom Nemet. The star of the show, wearing a red jump suit at first, gets in everybody's grill and demands they sell 20 cars in the next 48 hours. Then he switches to a "fancy car salesman suit" and seems to have little idea what he's doing. No matter. Mr. T next rails at a shyster salesman named Vince while two customers take it all in. Sure enough, this all works to a T.
I Pity the Fool
is only a half-hour show, but that's a lot of time to fill these days. In a historic television first, Mr. T kills a minute or so by upbraiding anyone arriving late to his party.
"If you just tuned in, what's wrong with you, fool?" he growls. "Show me some respect and watch my show from the beginning!" Tardy viewers are then brought up to speed with a brief recap.
Mr. T otherwise is all about the love. His last task is to bring Scott and Tom together. And whaddya know, the old man melts and dishes out some praise while the kid wells up. It's then benediction time:
"If you want to polish your relationship and make it glisten, all you really have to do is learn to listen," says Mr. T.
Solid production values and Mr. T's inimitable style make
I Pity the Fool
a surprisingly watchable lark, a
Dr. Phil
for dummies if you will. Mr. T is more likeable and in much better shape, though. So if you're inclined to buy into any of this malarkey, maybe Mr. T should be your man.
"Like I always say," he says, "you can't spell success without T."
Grade:
B-minus