And the walls came tumbling down -- to save Jericho
21/07/07 17:23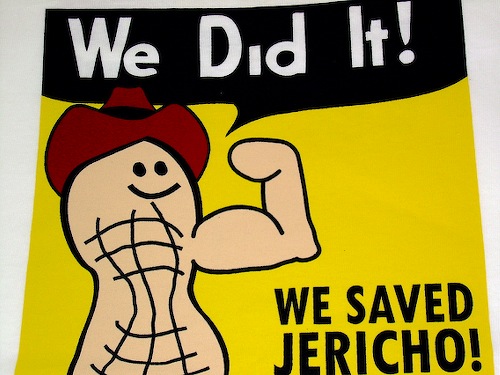 CBS gave TV critics T-shirts touting the Jericho nuts. Photos: Ed Bark
By ED BARK
BEVERLY HILLS -- This is what people get excited about these days.
The demonstrably nutty and amazingly successful campaign to resurrect
Jericho
even reached CBS entertainment president Nina Tassler in her doctor's office.
"He was a new doctor. And he comes in to give me the results of a test, and you're always nervous," Tassler told TV critics this week. "You're like, 'I hope there's nothing bad. It should be good.' He comes in with his white lab coat on and puts his hand in his pocket. And I'm like 'Oh God, there's going to be bad news.' He pulls out a bag of peanuts.
"I thought, 'Oh Jesus.' "
Shell games began after CBS left the apocalyptic drama off its fall schedule.
Jericho
's Nielsen ratings had sagged when it returned to the network after an extended hiatus. So its cancelation didn't seem like any overtly big deal. That stuff happens all the time. You move on, and networks seldom look back.
Jericho
fans seized, however, on a season-ending rallying cry from the show's hunky, heroic lead man, Jake Green (Skeet Ulrich). "Nuts," he'd replied to a call for surrender. "You can go straight to hell."
CBS corporate headquarters soon were being deluged with peanuts, a relatively cheap form of protest even at more than 20 tons worth. The Internet also heated to a boil. Chat rooms. Message boards. Threats to secede. Tassler at first thought her head might explode. Then she and her fellow CBS programming bosses took the highly unusual action of rethinking what they'd done.
"They had a knowledge of the show that was so detailed and committed and passionate. We said, 'Look, this is a rare opportunity for us to really interact with our audience and take another shot.' So it was a gradual build. It wasn't one specific moment."
Fans of
Jericho
got busy again earlier in the week, blanketing TV critics with emails urging them to wring every last ounce of information from CBS execs and the show's cast. Ulrich, for one, said he's never received this kind of reaction to any of his movies, which include
Scream
and
As Good As it Gets
.
"It's been an eye-opener, certainly . . . To many people, the show really mattered in their week, and they really were looking forward to seeing it. The thing that kept getting me is that people knew a lot about the show. It wasn't your casual viewer that was coming up to me. So it's been great to meet as many people as I have face-to-face."
Co-star Lennie James, who plays enigmatic Robert Hawkins, said the fan revolt over
Jericho
provided a "rare insight for the networks and the advertisers. And I hope they use it sensibly."
CBS has committed to a seven-episode return sometime in midseason on an as yet undetermined night. Tassler expects loyalists to either put up or holster their nut sacks.
"We've really said to them, 'You have got to be our
Jericho
Rangers. You've got to recruit more viewers."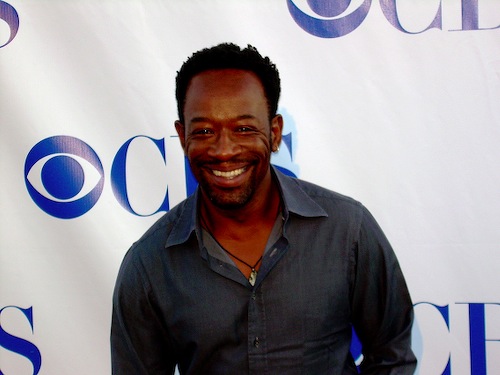 Jericho co-star Lennie James, who plays myterious Robert Hawkins.
Production on the seven episodes is scheduled to begin on Monday (July 23) and run through September. Executive producer Carol Barbee promises a ramped-up "arc" in which resultions are revealed more rapidly than they might have been. But the storyline also will "open you up to the next level," she said, "so that you can see what the future would be if there's a Season 3. And hopefully there will be."
Summertime Friday night repeats of
Jericho
haven't done much business so far. A July 13 pairing of a
Return to Jericho
recap and a rerun respectively finished 94th and 88th in the weekly ratings, averaging just 3.1 million viewers for the two hours.
Tassler said she's virtually certain, however, that CBS will stick with the seven new midseason episodes no matter what the ratings. Then the games can begin anew. But what else might fans have sent the first time around? An Aristotle-Socrates dialogue ensued:
Ulrich
-- "Snakes."
James
-- "Snakes. Strippers."
Co-star Ashley Scott (Emily Sullivan)
-- "Strippers. Little people strippers."
James
-- "Strippers that bounce."
All great suggestions.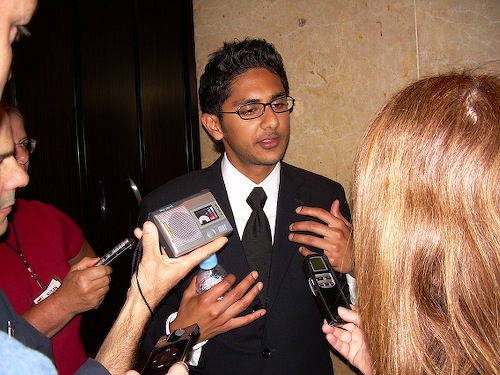 Presenting Adhir Kalyan, star of The CW's new Aliens in America.
Actor Adhir Kalyan, a fifth generation South African, stars as a transplanted teenage Muslim from Pakistan in the new CW comedy series
Aliens In America
.
Slotted behind
Everybody Hates Chris
on Monday nights, the show is generating a least a bit of sorely needed buzz for the Lilliputian network. Kalyan's character, Raja Musharaff, is an exchange student living with a Wisconsin family in fictional Medora, Wisconsin.
In real life, his only culture shock in coming to the U.S. was "the size of the portions of food."
"Really," Kalyan said, "do we need portions that are
that
big? I mean, Africa doesn't need Bono. Africa doesn't need (Bob) Geldof. Africa needs a Denny's Grand Slam breakfast."
Product placement or not, they just have to work that into the script.