Top 10 all-time network sportscasters
08/07/08 11:04
By ED BARK
All hail the Games of the XXIX Olympiad, or simply the Summer Olympics if you prefer. They'll be a dominant force on NBC from Aug. 8-24th.
All of this athletic pomp and pageantry prompts a list of the 10 most influential and capable network sportscasters of all time. We're excluding regional hits, so sorry about that, Harry Carey, Ernie Harwell, Jack Brickhouse and Jack Buck among others. Let's play ball.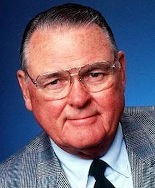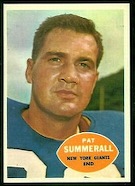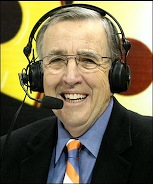 10. Keith Jackson
-- Whoa Nelly, he keeps retiring and unretiring. But ABC's original
Monday Night Football
play-by-play guy still has a big strapping buck of a voice that raises pulses during major college football matchups. He also worked a good number of Olympics telecasts back when ABC owned the broadcast rights.
9. Pat Summerall
-- The best ex-jock ever to hit a broadcast booth excelled as a kicker for the New York Giants before famously teaming with Tom Brookshier and later John Madden as the resident A-list pro football announcer for both CBS and Fox. His minimalist approach meshed well with gabbier sidekicks. And he also covered the premier golf and tennis tournaments carried on CBS.
8. Brent Musberger
-- The former minor league umpire first came to prominence as CBS'
NFL Today
studio show host alongside Irv Cross, Phyllis George and Jimmy "The Greek" Snyder. But he soon began going to the games themselves, flexing a "You are looking live . . . " tagline at a wide variety of major events. Bounced by CBS in 1990, he rebounded to ABC/ESPN, where he's still calling major college games as part of a Saturday night prime-time package. Some can't stand him, but he's stood the test of time.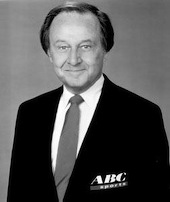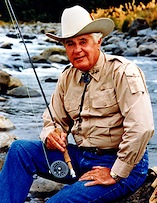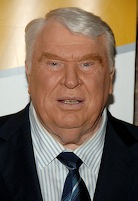 7. Jim McKay
-- The late great ABC broadcaster first branded himself as host of the network's innovative
Wide World of Sports
series, where "the thrill of victory and the agony of defeat" became his lasting catchphrase. He also was a key player in coverage of 12 Olympics, most notably the tragic 1972 games in Munich, where 11 Israeli athletes were murdered by terrorists. "They're all gone," a drained McKay said somberly after 14 consecutive hours on the air. He capped his career as a "special correspondent" for NBC during that network's coverage of the 2002 Winter Olympics in Salt Lake City.
6. Curt Gowdy
-- People forget how big he was, serving as NBC's go-to guy for virtually every major sports event from the mid-1960s to the late 1970s after announcing the first five seasons of the American Football League on ABC. Gowdy covered World Series, Super Bowls, Rose Bowls, the Olympics, NCAA Final Four basketball tournaments, you name it. He also was at the mike when Hank Aaron hit his historic 715th home run on April 8, 1974. Gowdy's
American Sportsman
series for ABC was another long-distance runner. And he hosted PBS' well-regarded
The Way It Was
sports anthology series, which reunited famous athletes involved in classic sports matchups.
5. John Madden
-- Oft-parodied but never surpassed, the former Oakland Raiders Super Bowl-winning coach has spanned three decades as network television's foremost pro football color commentator. He's worked at all four major broadcast networks, beginning with CBS and Pat Summerall in 1981. They moved to Fox in 1994 and remained the network's No. 1 team until Madden joined Al Michaels on ABC's
Monday Night Football
in 2002. They're now the featured duo on NBC's
Sunday Night Football
. Madden's NFL football video game also is an institution, as are his yearly "All-Madden" teams.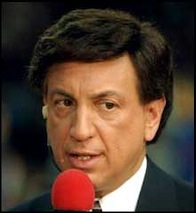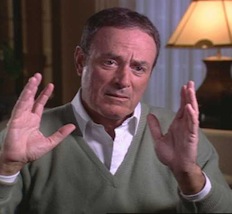 4. Marv Albert
-- An ill-fitting toupee and a super-embarrassing sex scandal haven't stopped him from being the world's all-time greatest NBA announcer. His two timeless taglines -- "Yessssss" and "From downtown" -- only get better with age. Albert also is the national radio voice of
Monday Night Football
and knows his way around a hockey rink, too. And his tongue-in-cheek "Albert Achievement Awards" have been a recurring feature on David Letterman's late night talkers. No one has a more distinctive or immediately recognizable play-by-play voice.
3. Al Michaels
-- "Do you believe in miracles? Yes!" Need we say more? Michaels' climactic exclamation after the U.S. hockey team's "Miracle On Ice" win over Russia at the 1980 Olympics arguably is the single most famous call in televised sports history. He joined ABC's
Monday Night Football
as its principal play-by-play announcer in 1986 and stayed until the network punted its longtime sports meal ticket to ESPN after the 2005 season. Michaels originally said he'd make the move to ESPN but instead jumped to NBC to re-team with John Madden on the Peacock's new
Sunday Night Football
. Michaels remains one of the booth's smoothest operators, now almost exclusively as a pigskin poet. But he's also done a pair of World Series and NBA Finals.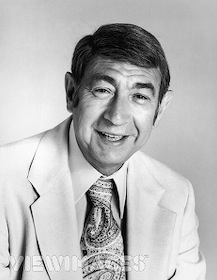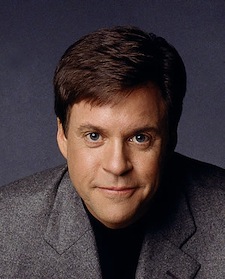 2. Howard Cosell
-- ABC's legendary big-eared bigmouth never minded telling you he knew it all. He didn't, but nobody has ever been more fun to love/hate. Initially a lawyer by trade, Cosell first made his mark in athletic circles as host of the nationally syndicated radio show
Speaking of Sports
. His coverage of Cassius Clay/Muhammad Ali then made him a full-blown star who seldom failed to remind audiences that "I'm just telling it like it is." But his most famous boxing call -- "Down goes Frazier! Down goes Frazier! -- came during a 1973 heavyweight title bout between Joe Frazier and George Foreman.
Cosell's subsequent stint as a charter member of ABC's
Monday Night Football
announcing team provided him with a perfect foil in "Dandy" Don Meredith. But there was no fun and games on the night of Dec. 8, 1980, when Cosell told his football audience of the shooting death of John Lennon. Cosell also authored several bestselling books and hosted the ill-conceived ABC prime-time variety show,
Saturday Night Live with Howard Cosell
. He became increasingly bitter and boorish in later years. But at his zenith there was no one like him. And there hasn't been since.
1. Bob Costas
-- Settling in to be NBC's point man for another Olympics extravaganza, Costas has no peer as a stage-setter or sports interviewer. Baseball remains his first love, and there's no one more knowledgeable about the game. But Costas has been without a baseball venue for way too long, His most memorable baseball "call" came out of the booth when he eulogized Mickey Mantle at his funeral in Dallas.
Costas also helmed HBO's recently defunct
Inside the NFL
for many years and continues to host an acclaimed sports interview program on the pay cable network. From 1988-'94, his
Later with Bob Costas
late night program on NBC afforded him a chance to talk in-depth with a wide array of sports and non-sports notables. Whatever the venue, viewers are always in good hands with the brightest guy in the room.