Top 10 televised political convention moments
08/21/08 11:21
By ED BARK
Representatives of the donkey and elephant parties will be stampeding into Denver and St. Paul during the next two weeks to hold their quadrennial national conventions.
The
Democrats
go first, staring April 25th, with the
Republicans
right on their heels (Sept. 1-4). Here's a top 10 countdown of televised moments to remember from previous conventions. Some are odd, others eventful. All made their marks.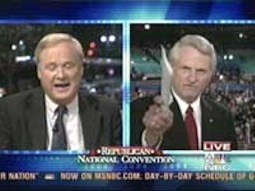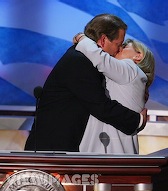 10. Matthews vs. Miller
-- Two blowhards had a head-on collision after former Democratic senator Zell Miller of Georgia ripped into his old party as the keynote speaker at the 2004 Republican convention. MSNBC
Hardball
host Chris Matthews then questioned Miller's insinuation that Democratic nominee John Kerry intended to defend the nation with "spitballs" after voting against various defense systems. During a live exchange, an increasingly angry Miller finally told his antagonist, "I wish we lived in the day where you could challenge a person to a duel." Matthews milked their confrontation for weeks and of course
Saturday Night Live
parodied it.
9. Read their lips
-- Three seconds seemed like an eternity when nominee Al Gore and wife Tipper locked themselves in an amorous embrace on the final night of the 2000 Democratic convention. "The Kiss" was twitted, dissected and viewed by many as a calculated effort to soften Big Al's robotic, wooden image.
8. And furthermore . . .
-- Bill Clinton had his national coming out party on opening night of the 1988 Democratic convention. Instead he threw a slumber party with a widely ridiculed and interminable 32-minute speech in which he put Michael Dukakis' name in nomination. Clinton proved resilient, though, turning his disaster into a triumphant appearance on Johnny Carson's
Tonight Show
, where he played "Summertime" on his saxophone after the host first made fun of him.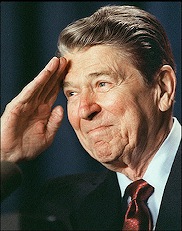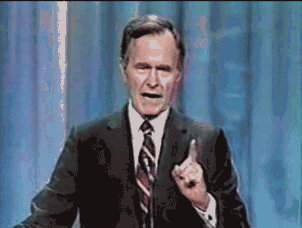 7. Mondale's Waterloo
-- The Democrats' 1984 nominee, Walter Mondale, already was seen as a decided underdog to incumbent Ronald Reagan. He then dug his own grave at the 1984 convention with a memorably inept acceptance speech. The former vice president chopped himself off at the knees by telling America, "Mr. Reagan will raise taxes, and so will I. He won't tell you. I just did." Mondale later lost in a landslide.
6. The big brush-off
-- Sen. Ted Kennedy feverishly contested President Carter for the Democratic Party's 1980 nomination, but came up shorter than Hillary Clinton's bid to outlast Barack Obama. At the 1980 convention, though, Kennedy remained combative to the end. As Carter and running mate Mondale raised their hands in victory to the tune of "Happy Days Are Here Again," Teddy turned his back on the incumbent president and refused to join him in any visible way. The lack of a conciliatory photo spoke volumes, with Carter eventually denied a second term by Reagan.
5. Last hurrah
-- Reagan's final major address, at the 1992 Republican convention, proved to be a bigger event than President George H.W. Bush's acceptance speech in pursuit of a second term. Many wondered whether "The Gipper" was up to it after reports that his mental acuity had greatly waned in the four years since he left office. But Reagan roused the delegates with a typically star-spangled speech. Two years later he was diagnosed with Alzheimer's Disease and faded from public view until his death in 2004.
4. Battle of the four-letter surnames
-- The 1980 Republican convention, which coronated Reagan as its nominee, was spiced with rumors that former president Gerald Ford might well be his running mate. Talk of a "co-presidency" dominated convention coverage until Reagan instead chose Bush. Chris Wallace, then with NBC, scooped all of his network rivals by a few precious seconds during one of the few latter day conventions in which actual big news broke out.
3.Death and Taxes, The Sequel
-- Nominee George H.W. Bush didn't announce his running mate, Dan Quayle, until the second day of the 1988 Republican convention. Then he made a second big mistake in his acceptance speech by famously declaring, "Read my lips. No new taxes." The "bounce" from that sound bite didn't hurt his campaign against hapless Michael Dukakis. But it bit him hard after he indeed did raise taxes as president. Democratic challenger Clinton pounced on that broken promise and defeated Bush in the 1992 campaign.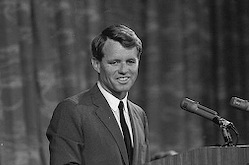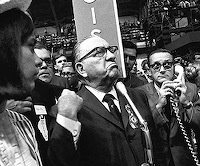 2. His brother's keeper
-- No convention speech before or since has been as emotional or riveting as Robert F. Kennedy's at the 1964 Democratic convention. His brother, President John F. Kennedy, had been assassinated in Dallas just nine months earlier. RFK's remarks came after delegates greeted him with a 22-minute ovation which he tried to halt with repeated pleas of "Mr. Chairman." He finally prevailed, quoting both poet Robert Frost and Shakespeare's
Romeo and Juliet
during an obviously heartfelt introduction of a short film dedicated to his slain brother. There were no dry eyes.
1. "The Whole World is Watching"
-- Four years later, the 1968 Democratic convention exploded on home screens in the wake of RFK's recent death at the hands of an assassin. Networks divided coverage between protester-police clashes in the streets and profound discord inside Chicago's International Ampitheatre, where delegates had gathered to more or less nominate Hubert Humphrey.
CBS floor reporter Dan Rather got roughed up on camera in plain view of a television audience. But the most indelible image was mayor Richard J. Daley's visceral reaction to a speech by Sen. Abraham Ribicoff of Connecticut, who denounced the "Gestapo tactics in the streets of Chicago."
Daley gestured angrily at him, shouting "You faker!" among other things.
Humphrey limped away with the nomination, but lost the general election to Richard Nixon. In the eyes of many, his party's raucous convention sealed Humphrey's defeat.