Top 10 Most Influential TV Dramas
06/06/07 16:55
By ED BARK
Presenting the first of three lists tied to the Sunday, June 10th finale of HBO's
The Sopranos
.
This one weighs the impacts of prime-time's many and varied drama series. Which ones made the biggest ripples? As you'll see, they don't have to be the best, just the most influential in terms of generating copycats, movies and/or styles. Let's play.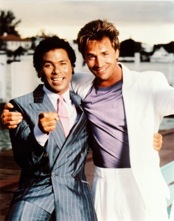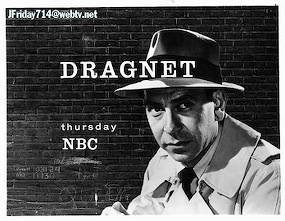 10. Miami Vice
(NBC, 1984-89) -- The late Brandon Tartikoff, former head of NBC Entertainment, supposedly wanted a police action show that in short form would be "MTV cops." Pastel pretty boys Sonny Crockett and Ricardo Tubbs emerged in a series whose music and look were key supporting characters. Get the bad guys, but by all means look cool in doing so. The theme song by Jan Hammer blasted to No. 1 on the pop charts, prompting a spurt of imitators. But oops, then came 1990's
Cop Rock
. Last year's
Vice
feature film didn't do so hot either.
9.Dragnet
(original version, 1952-59, NBC) -- Terse, by-the-book Joe Friday was TV's first minimalist copper. Wedded to his job ("Just the facts, ma'am") and devoted to his partners (Frank Smith and later Bill Gannon), he presaged the clipped, "Book 'im, Dano" MO of
Hawaii Five-O
's Det. Steve McGarrett. ABC's latter day
L.A. Dragnet
, with Ed O'Neill as Friday, shot blanks in the ratings. But a 1987 big-screen parody with Dan Aykroyd and Tom Hanks did OK business at the box office.
8.The Twilight Zone
(original version, 1959-65, CBS) -- Host Rod Serling's cryptic introductions set in motion television's first great suspense anthology series.
Alfred Hitchcock Presents
got there first in 1955, but its stories for the most part were no match for Serling's sagas of a "dimension as vast as space and as timeless as infinity . . . an area we call
The Twilight Zone
." CBS fell way short with a 1986 remake and UPN tried again in 2002 with a then down-on-his-luck Forest Whitaker as host. An ill-fated 1983 big-screen
Twilight Zone
infamously cost actor Vic Morrow his head during filming of a helicopter sequence.
7. Law & Order
(1990 to present, NBC) -- It's the godfather of the modern-day, open-and-close-ended "procedural" cop drama. Creator/producer Dick Wolf extended the
L & O
brand name to two more series while also spurring CBS to come up with its equally successful and like-minded
CSI
franchise. Series such as
Without A Trace, Cold Case
and
Criminal Minds
likewise owe their beats to
Law & Order
. Wolf also proved that a series' overall concept is more important than its stars. Many have come and gone --- and come back -- during the course of
Law & Order's
17 seasons on NBC.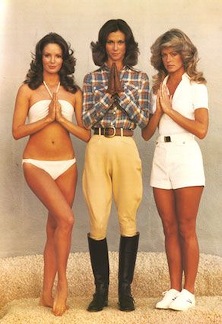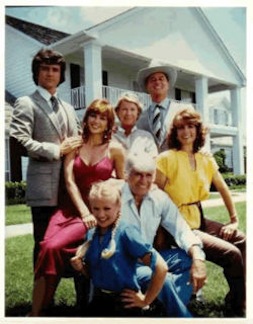 6. Charlie's Angels
(1976-81, ABC) -- Babes in boyland. Angie Dickinson's
Police Woman
got there first, but law enforcement didn't get a full-blown sex change until Jill, Sabrina and Kelly "jiggled" into view. Farrah Fawcett's alluring swimsuit poster became the most famous in the land, adorning more teenage boys' rooms than any of the era's pro sports stars. The show more or less "empowered" women before the word slopped into the vocabulary. But producer Aaron Spelling cannily kept his and viewers' eyes on his Angels' more obvious assets. Three feature films and many imitators later, the show remains a pop culture Colossus.
5. Gunsmoke
(1955-75, CBS) -- TV's first "adult" Western cleared the trail for
Bonanza, Wagon Train, Have Gun Will Travel, Rawhide
and many years later,
Deadwood
. Clint Eastwood, who played trailhand Rowdy Yates in
Rawhide
, likely never would have gotten the chance had
Gunsmoke
been a flop instead of prime-time's No. 1 series from 1957 to '61. Marshal Matt Dillon set the tone for early episodes by gunning down a bad guy in the streets of Dodge City before the weekly stories began. Saloon owner Miss Kitty yearned for him to fire more than his pistol. But Matt held back, sustaining the longest unrequited love story in TV history. Most shows can't make it through even one season now.
4.Dallas
(1978-91, CBS) -- The Ewings of Southfork set the ratings on fire in the early- to mid-1980s, making the sudsy prime-time soap TV's hottest genre. Long-distant runners
Dynasty, Knots Landing
and
Falcon Crest
were among
Dallas'
many progeny. And there's never been a bigger international sensation than the show's "Who Shot J.R.?" guessing game. After that, virtually every drama of those times went for a "cliffhanger" at season's end. That's a term, by the way, that
Dallas
virtually invented. Meanwhile, star Larry Hagman reinvented himself by detouring from the comical captain of
I Dream of Jeannie
to the oiliest, juiciest villain in TV history.
3. The Sopranos
(1999 to June 10, 2007, HBO) -- Too good to ever be imitated,
The Sopranos
made HBO's bones as television's art house extraordinaire. Its influence is simply its incredible excellence. Rivals marveled, realizing they couldn't replicate. But HBO had to dig deeper, knowing it had to come up with new programming that at least played in the vicinity of the same ballpark. Series such as
Six Feet Under, Deadwood, The Wire
and
Big Love
have kept the faith and oftentimes even held a candle to
The Sopranos
. But no single series has ever set a higher bar. And it's hard to imagine anyone ever breaking this high-jump record.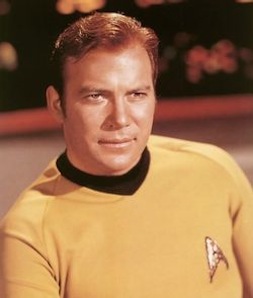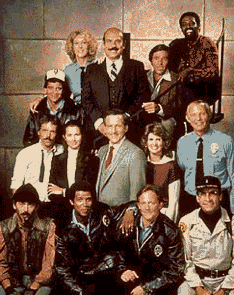 2. Star Trek
(1966-69, NBC) -- You can't kill William Shatner with a stick, let alone the
Star Trek
franchise. Never a hit during its original NBC run, it so far has spawned four spinoff series and 11 feature films. No show has launched a more fanatical species of fans, whether you call them Trekkies, Trekkers or borderline insane. The latest TV incarnation,
Star Trek: Enterprise
, proved to be something of a flop. But everyone knows that this isn't nearly the end. The series, the lore, the profits will live on long after Shatner's earthly journey ends. There's no sign of that, though. He and his magical roster of toupees might even have another
Star Trek
movie left in them.
1.Hill Street Blues
(1981-87, NBC) -- A new breed of ensemble drama -- intelligent, provocative, diverse -- arrived on the night Sgt. Phil Esterhaus first told his charges, "Let's be careful out there."
Hill Street Blues
at the time seemed way too good for broadcast TV. But a then downtrodden NBC took a shot and birthed a revolution. The show's creator, Steven Bochco, led a new generation of TV artistes whose bold approaches to broadcast TV were realized in other Emmy caliber series such as
St. Elsewhere, L.A. Law, NYPD Blue, Picket Fences, Twin Peaks, Northern Exposure, Moonlighting, Ally McBeal, ER
and
Lost
.
Hill Street
shook prime-time up and took it to a higher plane. Looking down on TV got lots harder after that.