Bad scenes: Top 10 train wreck marriages between athletes and show biz stars
12/03/06 13:48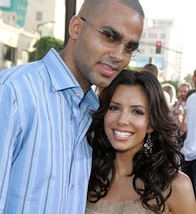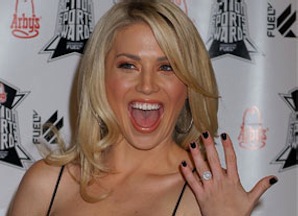 Tony Parker and Eva Longoria cuddle; Willa Ford shows off her sparkler from Mike Modano after sidestepping a supposedly hot afffair with Dancing with the Stars partner Maksim Chmerkovskiy.
By ED BARK
Big-time athletes and show biz celebs often make scenes together. But the track record for long-term co-existence is decidedly star-crossed.
Even so, two more weddings are in the works after the recent engagements of actress
Eva Longoria
to NBA star
Tony Parker
, and rocker/dancer
Willa Ford
to hockey puckerer
Mike Modano.
Some of these proposals never make it down the aisle. Former New York Jets star defensive end
Mark Gastineau
and actress
Brigitte Nielsen
had a son together and a stormy two-year engagement before breaking it off. She earlier had been married to fictional boxer
Rocky Balboa
, also known as
Sylvester Stallone
Blonde bombshell
Mamie Van Doren
and former playboy pitcher
Bo Belinsky
also announced their intention to marry, but then fell apart. And of course there's also the recent failure to launch of
Lance Armstrong
and
Sheryl Crow
.
Before getting to our Top 10 list of marriages that dropped the ball, let's salute the still going partnership of ex-NFL QB
Rodney Peete
and actress
Holly Robinson Peete
. They tied the knot in 1995 and are still on the same team. Now to the wreckage, with readers as always encouraged to cite any errors of omission.
10. Andre Agassi and Brooke Shields (1997-'99)
-- It just didn't take. The star tennis player was still into a different racquet when he met the cover girl actress who'd been in show biz almost since birth. Their worlds kept turning in opposite directions.
9. Johnny Weismuller and Lupe Velez (1933-'39)
-- The five-time Olympic swimming gold medalist had just started playing Tarzan when he thought he'd met his Jane. But the tempestuous actress and the hard-drinking he-man proved to be a volatile mix, regularly making tabloid headlines during their oft rough-and-tumble time together. She went on to make a series of seven
Mexican Spitfire
movies before taking her life in 1944. He died in 1984, with three subsequent marriages under his belt.
8. Leo Durocher and Laraine Day (1947-'60)
-- "The Lip" loved the Hollywood crowd, and for a good while lived in relative wedded bliss with an actress who once was dubbed the "First Lady of Baseball." But Leo's temper and vagabond lifestyle eventually found him thrown out at home. He wound up in the Hall of Fame and she last acted in 1986 as sleuth Jessica Fletcher's sister on
Murder, She Wrote.
7. Ahmad Rashad and Phylicia Rashad (1985 to 2001)
-- At the height of her fame as Clair Huxtable on
The Cosby Show
, the then Phylicia Allen heard him propose marriage during the halftime show of a Thanksgiving Day game between the Detroit Lions and New York Jets. She accepted, but the marriage was birthed under a bad sign when
O.J. Simpson
acted as the former pro footballer's best man.
6. Mickey Hargitay and Jayne Mansfield (1958-'64)
-- The ex-Mr. Universe flexed awesome physiques with Hollywood's then Avis of sex symbols in a tempestuous double-team that lasted six years and produced three children. The youngest,
Mariska Hargitay
, is an Emmy-winning actress for her work on NBC's
Law & Order: SVU
.
5. David Justice and Halle Berry (1992-'97)
-- He was a star slugger for the Atlanta Braves when the future Catwoman and Oscar-winner became his bride. His alleged wandering eye on road trips and her career ambitions eventually waylaid them. He's since remarried and she's gone through another husband.
4. Mike Tyson and Robin Givens (1988-'89)
-- The onetime heavyweight champ turned palooka lasted a year and a week with the former
Head of the Class
co-star. They fittingly ended their marriage on Valentine's Day after dooming it during a
Barbara Walters
interview in which she professed to be afraid of him while he sat next to her.
3. John McEnroe and Tatum O'Neal (1986-'94)
-- The hot-tempered tennis champ and the Oscar-winning actress (as the child star of
Paper Moon
) hooked up for love, set and then a very bitter end-game. They had a prolonged battle over child custody, which he won. She then wrote a tell-all book,
A Paper Life
, that portrayed him as an all-around creep. He's lately been the host of both a failed talk show and game show while she went down for the count early in the second edition of
Dancing with the Stars
.
2. Chuck Finley and Tawny Kitaen (1997-2002)
-- He had a gainful major league pitching career, winning exactly 200 games with three major league teams. But its twilight was shadowed by an embarrassingly public spat with his actress wife, whom he accused of physical abuse. Kitaen was charged with domestic violence after she allegedly kicked Finley with her high-heeled shoes and literally bent his ear. She previously dated
O.J. Simpson
. Enough said.
1. Joe DiMaggio and Marilyn Monroe (Jan. 14, 1954 to Oct. 27, 1954)
-- The ultimate pairing of sports and show biz giants. No wonder it didn't last. Joltin' Joe's consuming jealousies and Marilyn's still ripe Hollywood career sent them to divorce court after less than 10 months of matrimony. He reportedly pined for her until death, never remarrying. She rebounded to famed playwright Arthur Miller, with their marriage lasting five years. Books about Joe and Marilyn will be written forevermore. The End.