Press tour snack bar--Day One (Tues., Jan. 9)
10/01/07 04:40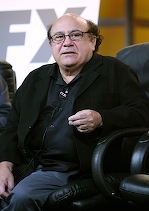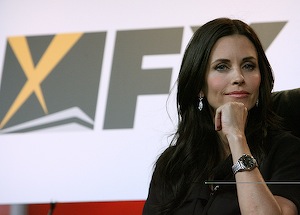 Meet the press: Danny DeVito and Courteney Cox are at home on FX.
By ED BARK
PASADENA, Calif. --
BAR TAB
: A memorable late November appearance on
The View
still follows
Danny DeVito
to press conferences.
"Are you drunk right now?" a TV critic asks during a session for FX's
It's Always Sunny in Philadelphia
, in which he co-stars and produces.
"Absolutely," says DeVito, who had been up very late partying with
George Clooney
before slurring his way through a get-together with
Rosie O'Donnell
and crew. Video of his brew-ha ha quickly became an international hit on YouTube.
"You really get to see the reach of the Internet," he says. "I got congratulatory calls from all over the world. Yeah, it's a great thing that we're putting out our every breath."
DeVito slept all the way through a long, post-
View
flight from New York to L.A., and "didn't know what the hell everybody was talking about" upon his return. "Yeah, I took it in. You know, I don't get upset about stuff like that."
He doesn't want a dog in the ongoing O'Donnell-
Donald Trump
war of words.
They're both "very nice people," DeVito contends. "I know there's a lot of back-and-forth stuff going on between the two of them. I don't know. They should chill."
COX'S DIRT DISH
: Former
Friends
castmate
Jennifer Aniston
very much wants to guest-star on FX's
Dirt
, says
Courteney Cox
, who plays ruthless gossip magazine editor Lucy Spiller in the new drama.
"Jennifer loves the show . . . All my friends that are in this business think it's fantastic and love it and are addicted. And they're asking me to slip them DVDs."
Aniston can't appear on the show this season because
Dirt's
13 episodes are almost completed, Cox says. The two remain best friends off-camera and recently returned from a vacation in Cabo San Lucas.
"Jennifer just cracks me up. She has really funny one-liners," Cox says in a separate interview.
A
Friends
reunion special is very unlikely because "it's too hard to get everyone together. I just can't see it happening."
Cox says that her very adult role on
Dirt
has convinced her that "I'm not a girl anymore. I'm a woman. And you know what? I'm not gonna get a body double. I'm gonna be who I am. And that's kind of a big change for me."
Still, she didn't embrace a scene in which her character uses an electronic vibrator to help get her through the night.
"I was really nervous. For some reason that was very vulnerable and awkward. I don't even want to see it."
She and husband David Arquette have a two-and-a-half-year-old daughter named Coco, whom Cox regularly brings to the
Dirt
set. Mom's pet name for her is Doogie Howser, title character in the old ABC medical dramedy.
They can't go to the Malibu beach anymore, she says, because the paparazzi will be on the prowl. It's much worse than it used to be, she says. Still, Cox gets the picture.
"If you're not in the magazines at all, it probably means you're not hot right now," she says. And that's not cool.
HALLMARK SENTIMENTS
: TV graybeards
Ken Howard
and
Barry Bostwick
, both appearing in upcoming movies for the Hallmark Channel, are asked what legacies they'd like to leave.
Howard: "That I was the only actor to work nine decades in show business."
Bostwick: "That I was able to offer you a little diversion from your pitiful, mundane lives."
PARTY FARE
: Fox's cable networks had the honor and privilege of fortifying critics with free food and booze at Day One's "Evening Event." Here's a breakdown:
Principal celebrity attendees
: DeVito and
Eddie Izzard
, who co-stars in FX's upcoming and very noteworthy series
The Riches
.
Menu
: Rigatoni with traditional marinara sauce, mac and cheese, Philly cheese steaks, french fries, fried chicken fingers, baby butter lettuce salad, mini- pecan pies, cheese cakes and German chocolate cakes, dark- and white chocolate-covered crickets and worms, deep fried cow testicles, crocodile filets with rosemary sauce, Asian braised chicken feet.
Grade
: B
Comment
: The bovine nuts are a nice touch, but the chocolate-covered stuff lacks authenticity. Crickets are tangier than that.