Press tour snack bar--Day Four (Fri., Jan. 12)
12/01/07 22:54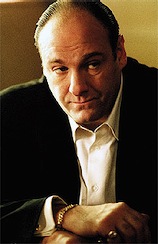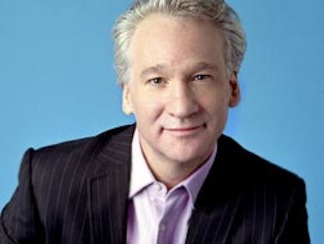 HBO leading men James Gandolfini and Bill Maher are soon to return.
By ED BARK
PASADENA, Calif. -- HBO served up a big platter of programming announcements and full-bodied quotes during its three hours with TV critics Friday. Let's get to it.
BADA BANG:
It's official. The second half of
The Sopranos'
sixth and final season will fire up on Sunday, April 8, with the grand finale tentatively scheduled for June 10. Creator
David Chase
has written an extra episode, making it nine instead of the previously announced eight. HBO insiders say there will ample death and destruction before the most heralded series in cable history blacks out.
Entourage
likewise is set for an April 8 return, with new episodes immediately following
The Sopranos
.
Star
James Gandolfini
, who plays Tony Soprano, quickly will return to HBO on the Fourth of July as executive producer of the documentary
Alive Day Memories: Home From Iraq. He also will interview U.S. soldiers who have returned from the front after suffering severe injuries in combat.

THE ADAMS FAMILY: Oscar nominees Paul Giamatti (Sideways, Cinderella Man) and Laura Linney (Kinsey) have been cast as John and Abigail Adams in a seven-hour miniseries drawn from the acclaimed David McCullough biography. Tom Hanks is co-executive producer of the adaptation, scheduled to premiere in 2008.

MAHER STILL THROWING HARD: After time off since the mid-term elections, Real Time with Bill Maher returns to the living with a fifth season premiere on Feb. 16.

The self-described "comedian with a point of view" warmed up during an interview session by assailing President Bush's decision to send more troops to Iraq. He sees Bush as a foreign policy idiot using God as a facilitator.

"That is monumental ego," Maher said. "That is arrogance on the level that could only be based on faith . . . I understand that George Bush prayed a lot about Iraq. But he didn't learn about it."

He defends his friendship with hardline conservative Ann Coulter, however, even though he hasn't seen much of her lately.

"I think she has security issues, and she's kind of gone underground," Maher said. "I think she literally is in an undisclosed location."

Still, he admires "her balls. She's not afraid to get booed."

Conservatives often get jeered by the studio audience on Real Time. Maher concedes it's a problem, but "we can't get the conservatives to come out . . . It's very tough being a conservative these days, on my show or anywhere."

Fox News Channel personality Bill O'Reilly bucked his bosses to appear on Real Time, Maher says. But no one else from the network has dared to enter his lair.

"Fox News hates us, for good reason," he said. "I'm constantly making fun of them. They suck."

HELL TO PAY: Alexandra Pelosi, daughter of Speaker of the House Nancy Pelosi, will train her documentary cameras on evangelical Christians in Friends of God: A Road Trip with Alexandra Pelosi.

This time, however, she'll mostly stay off-camera and won't even narrate her film, which premieres on Jan. 25.

"I wasn't trying to make an ego-mentary," she said. "I felt like I was on an archaeological dig."

One of her principal on-camera guides is the since disgraced Pastor Ted Haggard, who recently resigned as president of the National Association of Evangelicals after allegations that he had sex with a male prostitute and also purchased illegal drugs. The completed film had been delivered to HBO just before Haggard went down. She hopes its credibility won't be "undermined" as a result.

Pelosi was joined onstage by ordained minister Dr. Larry Poland, who keeps tabs on media portrayals of Christians as CEO of Mastermedia International. He has seen Friends of God and thinks it's fair.

"Every constituency has its 'jerk factor', " Poland said. "And we have ours."

Pelosi said she hasn't discussed the documentary with Madame Speaker, an outspokenly liberal Democrat.

"My real-life mother has a complete separation of church and state," she said. "We leave my work alone."

She encountered some resistance from the subjects of her documentary. But her surname wasn't the principal cause for concern.

"It was a lot harder to walk into the doors of that church and say HBO," she said. "They call it Hell's Box Office. And yes, I did get 'saved' many times every day."

HELL OF AN EXPERIENCE: Law & Order series creator Dick Wolf worked with HBO for the first time as co-executive producer of the film Bury My Heart At Wounded Knee, adapted from the 1971 Dee Brown bestseller and set to debut in May.

His "amazing experience" with HBO made him long for the same latitude at NBC, his principal employer.

"I would love to send some network people to intern for a while (at HBO)," he said.

Wolf later said he'd been "a little bit flippant." But working at a premium cable network gave him a respite from the constant pressure to perform in the Nielsen ratings.

"They're (broadcast networks) in the numbers game, the daily numbers game," he said. "And that leads to decisions that aren't necessarily artistic, or the best."

MILCH MULCH: The long and winding mouth of David Milch kept critics mostly in the dark during a session for his new HBO series John From Cincinnati. The creator of Deadwood mostly reduced the actors on stage to dead wood during long discourses on whatever popped into his head.

"To my mind, reality is a shifting and elusive condition," Milch said before later dubbing himself a "sociopath." Oh well, he still mostly does great work.

John From Cincinnati, scheduled to premiere this summer, is about a California surfing family that receives a visitation from a mysterious stranger named John. Strange happenings ensue, with veteran actors Bruce Greenwood and Rebecca De Mornay among those along for the ride.

Milch still intends to make two concluding Deadwood movies after HBO rejected the idea of a full fourth season.

"Certainly it was kind of an abrupt rupture that occurred," Milch said, marking one of the few times he made complete sense.

HBO said the movies won't air until sometime in 2008, provided they indeed get made.

A new season of Larry David's Curb Your Enthusiasm also won't be ready until next year, an HBO spokesman said. It will begin with the Davids taking in a black family made homeless by "Hurricane Edna."