Press tour snack bar--Day Two (Wed., Jan. 10)
11/01/07 05:08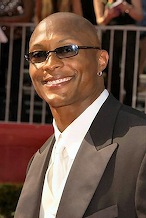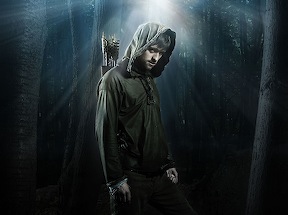 Eddie George is all smiles. The new Robin Hood is not.
By ED BARK
PASADENA, Calif. --
BE GONE, BILL:
Former Dallas Cowboys running back
Eddie George
thinks there's no future with the team for
Bill Parcells
, for whom he played -- more or less -- in the 2004 season.
"I think Parcells is gone," he tells unclebarky.com. "I can see that he's tired. The ups and downs of the season weigh on you and I believe that has a lot to do with the players that he's dealing with, just accommodating them. So I don't think he comes back."
George also expects receiver
Terrell Owens
to be an ex-Cowboy next season. The former Pro Bowler, who had his best seasons with the Tennessee Titans, is otherwise occupied with a fledgling TV career. George and his singer wife,
Taj Johnson-George
will be starring in
I Married a Baller
, a reality series premiering in April on the TV One cable network.
She dreams of doing
Dancing with the Stars
. He doesn't, but says it'd be no contest if he did.
"I would bust Emmitt's behind," George says of reigning champ
Emmitt Smith
. "I would go on there and 'break shop.' I mean, I'm a good dancer. I was one of the best breakers on my block back in Philadelphia."
Says Taj: "We usually slay other couples on the dance floor. So
Dancing with the Stars
is not ready."
AT LEAST HE'LL STILL USE ARROWS:
"A Different Kind of Hood" is coming to BBC America, whose 13-episode series on Sherwood Forest's finest premieres March 3.
"Adventure, derring-do and not a pair of tights in sight," says longtime BBC America general manager
Kathryn Mitchell.
The latest Robin is 25-year-old newcomer
Jonas Armstrong
. In a clip from the series, Maid Marian (19-year-old
Lucy Griffiths
) tells him to "grow up."
Executive producer
Foz Allen
says he's "peppered it with a sensibility for now . . . So Little John having a giant stick and his ability to beat everybody else up in sight isn't there. But Little John leading a gang of thugs who are robbing people for no good reason
is
there. Robin giving them an ideological view of the future and having to sit on Little John because he's much too big to fight is the way we've told the integration story. Does that make sense?"
As for Maid Marian, "she is very strait-laced" by day. "By night she's kind of
Uma Thurman
in
Kill Bill
, kicking ass and feeding the poor," says Allen.
FOR THE CURE:
The Discovery Channel is teaming
Ted Koppel
and champion cyclist
Lance Armstrong
in
Living with Cancer
, a documentary premiering April 29 during Cancer Awareness Month.
Discovery Networks president
Billy Campbell
says a live town hall meeting will follow. One of the scheduled participants is Koppel's former
Nightline
executive producer
Leroy Sievers
, who currently is fighting cancer.
PARTY FARE:
BBC America hosted Day Two's "Evening Event," a medieval-themed deal in a white tent built on the Horseshoe Gardens grounds of the headquarters Ritz-Carlton Hotel. Here's a breakdown:
Menu:
Baked salmon with coco bean and white clover honey, whole roasted pig, roasted chicken legs with fricasse of wild mushroom and green bean, country pate terrines, sauteed whole baby carrots and asparagus, two-tone sugar beet salad, marinated leek and mushroom salad, young green herb salad, red grapes, skewered artichoke hearts with mozarella cheese, bread pudding, orange apple tarts, simnel cake, honey mead.
Other attractions:
A woman on stilts, wenches calling TV critics "master" and a five-piece medieval band in tights.
Grade:
C+
Comment:
Medieval band declines to play any Springsteen. Mead tastes a little sour-pussy. Carved-out pig a bit off-putting, as is whole fish head in the midst of baked salmon. Style points, though, for handing out brown Robin Hood hoodies on a crisp night by Southern California standards.