Ugly Betty's post-Globes glow (Press Tour/Day 8)
17/01/07 07:35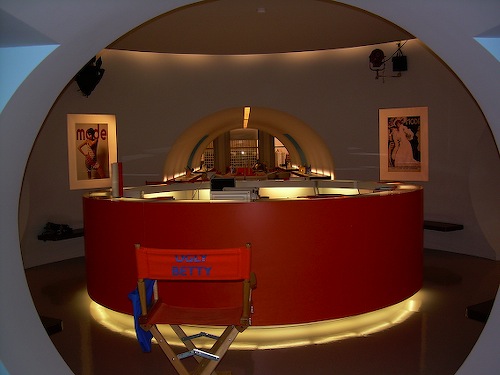 The sleek corporate offices of Mode magazine clash culturally with...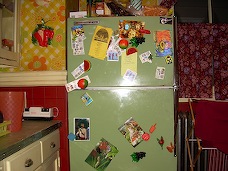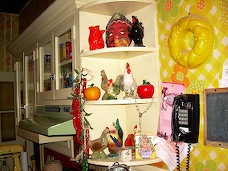 ...the eclectically decorated Suarez family kitchen. Photos: Ed Bark
By ED BARK
HOLLYWOOD -- It's the morning after
Ugly Betty's
big Golden Globe wins, and Dallas-born Michael Urie is still in a trance. He felt like a Little Dipper among an array of A-list Hollywood stars. But hey, at least he made the cut.
"It was
s-o-o-o
only my first one," he says from the set of ABC's breakout comedy hit. "A year ago I was sitting on the couch in my underwear eating popcorn and watching the Globes. And on Monday night I was
there.
I was like 10 feet from Jack Nicholson. I saw Meryl Streep and I literally lost my breath. "Brangelina' went right by me. And 'McDreamy' (Patrick Dempsey of
Grey's Anatomy
) almost McPeed on me. Yes, it was in the restroom. It was an awesome night."
Urie, 26 and a graduate of Plano High School, plays flamboyantly gay suck-up assistant Marc St. James on
Betty
. He had been primarily a Shakespearean stage actor before landing his first TV series roll. From the Old Globe to the Globes is quite a trip, especially when you're standing onstage with fellow cast members after
Betty's
victory as best comedy series.
"I didn't want to go up to Clint Eastwood and be like, 'Hey, I'm the colorful one from
Ugly Betty
'. But after you've won, it's nice. You feel like you can kind of hold up your head a bit, which is really great."
Initially signed as a recurring guest star, Urie now is a full-fledged regular on
Betty
, which is a cinch to be renewed for next season. His calling card is an ultra-vivid wardrobe that stands out like a traffic light on a hiking path.
"Oh, forget it," he says. "Generally I don't know what it is until I get here. And then there's this gorgeous, colorful, who-knows-what it is. It's pretty fun every week to get surprised by them. And they have so much effect on my physical life as Marc. When you wear pants that tight, it just gives you a certain physicality."
Urie will be back in Dallas on Feb. 26 to co-host the annual Column Theatre awards. This time he'll be one of the cheeses, a Hollywood success story coming home again. Otherwise he'll be plotting and scheming against title character Betty Suarez, who's still pegged as Mode magazine's resident eyesore.
Marc and his boss lady, fashionista Wilhemina Slater (Vanessa Williams), "are 'frenemies' with Betty," Urie says. "You can't help but like her sometimes. But generally, she's gotta go."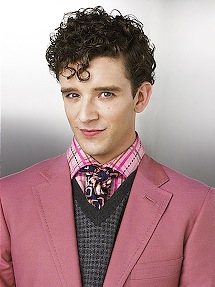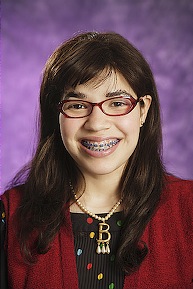 Contrast in styles: Marc St. James and Betty Suarez
Tucked away in a corner of
Ugly Betty's workplace, a yet to be transformed America Ferrera is still a bit dazed by her Globe win as best actress in a comedy series. She's been up most of the night and into this next morning.

"It's very overwhelming and I'm still trying to take it all in," Ferrera says amid a semi-circle of inquiring minds.

Her entire immediate family attended the Globes with her. A big head isn't an option with them.

"When things are happening so fast in such a big way, you tend to lose sight of just how wonderful it really is," she says. "And my brother reminded me that this was an extremely special moment and he didn't want me to lose sight of how proud it made them of me."

Ugly Betty is another prime-time TV beacon for Latinos on a network that also houses the George Lopez show and Eva Longoria of Desperate Housewives.

"I just playing a regular girl who appeals to different races and all kinds of audiences," Ferrera says. "For a Latina character to be out there in a mainstream way without a banner on her head is a true success and a step forward."

Her Betty Suarez won't be getting a makeover any time soon, she says. For now, braces and oversized glasses are too much of a part of the character's makeup.

"I think they're much more involved in mapping out the evolution of Betty's character and how she kind of grows internally. And I don't know if the outside evolution will come -- if ever."

As if on cue, a handler intervenes. "Thank you so much. She's gotta get 'Betty-fied'."

It's the America way.