24's back in action, but movie's on hold (Press Tour/Day 8)
17/01/07 06:18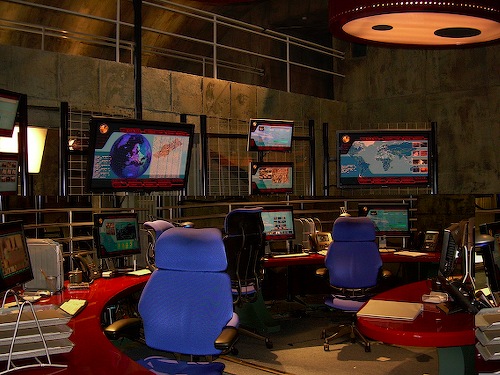 24's CTU headquarters is a cool place to hang out. Photo: Ed Bark
By ED BARK
CHATSWORTH, Calif. -- It turns out there just aren't enough hours in a day to make a
24
movie and do the series, too.
Plans for a feature film have been waylaid until the show ends its run on Fox, says executive producer Howard Gordon. Under the original schematic, production on a big-screen
24
would have started immediately after the final "Cut!" on Season 6, which began Sunday.
"We felt right now, and I think Fox agrees, that while the franchise was on the air, it was going to be competing," Gordon says on the set of the real-time thriller. "We're still talking about it, but we missed the window to 'prep' it this year between new seasons."
Star Kiefer Sutherland, who plays agent Jack Bauer, says that a
24
movie would fast-forward through a 24-hour day in roughly two hours time.
"Realistically it's gonna probably happen when the show is finished (as a TV series)," he says.
The ongoing sixth season already is four hours old. Its first and fourth chapters ended with big jolts even by
24
standards. First Jack escaped death at the hands of terrorists by biting through the carotid artery of a captor. Later he had to fatally shoot fellow CTU agent Curtis Manning (Roger R. Cross) in the neck to preserve the life of a terrorist who lately is acting like an ally. Minutes later a nuclear bomb was detonated, ramping up the stakes as never before on
24
.
"That was just something that was so 'animal'," Sutherland says of his vampire turn. "I'm looking for a piece of cantaloupe to chew in my mouth. And when I spit that out, that's gonna be his Adam's apple. That's when we all started acting like we were seven year olds. How gross can we make it? But it had to be something quite dynamic and really animalistic and guttural."
Killing agent Manning didn't suit the actor who played him. Gordon says.
"He told me, 'You're making the biggest mistake of your life.' But we needed something that would make Jack really want to throw it in and give up. Curtis in a sense was the sacrificial lamb. It keeps reminding us of the stakes of this series."
24
got off to a solid start in the Nielsen ratings, averaging about 15.5 million viewers for its first four hours. As usual, Gordon and the show's writers still aren't sure how they're going to end this season's festivities.
"I know what we're doing up until Episode 18," he says. "And after that, I honestly don't."
Sutherland has a lifetime contract, more or less, as the now indelible Bauer.
"The deal is simply that they have the option to use me if they choose," he says. "It doesn't mean that anything is etched in stone. If there's a moment where it would make sense to kill Jack, then yeah, I'm game."
He inadvertently killed his own action figure. It soon will be in stores, but was supposed to be on the market at least a year earlier.
"I had one in
The Three Musketeers, but he was much smaller and he only had a sword," Sutherland says. "My new one's got a cell phone and a gun."

An earlier toy version of Jack Bauer was sent to him in 2005 during filming of The Sentinel with Michael Douglas and Eva Longoria. But it met an untimely end after Sutherland and a production assistant on the film went out "for a couple of drinks and dinner."

A bit lit up, they then disposed of the miniature Jack Bauer by lighting it on fire in the restaurant parking lot, Sutherland says. The next day he was asked if he "approved the figure" for mass production. Sutherland gave his OK and was told to send it back to Japan. It wasn't just a protototype. It was the only copy. Oops.

"It then took another year for them to remake it," according to Sutherland. "I don't think they were thrilled."

Despite any meltdowns, Sutherland now is as closely tied to Jack Bauer as Carroll O'Connor was to Archie Bunker, or Larry Hagman to J.R. Ewing. Is he OK with that?

"Well, I'm not dead yet, mate," he says. "But yes, this is a character I'm absolutely proud to be identified with."