Dancing quick-steps to Mondays (Press Tour/Day 6)
14/01/07 12:18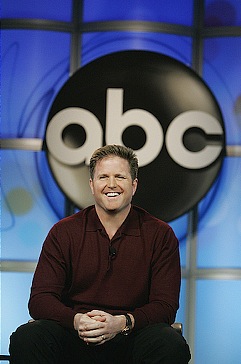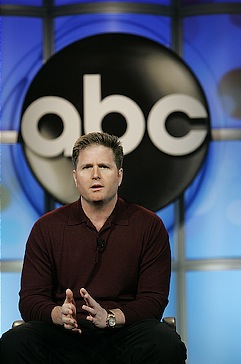 Smile when you say that. Or maybe not. ABC entertainment president Stephen McPherson parries and thrusts with TV critics Sunday.
By ED BARK
PASADENA, Calif. -- Sidestepping
American Idol
, ABC's
Dancing with the Stars
will take its "performance" edition to Monday nights this spring, the network announced Sunday.
"We wanted people to not have to choose" between the two reality blockbusters, entertainment president Stephen McPherson said. "I think fans would have been upset if we just put them head-to-head."
Instead
Dancing
will brush up against another Fox hit,
24
, when it returns on Monday, March 19 with a two-hour fourth season kickoff (7 to 9 p.m. central time). The following Monday's edition also will take up two hours before
Dancing
contracts to 90 minutes. Results shows are scheduled on Tuesdays from 8 to 9 p.m. central, starting March 27.
Dancing's
other competition in the competitive Monday night mix includes NBC's
Deal or No Deal
and
Heroes
and CBS'
Two and a Half Men
, prime-time's most popular comedy series.
Casting on
Dancing
, which is "about halfway there," will be announced at some point on
Good Morning America
, McPherson said.
November's third season finale of
Dancing
, won by former Dallas Cowboy Emmitt Smith and pro partner Cheryl Burke, drew 27.7 million viewers to rank as the show's biggest draw to date. Overall, the third season averaged 20.7 million viewers for the performance show and 19.1 million for results editions. In the pre-
Idol
season-to-date ratings, that makes
Dancing
the No. 2 and No. 4 attraction in prime-time.
***
McPherson danced around a question on the Rosie O'Donnell-Donald Trump feud, which has helped spike ratings for ABC's
The View
in recent weeks.
O'Donnell started it, but "to me, the entire thing is just a publicity stunt for Trump to try to get stuff for
The Apprentice
," McPherson said. "You look at the news right now, that's all he's trying to do is sue people and make waves. So me commenting just kind of feeds into his desire."
***
ABC's
The Nine
has gone out of production after completing 13 episodes. The serial drama "has a shot" at getting back onto ABC's schedule at some point, but viewers shouldn't expect any closure if it does.
"It wasn't designed to end at the end of the 13 (episodes), so it doesn't answer that specific question," McPherson said, referring to what actually happened inside the bank during a prolonged hostage crisis.
***
Actress Marcia Cross's real-life pregnancy -- she's expecting twins -- will find
Desperate Housewives
in bed with her character, high-maintenance Bree Van De Kamp.
"We'll see her through 14 or 15 episodes," McPherson said. "She went on bedrest slightly prematurely from where we had planned. We're actually shooting some of the episodes to finish up her arc at her home in her bed. And then you'll probably see her come back at the end of the year."
***
Mick Jagger might not make any return appearances on ABC's
The Knights of Prosperity
, but other prominent names will be dropping in, including Ray Romano, Regis Philbin and Kelly Ripa. Sting also "may do something," McPherson said.
The comedy originally was titled
Let's Rob Mick Jagger
, but "he asked that it not be called that, so we obliged," McPherson said.
Jagger had several scenes in the recent premiere episode but since has "been on tour doing his thing . . . I would love to see Mick come back and reprise his role (as himself)," McPherson said. "He was really funny."
Comedy otherwise hasn't been paying big dividends on ABC, where none of the five half-hour series currently on the air is a solid bet to have a slot next fall.
"It's frustrating. It's challenging," McPherson said. "We definitely want bigger audiences for them. I believe that comedy is due to kind of explode."
Or implode, ha-ha.