Press tour snack bar (Day 7)
15/01/07 16:17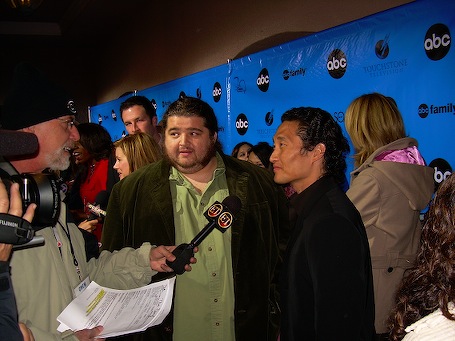 Lost's Jorge Garcia ("Hurley") and Daniel Dae Kim ("Jin") assume the position before joining ABC's jammed "All-Star Party." Photos: Ed Bark
By ED BARK
PASADENA, Calif. -- Enjoy these tidbits while also checking out a few of Uncle Barky's homemade photos at the midpoint of the networks' midseason TV press tour.
***
It wasn't supposed to happen until next season, but FX's new
Dirt
drama has squeezed in
Jennifer Aniston
as a guest star on the show's spring finale.
She'll play magazine editor Tina Harrod, rival of muckraking Lucy Spiller, played by series star
Courteney Cox
. The two haven't worked together since
Friends
left NBC in 2004. Aniston's episode, which begins filming Thursday, will air on March 27.
***
Fox's two-hour, sixth season premiere of
24
opened big Sunday night, averaging 15.7 million viewers in the national Nielsens.
That was nearly enough to outpoint ABC's
Desperate Housewives
, which drew 16.7 million viewers opposite
24's
second hour (16.2 million).
24
also finished close behind
DH
among advertiser-coveted 18-to-49-year-olds.
Left for dead were NBC's new reality combo of
Grease: You're the One That I Want
(8.2 million viewers) and
Donald Trump's
The Apprentice
(7.3 million).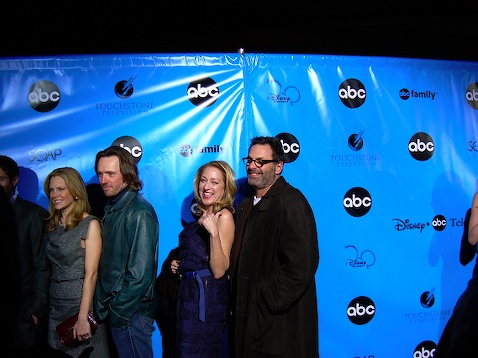 Brothers & Sisters star Patricia Wettig and real-life husband Ken Olin, who co-produces the series, make merry on the red carpet.
***
ABC's lively "Showrunners" panel kicked into a higher gear when
Lost
co-executive producer
Carlton Cuse
said it "wouldn't be half the show it is if it wasn't for the willingness of the studio and the network to embrace the crazy ideas that we've come up with. When you say, 'Oh, we're going to have Michael (
Harold Perrineau Jr.
) shoot two of our other characters. He's one of our leads, and he's going to murder two of our other leads. How do you feel about that?' And they . . .
Co-producer
Damon Lindelof
then interjected, "They're like, 'As long as one of them is
Michelle Rodriguez
, we're cool."
His reference to the trouble-prone Rodriguez (who played Ana-Lucia Cortez) got a mega-laff and a quick backpedal from Lindelof.
"And that's a joke," he said, prompting
Desperate Housewives
creator
Marc Cherry
to jab, "Tap dance, baby. Go."
Cherry said a showrunner is "like the captain of a ship. And sometimes you have bad days. As adorable as I am, my writing staff could just tell you tales."
As for ramrodding the talent, "you have to be strong," Cherry said. "Part of my job is hugging, where you just have to kind of just smooth out the tortured egos of some fragile artists at times . . . Then every once in a while you come across a monster who is impossible to deal with. And you start saying 'Life is too short' and phone calls to the network are made and that kind of thing."
***
ABC's oft-politically incorrect
Boston Legal
continues to draw big enough crowds to ensure another season. ABC entertainment president
Stephen McPherson
says he's still a big fan.
"I mean, any show where the lead of the show can say, 'I think that midget I'm dating is my daughter' . . ."
"That's good television right there. It doesn't get better than that."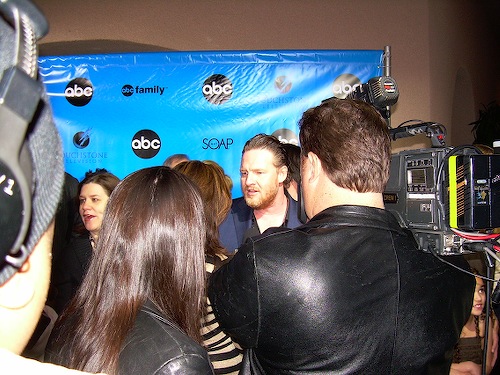 Face in the crowd: Donal Logue, star of The Knights of Prosperity, tries to sell the electronic press on his ratings-hungry new comedy.
***
We'll close with some cheery words on the future of newspapers from former
60 Minutes
producer
Lowell Bergman
, who was portrayed by
Al Pacino
in the acclaimed feature film
The Insider
.
Now an investigative reporter with
The New York Times
, Bergman is the principal correspondent on
Frontline's
four-hour
News War
, set to premiere Feb. 13 on PBS.
"The economic foundations of the news-gathering organizations that most of you work for are in question," Bergman told TV critics. "As are your jobs, the salaries, your perks and your future. And that, in turn, has an effect on the ability of the organizations to actually do the kind of watchdog reporting that we like to think is the foundation of our business."
Still, most newspapers "are great businesses producing tremendous amounts of cash," said Bergman. Unfortunately, many of those same newspapers are now bowing to the dictates of Wall Street.
"It appears that at one time (privately owned) newspapers were making 50, 60, 70 percent profit. They were huge cash cows," Bergman said. "So they went public. Now it's the other end of that bargain. The investors don't see the 30 to 40 percent profits they were getting every year . . . And you have somebody like
Warren Buffett
(a major shareholder in
The Washington Post
and owner of
The Buffalo News
) saying at his shareholders' meeting that newspapers are not only in decline, it's an industry that may go out of business."
"So the investors are scared, and are wondering where their 30 or 40 percent profit is. That's what their expectation was."
For what it's worth, unclebarky.com may hit the the wall at some point. But it won't ever be because of Wall Street.