Hopelessly devoted to you: Ken Burns & PBS re-up to 2022 (Press Tour/Day 5)
13/01/07 15:03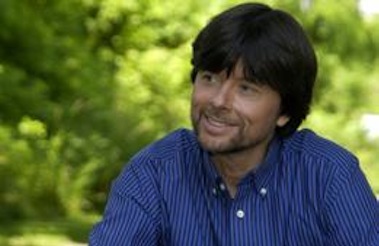 Ken Burns is pledging allegiance to PBS for another 15 years.
By ED BARK
PASADENA, Calif. -- Job security isn't what it used to be, but Ken Burns definitely has it. Public television's Steven Spielberg has inked an exclusive 15-year deal with the network, which would make him 68 when it expires in 2022.
"He's planning to spend the rest of his professional life working in public television," PBS president and CEO Paula Kerger told TV critics Saturday.
Burns, whose grand achievements for PBS include
The Civil War, Jazz
and
Baseball
, is now immersed in
The War
, a 14-hour WWII epic tentatively scheduled to premiere on Sept. 17. He filmed it with expletives undeleted, and Kerger said she's determined to keep it that way. But upcoming Federal Communications Commission rulings on pending "indecency" cases will play a key role in this particular war of words.
"We are spending a tremendous amount of time on this issue," Kerger said. "I'm going to continue to press forward until we come out on the right side."
The colorful language comes from interviews with WWII veterans, but the documentary is "not littered with bad words," Kerger emphasized. In her view, its artistic integrity would be compromised if the threat of heavy fines intimidates PBS stations into airbrushing
The War
.
Dual feeds are a possibility, Kerger said. PBS chose that option with 2003's
The Gin Game
in which stars Dick Van Dyke and Mary Tyler Moore occasionally worked blue.
"If we have a better sense of the FCC, that won't be necessary," said Kerger, who hopes that PBS stations will be emboldened to air
The War
with salty language intact.
On another front, some critics questioned the wisdom of PBS premiering
The War
during the official first week of another new fall season.
"What's the definition of insanity in Public Broadcasting?" Kerger and "chief content officer" John Boland were asked.
Boland said the premiere isn't set in concrete, but "PBS cannot go into hibernation every time a commercial season breaks."
Burns'
The Civil War
and
Baseball
likewise launched during the heavily trafficked start of a fall season.
Boland earlier announced that Bill Moyers yet again will come home to PBS, this time with a rebooted weekly version of
Bill Moyers Journal
, which got its start on public television 35 years ago. The program will be back in play on April 25 with "Buying the War," a look at the role of the media in the months before the invasion of Iraq.
"I'm as eager and charged as I was . . . when I entered this game," Moyers said in a statement. "Ponce de Leon would still be around today if he had given up his search for the fountain of youth and just entered journalism."