Unscripted: Tori and Randy Spelling face new realities
10/01/07 18:21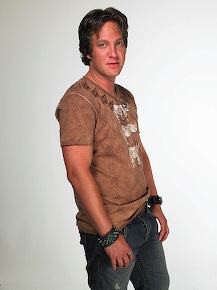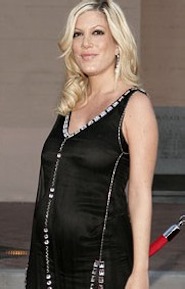 Big sis, little bro: Randy and Tori Spelling keep the name in play.
By ED BARK
PASADENA, Calif. -- Oh those Spelling kids. Their late, legendary father, Dallasite Aaron Spelling, took a dim view of unscripted "reality" television. In fact, he never really grasped the concept before his death on June 23 of last year.
Now both of his progeny are playing themselves in new cable series designed to capitalize on the Spelling name.
Tori, 33, will go first. Her
Tori & Dean: Inn Love
, co-starring new husband Dean McDermott, premieres March 21 on Oxygen. The two of them are opening a bed & breakfast in Southern California wine country. In another co-production, she's expecting their first child, a son, in March.
Her brother, who's still single, weighs in 10 days later with A&E's
Sons of Hollywood
. Randy, 28, will be romping through life with pals Sean Stewart (son of Rod) and David Weintraub, a young talent manager who's no relation to big-time Hollywood producer Jerry Weintraub (
Ocean's Eleven
).
Making separate appearances on the first two days of the mid-season network TV "press tour," both Spelling siblings were cheery and expansive, with one predictable exception. Tori has been on the outs with mother Candy ever since the death of her dad, who left his only daughter a comparatively paltry $800,000 inheritance. It's understandably tough to talk about.
"Well, you'd probably know as best as I do," Tori said Wednesday of any fence-mending with mom. "Unfortunately, I wish things were different. But they are pretty much what they are at the moment."
Tori and Candy make separate appearances in Randy's show. He wants to leave it at that.
"In terms of all the family drama and everything, I'd would rather not discuss it," he said during a Tuesday afternoon appearance on behalf of
Sons of Hollywood
.
A clip from the 12-episode series includes a cell phone conversation with his then ailing Dad. Randy tells him to eat and keep his strength up.
"He was so into scripted television for basically a generation . . . When I told him I was doing a reality show, he said, 'Well, that's great. That's good. When do you shoot? Do you have to go out of town?' And I said, 'No, we're shooting it here.' And he asked all these questions that had nothing to do with 'reality,' and it was hard to explain to him exactly what I was doing."
Tori came of age as Donna Martin on one of her father's many prime-time hits,
Beverly Hills, 90210
. She's been doing television ever since, and met her husband on the set of the cable movie
Mind Over Murder
.
"That wasn't a choice I was given," she said of her TV omnipresence. "My life is a reality basically. I mean, it's out in the media every day. So why not put the truth out there and put ourselves out there, and at the same time open up a successful business?"
There inevitably will be comparisons to MTV's
Newlyweds
, which starred the since splitsville Jessica Simpson and Nick Lachey.
However, "I know what tuna is," said Tori, a reference to the magical moment in which Jessica puzzled over a Chicken of the Sea can.
In a separate interview, she giggled about being pregnant and transfixed.
"Every night when I walk by my mirror, I just stare at my belly. And I'm so impressed by it. I'm just like fascinated."
"Tori looks s-o-o-o good naked," her 40-year-old husband chipped in. "S-o-o-o sexy."
"I like being pregnant," she said. "I like this look."
Their son's middle name will be Aaron, in memory of her father. But he won't be born with a silver spoon in his mouth, unless the couple's B&B inn turns out to be wildly, stunningly successful.
"The only thing I can really spoil him with is love," Tori said. "And that's the most important thing."
It sounds surprisingly genuine coming from a much-lampooned child of privilege. So here's hoping that Tori Spelling at last will experience what her father peddled for years on confections such as
The Love Boat, Fantasy Island
and
Hart to Hart
.
Aaron Spelling also created
Dynasty
, of course, the saga of a filthy rich family torn from within. The Spelling kids know that story all too well. Maybe it's finally time for some new chapters.