Ring in the King: CNN's Larry the Legend hits the half-century mark in broadcasting
09/01/07 16:21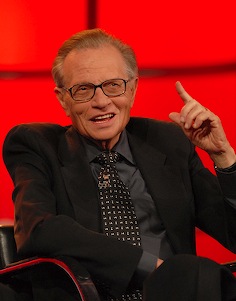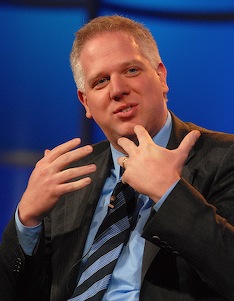 Old school, new school: Evergreen Larry King and upstart Glenn Beck talk up CNN on Day One of the midseason network TV "press tour."
By ED BARK
PASADENA, Calif. -- And so it begins. Day One of a dozen-day TV "press tour" dawned Tuesday with 73-year-old Larry King still kicking and CNN planning a big blowout this April to celebrate his 50 years behind a mike.
Suspender-less in a dark suit and black mini-boots, King pronounced himself good to go for another decade or so. Or as CNN Worldwide president Jim Walton put it, "In 20 years time, when Larry retires..."
He's been doing CNN's
Larry King Live
since June 1985, and "some people say I look better now than I did 10 years ago," he opined. He did look pretty chipper, even if Walton pointedly referenced his age by telling TV critics, "There's no question that Larry can sit in his chair as long as he continues to perform."
King was followed by lion cub Glenn Beck of CNN's companion Headline News channel, where he's been a little sizzler since his show debuted in May. His
Glenn Beck
hour (6, 8 and 11 p.m. central) has jumped 65 percent in total viewers and 88 percent among advertiser-preferred 25-to-54-year-olds, says CNN. That makes the conservative but avowedly open-minded talker a hotter property at the moment than
Headline's
oft-lampooned Nancy Grace.
"I'm stupid enough to say what I actually feel," said Beck. "I wear it as a badge of honor that I'm not a journalist."
King has been making essentially the same declaration for years and years. Trained journalists in some ways are getting to be the mutts of the all-news cable networks. It works better, in the ratings at least, if you simply unleash yourself.
CNN's planned "King-Sized Week" (April 16-22) will include a roast hosted by Bill Maher, a
50 Years of Pop Culture
special, an interview with Oprah Winfrey and King being interviewed by Katie Couric. He has definite ideas on what a good interviewer is and isn't. Make the questions short, don't overly prepare, listen intently to the answers and keep yourself at bay.
"The best way to judge an interviewer is how often does he or she say 'I'?" King said in a separate interview. "If they say 'I' a lot, they're not an interviewer. They're interested in themselves. I don't use the word 'I'. I never have all these years."
His "hands down" god of interviewers is Mike Wallace. "Mike's my favorite broadcaster. Mike's my favorite person"
King's not overly fond of
USA Today
, which several years back canned his weekly column via a form letter, he said
"Which was kinda cruel. They said they were looking for a different demographic and your appeal tends to skew a little older. You're writing about Frank Sinatra, and he's dead."
His CNN show now is outdrawn most nights by Fox News Channel's competing
The O'Reilly Factor
. Pish-tush, there's room for everybody, King said.
"They're (FNC) a brand. They represent a certain kind of thinking, and there's a place for all of it. They're pretty much an extension of the Republican Party, with some exceptions. But I don't begrudge them that."
A CNN promotional clip heralding King's arrival highlighted both his many and varied interviews, and roles as himself in 21 feature films. He'll add to that total with voiceover work in both
Shrek 3
and
Bee Movie
with Jerry Seinfeld.
"I've never sought them out," King said. "But they're fun. They're all for the kick."
He yearns to star in his own one-man Broadway show, if only for a week. But that probably won't happen, King said.
Whatever his future holds, it won't be retirement unless he's physically or mentally infirm.
"I don't know what I would do being idle. I couldn't be idle."
Beck for his part was thrilled to be gabbing with King in a hotel "green room." Less than a year ago, he was just another radio host trying to make headway.
"It has been a wild, wild ride for me," said Beck, who professes to have found "eternal happiness" since becoming a practicing Mormon.
He'd like to see Americans "stop dividing ourselves" and disagree agreeably. One of his recent guests, the Rev. Al Sharpton, got that concept, Beck said. So they supposedly parted as friends despite being poles apart on just about every issue known to humankind.
Resembling a young Rush Limbaugh in both build and voice, Beck said he's not sure whether his show represents a "new evolution/revolution" or anything really pithy. But he's in there punching against posturers.
"The American people aren't stupid," he said. "They can spot B.S. just like that."
***
So what's with Anderson Cooper continuing to sub as a co-host on
Live with Regis & Kelly
? Doesn't that detract from CNN's buildup of him as a dogged, serious news hound?
CNN International president Jim Walton said it's not a problem. Not in the least.
"It's a subjective thing," he told unclebarky.com. "It's our position that Anderson wanted to do it, was asked to do it. We thought it was OK. OK for people to know he's a human being."