No longer terra firma: TV's late night terrain will soon be without Craig Ferguson, too
04/29/14 10:56 AM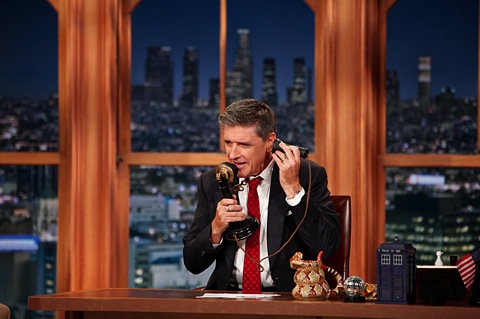 Craig Ferguson majors in communication on Late Late Show. CBS photo
By ED BARK
@unclebarkycom on Twitter
Becalmed in recent years, TV's late night terrain shook again Monday when Craig Ferguson announced he'll be leaving CBS'
The Late Late Show
in December of 2014.
Ferguson, who won an on-air talent competition to replace Craig Kilborn, began his
Late Late Show
stint on Jan. 3, 2005.
"CBS and I are not getting divorced, we are 'consciously uncoupling,' " Ferguson said in a statement that riffed on the split-up of Gwyneth Paltrow and Chris Martin. "But we will still spend holidays together and share custody of the fake horse and robot skeleton (Geoff, his sidekick), both of whom we love very much."
CBS entertainment chairman Nina Tassler praised Ferguson's unique contributions, which have included a free-form, largely unscripted monologue and notably informal interviews with his guests.
"Craig has elevated CBS to new creative and competitive heights at (11:30 p.m. central)," she said. "He infused the broadcast with tremendous energy, unique comedy, insightful interviews and some of the most heartfelt monologues seen on television."
In an
interview Monday night with Variety
, Ferguson emphasized that his decision to leave was long-planned and had nothing to do with CBS bypassing him as a successor to David Letterman and instead choosing Stephen Colbert earlier this month.
"Ten years is a very long time in one job -- for me," he said. "I wanted to leave the show before I stopped enjoying it. That was my goal. I didn't want it to be a chore . . . Show business should have some adventure to it, I think. It's not about knowing what you're doing day in and day out, year after year."
As CBS noted in its publicity release, Ferguson already has committed to hosting
Celebrity Name Game
, a syndicated quiz set to premiere this fall. His Green Mountain West production company also is developing projects for Science Channel, Comedy Central and the Discovery network.
Late night TV has been a tilt-a-whirl this year, beginning with Jimmy Fallon taking over NBC's
Tonight Show
from Jay Leno after the Winter Olympics. Fallon's NBC
Late Night
successor, former
Saturday Night Live
mainstay Seth Meyers, has been outdrawing Ferguson's show during the early weeks of their head-to-head competition while Fallon continues to thump both CBS'
Late Show with David Letterman
and ABC's
Jimmy Kimmel Live
.
Letterman surprisingly announced his retirement during an April 3rd edition of
Late Show
. A week later, CBS named Colbert as his replacement after Letterman decides on the date of his exit, which will be sometime next year. Comedy Central now is searching for Colbert's successor.
John Oliver, who had subbed for Jon Stewart during last summer's two-month sabbatical from Comedy Central's
The Daily Show
, launched his
new weekly HBO late night show
on Sunday, April 27th.
CBS is in the market for Ferguson's replacement, with Neil Patrick Harris considered a prime candidate. The network reportedly has ruled out Chelsea Handler, who is leaving her
Chelsea Lately
show on E! at the end of this year. Handler lately has been in discussions with Netflix about a possible new vehicle.
The Scottish-born Ferguson, 51, has long been a personal favorite of TV critics. Throughout his
Late Show
tenure, he has remained uncommonly kind, accessible and candid. Those can be rare qualities in the show business firmament. But Ferguson still has them in abundance.
Email comments or questions to:
unclebarky@verizon.net