The Office punches in early -- with four new "webisodes"
07/09/08 11:30 AM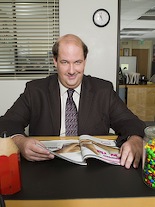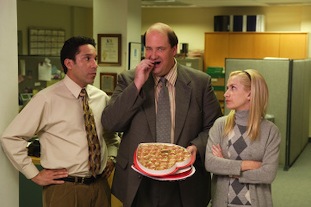 Brian Baumgartner's dim Kevin Malone fronts new Office "webisode."
What runs for 8 minutes, 30 seconds, is without Steve Carell and makes No. 4-rated NBC look visionary in times of trouble for its conventional prime-time lineup?
It's the second batch of "webisodes" for
The Office
, "premiering" Thursday, July 10th at 2 p.m. (central) on
NBC.com
.
Titled "Kevin's Loan" and running in four weekly installments, they showcase
Office
second banana Brian Baumgartner as title character Kevin Malone.
"Steve Carell may be the star of
The Office
, but I am huge on the Internet," Baumgartner says in a teleconference.
NBC trailblazed this path two Julys ago with its first collection of
Office
briefs, which won a -- woo hoo -- "Webby" as best Comedy Short. In "Kevin's Loan," he tries to pay off some unspecified gambling debts by borrowing money for an ice cream store he has no intention of opening.
"When you get a loan, you don't have to use it for exactly what you say you're gonna, right?" Brian asks co-worker Oscar (Oscar Nunez). Well, yeah, you do, he's told. Otherwise it's fraud.
Each webisode runs a little over two minutes. Baumgartner calls them "kind of guerilla filmmaking."
"There's a particular rhythm that you have to find that's different," he says. "We're dealing with a much smaller crew."
Plot lines have to be dangled while each webisode also offers a complete mini-story to at least a small degree. NBC's
Heroes
will follow
Office
's lead on July 14th with the debut of its first multi-part webisode, subtitled "Going Postal." As with
The Office
, secondary characters are getting a chance to shine.
Financial compensation for "new media" content is at the heart of ongoing negotiations between the Screen Actors Guild and the Alliance of Motion Picture and Television Producers. But Baumgartner says their dispute is "much less about this than it is about when they want to try new material and new shows."
The first
Office
webisodes two years ago "were much a litmus test," he says. "I think it sort of changed the way everybody was looking at online (material) and what the networks were making performers and writers do in terms of additional content . . . Now it's a little different. All of the contracts are going to have an online component as sort of a part of their package."
Last month, NBC's version of
The Office
won a "Future Classic" trophy at the annual TV Land awards show.
But a recent
Entertainment Weekly
issue devoted to the so-called "New Classics" of the past 25 years ranked the Ricky Gervais-led British
Office
at No. 17 while relegating the Peacock's to 61st place below series such as The WB's
Felicity
(No. 52) and the syndicated
Xena: Warrior Princess
(No. 60).
"I do love
Entertainment Weekly
," Baumgartner says after being goaded by unclebarky.com. "But the British
Office
was terrible."
That's a joke. And here's a look at some excerpts from the new
Office
webisodes: