Fox News Channel officially cuts ties with Bill O'Reilly (updated)
04/19/17 01:58 PM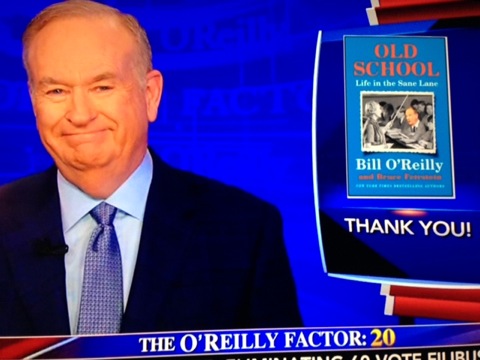 Bill O'Reilly on one of his last editions of The Factor. Photo: Ed Bark
By ED BARK
@unclebarkycom on Twitter
The Murdoch brothers and their father have officially performed last rites on Bill O'Reilly and his long-standing hit Fox News Channel show,
The O'Reilly Factor
.
With a non-specific reference to the sexual harassment charges leveled against him, patriarch Rupert Murdoch and sons Lachlan and James jointly signed his death warrant in a statement released Wednesday afternoon.
"After a thorough and careful review of the allegations against him, the Company and Bill O'Reilly have agreed that Mr. O'Reilly will not return to the Fox News Channel," they said. "The decision follows an extensive review done in collaboration with outside counsel."
FNC and/or O'Reilly, who remains on vacation in Italy and recently had a visitation with Pope Francis, earlier had paid a reported $13 million to five women accusers in return for their silence. As
previously posted on unclebarky.com
, a growing list of advertisers reacted by boycotting his 7 p.m. (central) program, where the ratings remained steady despite the ongoing, heavily publicized controversy. O'Reilly also has authored a string of bestselling books and further capitalized on his brand with sold-out personal appearance tours, usually in tow with Dennis Miller. Some of that money went to various charities, O'Reilly has said.
The Murdochs' statement noted O'Reilly's continued popularity. "By ratings standards, they said, "Bill O'Reilly is one of the most accomplished TV personalities in the history of cable news. In fact, his success by any measure is indisputable."
But they added that no one is indispensable. When FNC lost star player Megyn Kelly to NBC News (after she charged sexual harassment by the network's since deposed founder, Roger Ailes), the Murdochs quickly plugged in Tucker Carlson in the hour following
The Factor
. His solid ratings have surprised even FNC executives while Kelly is yet to get on the air at either NBC or FNC's arch rival, MSNBC.
"Fox News has demonstrated again and again the strength of its talent(ed) bench," the Murdochs said. "We have full confidence that the network will continue to be a powerhouse in cable news. Lastly, and most importantly, we want to underscore our consistent commitment to fostering a work environment built on the values of trust and respect."
O'Reilly never addressed the latest sexual harassment imbroglio on his program, but did issue an earlier statement in which he said his celebrity status made him an easy target for lawsuits. The payments to accusers were made to protect his family, he said. But the controversy persisted nonetheless.
In a new statement released later Wednesday, O'Reilly first lauded
The Factor
as "one of the most successful news programs in history" and a key contributor to "building Fox into the dominant news network in television."
He then underscored his previous denial of any wrongdoing: "It is tremendously disheartening that we part ways due to completely unfounded claims. But that is the unfortunate reality many of us in the public eye must live with today. I will always look back on my time at Fox with great pride in the unprecedented success we achieved and with my deepest gratitude to all my dedicated viewers. I wish only the best for Fox News Channel."
Formerly a reporter for a brief time in the 1970s with Dallas-based WFAA-TV, O'Reilly, 67, worked his way to the host position of the nationally syndicated
Inside Edition
, which he joined in 1989. But his career took off in 1996, when he became a charter personality on the conservative-leaning FNC. His nightly proclaimed "No Spin Zone" became as familiar to FNC viewers as the network's "Fair and Balanced" or "We Report, You Decide" mantras.
O'Reilly had remained seemingly entrenched and invulnerable until the spring of this year, when the taint from the alleged Ailes-sanctioned womanizing "culture" at FNC began jeopardizing him.
FNC acted fast, as it has in the past, in reconfiguring its weekday prime-time lineup. The network has announced that the aforementioned Carlson will be inheriting O'Reilly's slot while
The Five
, which had been airing at 4 p.m. (central), gets Carlson's old spot. Its hosts, which actually number six, are Kimberly Guilfoyle, Dana Perino, Bob Beckel, Greg Gutfeld, Juan Williams and Jesse Watters, whose "Watters' World" had been a regular feature on
The Factor
. Sean Hannity will remain in place at 9 p.m. (central).
The Five
's old slot, effective May 1st, will be given to a new show hosted by Eric Bolling, who had been a regular O'Reilly fill-in. Until that date,
Special Report with Bret Baier
will be stretched to two hours, FNC says.
Email comments or questions to:
unclebarky@verizon.net