New Series Review: 30 Rock (NBC)
10/18/06 01:52 AM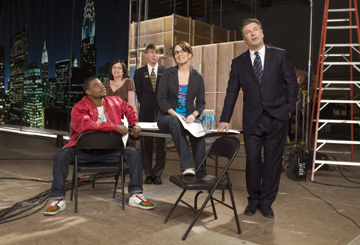 Live from New York, it's The Girlie Show.
Premiering:
Wednesday night (Oct. 11), 7 central, 8 eastern, NBC
Starring:
Tina Fey, Alec Baldwin, Jane Krakowski, Tracy Jordan, Jack McBrayer, Rachel Dratch
Produced by:
Lorne Michaels, Tina Fey
By ED BARK
An ill wind's already blowing over
30 Rock
. No, it's not taking the same approach as NBC's
Studio 60 on the Sunset Strip
. But yes, an escalating audience rejection of the latter may be poisoning the pond for the Peacock network's second backstage pass.
This time the sausage is being made at NBC's fictional "The Girlie Show," a comedy/variety outing penned by head writer Liz Lemon (
Saturday Night Live
alum Tina Fey). Her job is greatly complicated by the arrival of smug Jack Donaghy (Alec Baldwin), "the new vice president of East Coast Television and Microwave Oven Programming." She'd better not expect any Lemon aid.
"I like you," Jack tells her. "You have the boldness of a much younger woman."
Baldwin, seemingly intent on becoming the next William Shatner, is nicely equipped to play a brusque, vainglorious network executive. His scenes give
30 Rock
much of its crackle, which is a big plus when there's no laugh track to fall back on.
Donaghy's first bright idea is to hire trouble-prone Tracy Jordan (
SNL
alum Tracy Morgan), who's meant to remind viewers of Martin Lawrence. Lemon's assigned to reel him in, but this doesn't go well at first. They end up at the Dark Sensations strip club in the Bronx before finally arriving at NBC Studios in various states of disrepair. Jordan's tagline -- "This honky grandma be trippin'"! --- goes down well with the audience, though.
Wednesday's premiere episode otherwise has been reworked to add former
Ally McBeal
-ite Jane Krakowski as vacuous "Girlie Show" star Jennna Maroney. She supplants
SNL
alum Rachel Dratch, who's been reduced to recurring roles as different bit characters. For openers, she's the show's loopy "Cat Wrangler." Wince.
Inside jokes abound, with Krakowski's Maroney instantly licking her lips over Baldwin's Donaghy. "Yummers," she says, "he reminds me of Scotty on
General Hospital
." Actually, Baldwin once played Billy Allison Aldrich on daytime's
The Doctors
. Close enough, though.
A second episode sent for preview is built around Donaghy's efforts to put Jordan's name in the show's title after focus groups plied with pizza tell him it's a great idea. Lemon in turn gets pelted with various foodstuffs by an angry staff while Maroney feels threatened.
"He bit (omnipresent child star) Dakota Fanning on the face," she says of the volatile Jordan.
"When you hear his version, she was kinda asking for it," Lemon retorts.
There may not be quite enough here for mass consumption on a weekly basis. Fey is fine as
30 Rock's
latter day Mary Richards, with Baldwin a hoot as a more distant descendant of Lou Grant. But unlike
The Mary Tyler Moore Show
, this so far is an insular, work-based comedy in the same way that
Studio 60
is a work-based drama.
Whatever TV critics think of the shows, all workplace and little play outside a TV studio might not be NBC's strongest suit this season.
Prospects:
Doesn't really look like a long-distance runnner, but may sprint out of the gate.
Grade:
B+