Fall TV: CW's Privileged a rich blend of loose ends
09/09/08 06:37 AM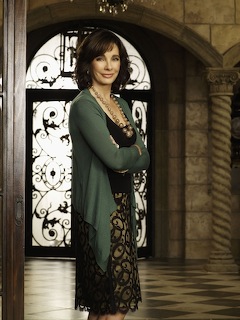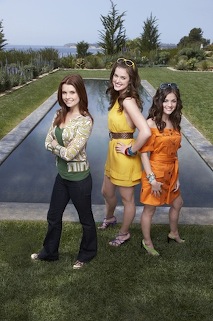 Billionaire Laurel Limoges (Anne Archer) looms over Privileged.
Premiering:
Tuesday, Sept. 9th at 8 p.m. (central) on The CW
Starring:
JoAnna Garcia, Lucy Kate Hale, Ashley Newbrough, Anne Archer, Michael Cassidy, Brian Hallisay, Kristina Apgar, Allan Louis
Produced by:
Rina Mimoun, Bob Levy, Leslie Morgenstein
By ED BARK
Unlike
90210
, The CW's
Privileged
at least is willing to put itself out there for a going-over by the nation's shrinking band of wild-eyed, desperately insecure TV critics.
Not that it'll get any special privileges, save for a comfy Tuesday night slot following
90210
, which got off to a nice enough start in the ratings last week after CW and the show's producers conspired to make it unavailable for review.
Inspired by the book
How to Teach Filthy Rich Girls
by Leon Tolstoy -- er, Zoey Dean --
Privileged
draws most of its limited strength from star JoAnna Garcia. Formerly Cheyenne Hart-Montgomery on 124 episodes of
Reba
, she's now a brainy, cheery and sometimes weepy 23-year-old Yale grad named Megan Smith. Her overall appeal isn't quite off the charts, but it's climbing them.
In
Privileged
's opening minutes, poor Megan is "sounding newscaster-y again" -- in the view of her friend, Charlie (Michael Cassidy) -- while relating how clubbing has evolved into a "virtual Louis the 14th-style orgy."
Then her apartment begins burning down. And while she's on the balcony in her robe, a little black kid says, "I can see your va jay-jay." Oy vey.
So what's an idealistic girl to do? Get fired by her tabloid editor (a cameo by Debi Mazar), whose idea of journalism is cell phone pics of young stars snorting and puking.
Luckily, though, Megan then is delivered into the hands of Palm Beach cosmetics empress Laurel Limoges (Anne Archer), whose 16-year-old twin granddaughters of course are spoiled rotten and not very good at studying. Limoges already has lost her husband to cancer and her daughter to a plane crash that also claimed the twins' father.
"I dabble in everything, but I only commit to things that truly matter," she tells Megan by way of asking if she'd like to prepare Rose and Sage Baker (Lucy Kate Hale and Ashley Newbrough) for admission to Duke University. The pay will be good, the perks fabulous and Megan's benefactor also will cover her college loans upon completion of this mission. Um, OK. Or as Megan prefers to say, "Okey dokey."
The premiere episode's signature line later comes from Sage after she first tasers Megan from her bed.
"I puke cuter than that outfit you're wearing," she not-so-sagely tells the new tutor. File that one under things to spring on Wendy Williams.
Megan also meets the mansion's benevolent gay chef, Marco Giordani (Allan Louis), and hunky layabout neighbor Will Davis (Brian Hallisay), who has aspirations of becoming a sports photographer when he's not on the party circuit, which is seldom. Whoops, he's also dating Megan's estranged and very haughty sister, Lily (Kristina Apgar).
Garnished by treacly pop music every five minutes or so,
Privileged
paints its plot by the numbers, but not without occasional charm. Archer, who made her bones in
Fatal Attraction
, is a stylish, somewhat soothing presence and Garcia is an oft-winning blend of perky naivete and built-up angst.
Sage looks much older than 16 and in fact is played by an actress who'll be 21 next month. Still, she's nonetheless bracingly bratty when called upon. Meanwhile, her much nicer twin sister veers toward poignancy and at times even side-swipes it.
None of this makes
Privileged
a must-see television "event." It's a passable way to spend an hour, though, and certainly a stark alternative in the coming weeks to Fox's competing
Fringe
.
Grade:
C+