DVD review: John, Paul, Tom & Ringo (Shout! Factory)
04/08/08 12:19 PM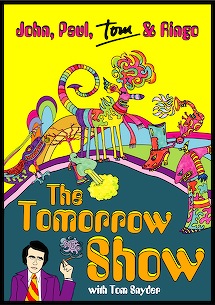 Title:
John, Paul, Tom & Ringo
Total running time:
160 minutes on two discs
Extras:
None
Suggested price:
$24.99
By ED BARK
Two outsized, oft-parodied TV personalities were fated to bring news of John Lennon's death -- before bringing him back to life.
Much of the nation first learned of Lennon's Dec. 8, 1980 murder from Howard Cosell during ABC's
Monday Night Football
game between the Miami Dolphins and New England Patriots.
Then, on the following night's
Tomorrow Show
, host Tom Snyder replayed his entire in-studio interview with Lennon, originally shown in late April, 1975 on the late night NBC program. It was the legendary former Beatle's last TV interview before he mostly withdrew from public life to be a house-husband and doting father to his son, Sean.
Shout! Factory's latest vintage DVD release,
John, Paul, Tom & Ringo
, is mainly worth having for Snyder's now historic one-on-one with Lennon, who later was joined by his immigration attorney, Leon Wildes. Also included is a satellite interview from London with Paul and Linda McCartney and a briefer sit-down in Los Angeles opposite Ringo Starr and new wife Barbara Bach.
Any Angie Dickinson fans out there also can see Snyder help her promote a short-lived NBC series
Cassie & Company
during the second half of the program that gave Starr star billing. Footnote: Dickinson's cop drama was the first effort from Johnny Carson Productions.
Snyder, wearing a gray leisure suit that he in retrospect deems "awful," does a fair job of keeping his much-lampooned laugh at bay during the back-and-forth with a mostly convivial Lennon.
The host's muttonchop sideburns are longer and thicker than his guest's, but Lennon has the lengthier hair. He also has the interview's snappiest comeback -- saving it for the very end. It comes after Snyder notes that Lennon's reputation as an "egomaniac" seems unfounded on this night.
"I believe in what I do, and I say it," Lennon explains in part.
"Well," says Snyder, "you're one of the nicest egomaniacs I know."
"So are you, Tom," Lennon rejoins, triggering a truncated horse laugh from Snyder before the show shifts to affecting companion interviews with journalist Lisa Robinson and music producer Jack Douglas, both still stunned by the previous night's tragedy.
Lennon was fighting extradition from the U.S. in 1975 after ridiculously over-reaching law enforcement officials pounced on an earlier, minor drug bust in London. That's why his attorney joined him for a closing segment, lest Lennon say anything that could get him in further trouble.
It's mostly Tom and John, though, with the host lighting up a trademark cigarette while asking about the dangers of hard drug use.
"They all know you're a nicotine addict," Lennon playfully jabs.
The Beatles disbanded, he says, because it got stale going to the studio and grinding out another album.
"We didn't break up because we weren't friends," Lennon says. "We just broke up out of boredom, you know. And boredom creates tension."
"How can you get bored doing what you did?" Snyder wonders.
"Because it wasn't going anywhere . . . It just got like a marriage that doesn't work."
The host also quizzes Lennon about rock groupies, his current musical tastes, the heavily-publicized "bed-in" with wife Yoko Ono ("We were just promoting peace like you promote any product") and life in New York City as one of the most famous and deified celebrities in the land.
"I don't get get hassled," Lennon says, insisting that it's now easy to go out to dinner or a movie. "We're probably less recognizable than you now."
"Oh, I doubt that," Snyder says.
"You're on (TV) every night. You kidding?" Lennon adds.
Almost all of this is shot in extreme closeup in times when conversation, not shtick, remained the most important ingredient in late night network television. And Lennon is well worth a listen from start to stop.
Snyder's "Christmas show" interview with the McCartneys, on Dec. 20, 1979, finds them in London's Rainbow Theatre shortly before taking the stage with Wings. A now primitive-looking music video for the band's "Spin It On" comes first, with Snyder wondering, "How do they do that without getting dizzy?"
The interview is a bit dizzy, too. Linda, in a mullet, is either stoned, nervous or painfully trying to be playful. Paul, with a striped scarf thrown over his shoulder, tries his best to parry some occasionally very lame questions.
Snyder at one point asks whether he's affected by traumatic world events like the rest of the world's "mere mortals."
"We are mere mortals, too, Tom," McCartney answers. "Pinch-able and bleed-able and everything."
The host saves the Beatles questions for last after noting he'd been told that Paul would walk out if any were asked.
"I don't mind talking about the Beatles. Good group, Tom," Paul says during the last Christmas season before Lennon's death made a full reunion impossible. But getting back together would be "really like trying to get back your childhood summers or something."
The Nov. 25, 1981 interview with Starr is tied to his role in the movie
Caveman
and the release of his latest album
Stop and Smell The Roses
, on which McCartney and George Harrison contributed.
Both light up cigarettes before Starr proclaims himself "probably the rock-steady drummer of life right now."
He has a strong distaste for, and even anger toward those who repeatedly claim that a Beatles reunion is at hand.
"People were just using us to get themselves in the media," Starr says.
Snyder, who died last summer, remains one of late night TV's most enduring and at times aggravating personalities. Other
Shout! Factory
Tomorrow
collections include
Punk & New Wave
and
Tom Snyder's Electric Kool-Aid Talk Show
, with guests Timothy Leary, Tom Wolfe, Ken Kesey and The Grateful Dead.
His Lennon interview is the one to remember him by, though. Just two egomaniacs talkin'. And their beats go on.