New series review: Planet Earth (Discovery Channel)
03/22/07 07:33 PM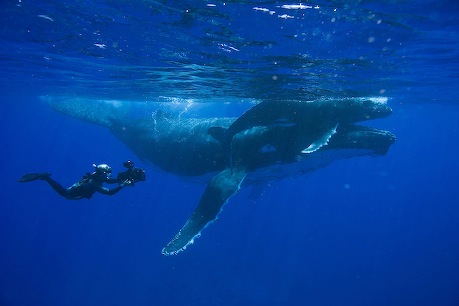 Picture a photographer taking a tight shot of a humpback whale.
By ED BARK
Our many-splendored playground is ready for a second round of glamour shots.
Last Sunday brought National Geographic Channel's entrancing three-hour
Galapagos
. A week later it's Discovery Channel's 11-hour
Planet Earth
, premiering March 25 (7 p.m. central) with a three-hour feast. Both productions were filmed in high-definition, making them even more beauteous to behold.
Five years in the making and narrated by Sigourney Weaver,
Planet Earth
takes its cameras to 204 locations, from the highest mountains to the deepest depths of the oceans. Sunday's first two hours are particularly vivid, never more so than when a great white shark gets airborne in slow motion. This famed predator definitely has hops, but who knew? It's truly an incredible sight.
Weaver sets this grand stage by describing earth as "the lucky planet. Not too near the sun, not too far. Just right."
The sun disappears for four months in the "high arctic," though, forcing polar bears underground and into hibernation.
Planet Earth
first visits this venue, with a mama polar bear shown greeting the sun's return by happily sliding down a snow hill. Her two new cubs follow as best they can. Half of the annual cub population doesn't survive.
Cameras seamlessly change surroundings, segueing to Canada, eastern Russia, southern Africa and so on. Overhead shots of a wolf chasing a calf are far more thrilling than any live TV news car chase. We also witness the long, dusty pilgrimage to fresh water by a dogged herd of elephants. They know how to have a good time when they reach the promised land.
"This is an Africa rarely seen, a lush waterworld," says Weaver.
The writing is decent and Weaver's narration is capable, though not exceptional. A little too much time is spent periodically patting the filmmakers on the back for a supposed series of nature photography firsts. As in, "This is the brass ring of natural history, the first intimate images of a snow leopard ever filmed in the wild."
That particular coup is in Hour 2, "The Mountains." Weaver's opening rhetoric goes like this: "By climbing a great mountain, some think they've conquered it. But we are only visitors here. This is an alien world."
Hmm, were the scripters intentionally referencing her star-making series of
Alien
movies? Just wondering.
Humans intrude for a minute or so at chapter's ends to show how they got certain shots. Could have done without them, but it's no big detriment or anything.
Sunday's third hour, subtitled "Ocean Deep," indeed has plenty of depth. Cameras journey as many as two miles beneath the surface to capture an array of curious creatures, including "the vampire squid from hell."
These images aren't quite as riveting, making one a little restless for a return to the great, oft-glorious outdoors. Weaver closes with a brief sermon on preserving all that we've seen.
"We control the fate of the whole natural world . . . We can destroy it or cherish it," she says. "The choice is ours."
That's a bit ponderously written, but the sentiment is well taken.
Planet Earth
will continue through the next four weeks, with two-hour chapters each Sunday. Here's the lineup, with all start times at 7 p.m. central:
April 1
-- "Deserts" and "Ice Worlds"
April 8
-- "Shallow Seas" and "Great Plains"
April 15
-- "Jungles" and "Fresh Water"
April 22
-- "Forests" and "Caves"
Grade
(for the first three hours): A-minus