WRITERS' STRIKE: Fox stops the clock on 24, makes a date with Idol
11/08/07 07:21 AM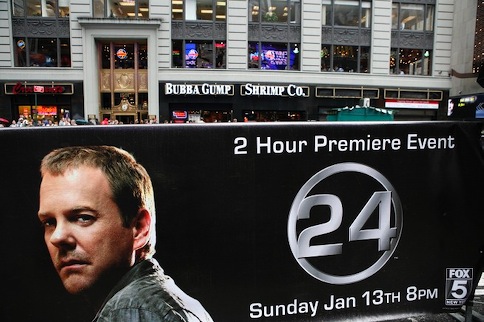 The above premiere date for 24's seventh season is now inoperative.
By ED BARK
Jack Bauer can save the world, but a writers' strike renders him impotent.
Fox announced Wednesday that "Day 7" of
24
, originally set to launch with a two-hour, Jan. 13th premiere, has been postponed indefinitely so that the series can air uninterrupted in its entirety. Roughly one-third of the show's episodes had been scripted before the Writers Guild of America walked out on Monday.
Fox's bigger gun,
American Idol
, will flex as usual. Its seventh season starts on Tuesday, Jan. 15th with a two-hour premiere and continues the following night with another two hours.
The network's Sunday night cartoon bloc, led by
The Simpsons
and
Family Guy
, basically will be unaffected by the strike. This season's new episodes were scripted well in advance before being sent abroad to be animated.
Fox announced a number of other changes for early next year, all of them subject to revision pending any early resolution of the strike. In the case of new scripted series, unspecified numbers of episodes have been completed after Fox announced them in May as either midseason or spring replacements. Here are some highlights:
***
Prison Break
, shot primarily in North Texas, will end the first half of its season on Nov. 12th. The series then is scheduled to return with whatever new episodes are available on Jan. 14th.
***
Terminator: The Sarah Connor Chronicles
, described as an "exciting reinvention" of the film franchise, premieres on Monday, Jan. 14th following
Prison Break
. It originally was earmarked for a spring debut on Sunday nights.
***
New Amsterdam
, the saga of an immortal New York homicide detective, had been part of Fox's fall schedule until being bumped by
Don't Forget the Lyrics!
. Now the series gets a dreaded Friday night berth, beginning on Feb. 22nd. Fox hasn't had a hit on that night since the early years of
The X-Files
.
***
The Moment of Truth
, a big money game show in which contestants are strapped to lie detectors, invades American homes on Wednesday, Jan. 23rd, following
Idol
.
***
The reality series
When Women Rule the World
is scheduled to premiere on Monday, March 3rd after
Prison Break
runs its course. Premise: A gaggle of chauvinistic men are duped into submitting to the dictates of "strong, educated and independent" females. Fox says it's set in a "primitive, remote location." Tuscaloosa perhaps?
***
Three previously announced scripted series --
Unhitched, The Return of Jezebel James
and
Canterbury's Law
(starring
ER
alum Julianna Margulies) -- respectively are supposed to premiere on March 2nd, March 7th and April 11th. But don't hold Fox to that.