ABC's 101 Ways to Leave A Game Show might also inspire 102 ways to avoid it
06/20/11 01:49 PM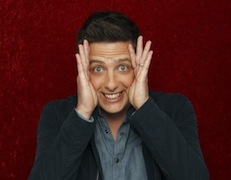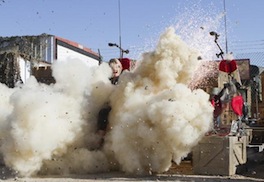 Jeff Sutphen hosts 101 Ways to Leave a Game Show. ABC photos
Premiering:
Tuesday, June 21st at 8 p.m. (central) on ABC
Hosted by:
Jeff Suphen
Produced by:
Matt Kunitz, David Goldberg
By ED BARK
ABC continues to be the proud purveyor of the stupid summertime game show.
Now more than ever, with
101 Ways to Leave A Game Show
premiering Tuesday night after a new episode of
Wipeout
. Can you say
I Survived A Japanese Game Show
? ABC had that one, too, a couple of summers ago. And in a slightly different genre, who can forget another of ABC's hot weather brain drizzles --
Dating in the Dark
? Or the midseason gem
Conveyor Belt of Love
, which gets funnier every time you say it.
101 Ways
, five of which are deployed Tuesday, is touted by host Jeff Sutphen as "the most insane game show in the history of television." He probably yearned to say "inane." But ABC then might have fired him and brought in Joey Lawrence.
In return for chasing a not-so-grand prize of $50 grand, eight contestants agree to risk soiling themselves. The first evictee for example is strapped standing to the top wing of a biplane. "I like to call this one 'A Wing and a Prayer,' " Sutphen smirks before said contestant is sent screaming in terror, never to return.
Besides his "I like to call this one" tagline, Sutphen also regularly parrots "And here's how" before revealing the show's next exit strategy. Two of them involve explosions, prompting one of the gamers to worry that he might throw up on himself.
Viewers can also gain some valuable knowledge. Such as learning how much the eventual buyer paid for William Shatner's kidney stone, which was auctioned off for charity.
I hope this isn't giving away too much, but a Houston contestant named Jasmine manages to avoid being the first one evicted. She then tells Sutphen, "Black folks don't stand on wings. We eat 'em." To which the host replies, "Well said.
Well
said."
Excuse me while I pound a nail into my head. There, much better.
101 Ways
, despite some of its explosive ejections, is gratingly slow-paced and infested by commercial breaks just before host Sutphen reveals who's next to be axed. It must be said, though, that some of the questions are kind of intriguing. Such as "Which two of these celebrities have been arrested at least five times?" Your choices are Mel Gibson, Martin (not Charlie) Sheen and George Michael.
It all ends with the "Drop of Terror," which will claim three of the final four contestants. But before that happens, viewers will learn which two of the following items have actually been sold on McDonald's menus: McLobster. McEgg Roll. Spam McGriddle. The losing contestant is blasted out of a chair and high into the air in what Sutphen likes to call "You Fuse, You Lose."
We'll close by asking which one of these fun game shows would make a great addition to next summer's ABC lineup.
1. I'm With Stupid
2. The Great American Booger Pick
3. What Color is an Orange? (Wait, Don't Tell Me)
4. How Long Can You Hold It?
5. Are You Happy to See Me -- Or Is That Just Your Twitter Feed?
6. Hot Coals, Thin Ice, Head Lice
7. 4th Quarter One-on-One with LeBron James
8. Cut the Cheese!
9. Who Wants to Have Sex on a Giant-Sized Hoagie?
10. Your Bazooms are Bodacious
GRADE:
D