A tale of a childhood lost and an adulthood on the brink in Showtime's Patrick Melrose
05/11/18 09:53 AM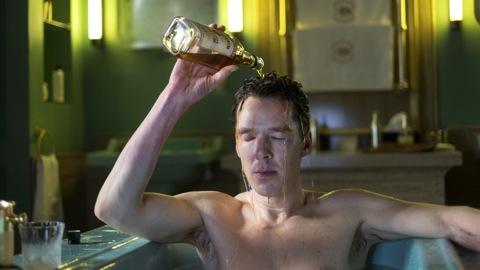 Woe and behold. Benedict Cumberbatch stars in Patrick Melrose.
Showtime photo
Premiering:
Saturday, May 12th at 8 p.m. (central) on Showtime
Starring:
Benedict Cumberbatch, Jennifer Jason Leigh, Hugo Weaving, Sebastian Maltz, Blythe Danner, Pip Torrens, Prasanna Puwanarajah, Holliday Grainger
Produced by:
Rachael Horovitz, Michael Jackson, Adam Ackland, Benedict Cumberbatch, Helen Flint
By ED BARK
@unclebarkycom on Twitter
Reeling, raging, slurring and hallucinating, the title character in Showtime's
Patrick Melrose
begins by riding high while sinking ever lower from non-stop addictions to booze, pills and injections.
Benedict Cumberbatch is in the driver's seat, but don't ever put him behind a wheel. Cumberbatch says, via Showtime publicity materials, that he's "only ever had two roles on my acting bucket list." One of them is
not
Sherlock Holmes, for which he's become most famous. Instead, Cumberbatch has yearned to play Hamlet (done that) and Patrick Melrose, the very-flawed-for-good-reason product of a demonic father and drunken, passive mother. The character is based on a series of five autobiographical novels by Edward St Aubyn. Showtime's adaptation of
Patrick Melrose
is a five-episode limited series with subtitles taken from the books. The first three have been made available for review.
Episode 1, set in 1982, quickly gets down to business. Patrick (Cumberbatch) has just shot up with heroin when he gets a phone call from New York advising him that his father has died. His thin smile stretches into quiet laughter before the then Cat Stevens' "Wild World" kicks in to make a further first impression -- even if it turns out to be vastly understated.
Melrose's trip to and through Manhattan, to retrieve his father's ashes, is a money-fueled rampage brought to you in full force by Cumberbatch's complete investment in the role. He scores, he shoots, he pops, he drinks, with money no object and a series of desperate needs behind it. Steeling and fortifying himself to finally face his father's open casket -- which is housed alone in a posh "funeral chapel" -- Patrick at last gets the chance to say, "Were you scared? Christ, I hope so."
This crazily careening episode also includes a guest appearance by a post-
Girls
and now very grownup looking Allison Williams. Her character, Marianne Banks, is one of Patrick's former flames. She wants to be receptive to him in this time of "grief," but his behavior quickly disgusts her. "Don't let me be alone!" he begs in another of his stupors. She rather nastily tells him he won't be, because he now has daddy's wood-encased ashes -- carried around in a plastic bag with a smiley face. But Patrick would draw more comfort from a sack of dung.
Episode 2 mostly occurs in 1967, with Sebastian Maltz fully conveying the anxiety and terror experienced by pre-teen Patrick at his parents' posh getaway in Lacoste, France. David Melrose (chillingly played by Hugo Weaving) is a horrid, imperious father who verbally and sexually abuses his only son. Patrick's mother, Eleanor (Jennifer Jason Leigh), drinks heavily in hopes of easing the pain of looking the other way.
Viewers also will meet the young Bridget Watson-Scott (Holliday Grainger), a Lolita-like hippie who has succumbed to the creature comforts provided by David's best and very callow friend, Nicholas Pratt (Pip Torrens). Also accepting the Melroses' hospitality, at least initially, are backbone-brandishing Anne Moore (Indira Varma) and her meek husband, Victor (James Fleet).
David Melrose's cruelty is palpable throughout this episode, whether he's in the company of his son, staring down his wife or causing the elderly resident cook/housekeeper to physically quiver while he interrogates her at a distance. The words that have haunted Patrick since those days are administered like a lash at episode's end.
Episode 3 moves forward to 1990 in London, where a reclusive Patrick is striving to kick his addictions with help from his likewise recovering friend, Johnny Hall (Prasanna Puwanarajah). The focal point is a very upper crust party for Bridget's royal husband's birthday, with the attendees including a haughty Princess Margaret (guest star Harriet Walter). Patrick is encouraged to finally get out and about, so he reluctantly attends with Johnny. There are plentiful temptations, but this hour is subtitled "Some Hope." And by the end, there seems to be.
Blythe Danner also is part of the featured cast, as Eleanor Melrose's sister, Nancy Valence. But she's still yet to make an appearance after three episodes.
Patrick Melrose
is stamped throughout by Cumberbatch's alternately furious and touching performance. But it takes a real despot to fuel his fires and shame, and Weaving is thoroughly up to commanding that role. Leigh likewise is a standout as Patrick's cowed mother, who salves her conscience by traveling the world on behalf of the Save the Children foundation. In the first three episodes, she's seen only in flashbacks.
The first hour is a whirl of inner pain and outer degradation that some might find off-putting. But the books on which
Patrick Melrose
is based are also a road to redemption, with all the bumps that one might expect. Showtime in the end has a unique viewing experience, with some wit also in play amid the terrible consequences of being raised in a living hell. We haven't all been there, thankfully. But most of us can or should relate to someone who has.
GRADE:
A-minus
Email comments or questions to:
unclebarky@verizon.net