ABC adds/subtracts in abundance for new fall schedule
05/15/18 11:18 AM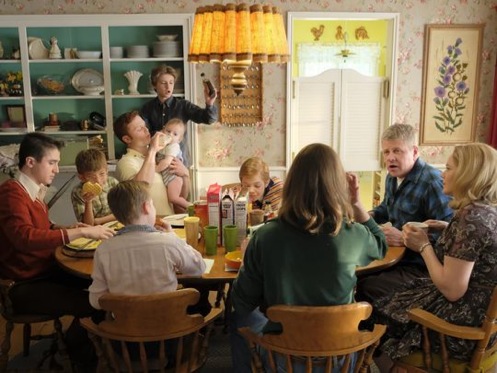 It's a crowded house of 8 sons vs. 2 parents in The Kids Are Alright.
ABC photo
By ED BARK
@unclebarkycom on Twitter
Depending on one's definition, ABC will either have four or six new prime-time series entering this fall.
That's because one of them,
Dancing with the Stars: Junior
, not only is another extension of the longstanding franchise but was also announced last May. And another,
The Alec Baldwin Show
, received a sneak preview in March.
Both "newcomers," or whatever, are slotted on Sunday nights, giving ABC a four-hour quartet of unscripted series airing opposite NBC's
Sunday Night Football
. The others are
America's Funniest Home Videos
and
Shark Tank
.
The network's four bonafide new scripted series are still more than either NBC (three) or Fox (two) will be offering this fall. Judging from their thumbnail descriptions in ABC publicity materials, the network could be going against the grain of the #MeToo movement by listing males as the leads of all of them. This includes a sitcom built around a family with eight sons living under the same roof with their beleaguered parents. Somewhere CBS executives are smiling. Last year at this time, all of that network's new fall series were fronted by men. This led to CBS taking a lot of heat from some offended TV critics during last summer's show-and-tell summer "press tour."
ABC's cancellations also are plentiful. Hitting the off button are
Scandal, The Middle, Designated Survivor, The Crossing, Alex, Inc., Deception, Quantico, Kevin (Probably) Saves the World, Ten Days in the Valley, Marvel's Inhumans
and
The Mayor
. That's easily the biggest casualty list to date. Not including summer shows, a quintet of first-year series made the cut to sophomore seasons --
The Good Doctor, Splitting Up Together, For the People, Station 19
and
Child Support
. ABC also is renewing its reboots of
Roseanne
and
American Idol
.
Although producer Shonda Rhimes has signed a new exclusive deal with Netflix (who hasn't?), she still has four holdover dramas on ABC. This again includes the network's entire Thursday lineup of
Grey's Anatomy, Station 19
and
How to Get Away with Murder
, plus
For the People
, which is scheduled to return in midseason.
The Alec Baldwin Show
features the Donald Trump impersonator and
Match Game
host interviewing fellow celebrities of his choice.
Dancing with the Stars: Junior
, billed as a "fresh take on an established favorite," will team apprentice kids with professional junior ballroom dancers. Ironically, the
Dancing with the Stars
mothership has become ABC's oldest-skewing series, with only a handful of kids likely to ever watch it these days.
Here are ABC's so far unseen new fall series:
The Rookie
(drama) -- Nathan Fillion, who previously co-starred in ABC's successful
Castle
whodunit, gets another go as LAPD's oldest first-year member. He changes careers after a "life-altering incident," and of course is greeted with skepticism by both young cops and old hands.
The Kids Are Alright
(comedy) -- Following
Roseanne
on Tuesday nights, it's set in the 1970s and is built around a "traditional" Irish-Catholic family called the Clearys. Parents Mike and Peggy (Michael Cudlitz, Mary McCormack) have raised not one, not two, but eight "boisterous boys." This makes for an especially crowded field when oldest son Lawrence quits the seminary and returns to live in a home with 10 Clearys, three bedrooms, one bathroom and "everyone in it for themselves."
Single Parents
(comedy) -- A 30-year-old dude named Will (Taran Killam) has become so focused on raising his pre-teen daughter that "he's lost sight of who he is as a man." So fellow single parents band together "to get him out into the dating world." The cast also includes Leighton Meester from
Gossip Girl
and Brad Garrett (
Everybody Loves Raymond
).
A Million Little Things
(drama) -- A group of Boston friends, all feeling "stuck in life," bond after one of them suddenly dies. Ron Livingston and David Giuntoli are billed as the leads.
Here is ABC's night-by-night new fall schedule:
Monday
Dancing with the Stars
The Good Doctor
Tuesday
Roseanne
The Kids Are Alright
black-ish
Splitting Up Together
The Rookie
Wednesday
The Goldbergs
American Housewife
Modern Family
Single Parents
A Million Little Things
Thursday
Grey's Anatomy
Station 19
How to Get Away with Murder
Friday
Fresh Off the Boat
Speechless
Child Support
20/20
Saturday
Saturday Night Football
Sunday
America's Funniest Home Videos
Dancing with the Stars
Shark Tank
The Alec Baldwin Show
ABC also has announced these midseason series:
The Fix
(drama) -- Former failed O. J. Simpson prosecutor Marcia Clark is the executive producer and co-writer of his saga about a Los Angeles district attorney who's devastated upon losing a double-murder case against an "A-list" actor. She retreats to a quieter life in D.C., but rebounds back to L.A. when the same actor is accused of another murder. Robin Tunney heads the cast as Maya Travis.
Grand Hotel
(drama) -- Eva Longoria produces this "fresh take on an upstairs/downstairs story" set at a family-owned hotel in Miami Beach. It's based on a Spanish language series, with Demian Bichir as hotel owner Santiago Mendoza and Roselyn Sanchez as his second wife, Gigi.
Whiskey Cavalier
(drama) -- The "high-octane" adventures of "tough but tender" FBI super-agent Will Chase, whose code name is the show's title. Scott Foley stars after a long run on
Scandal
.
Schooled
(comedy) -- This spinoff of
The Goldbergs
is set in the 1990s, with the "hilarious teachers" of William Penn Academy taking center stage. Tim Meadows heads the cast as Principal Glascott. Although they might not all air during the same point in the season, ABC now has comedies set in the '70s, '80s and '90s.
Email comments or questions to:
unclebarky@verizon.net