The CW catches reboot fever with Dynasty
05/18/17 01:27 PM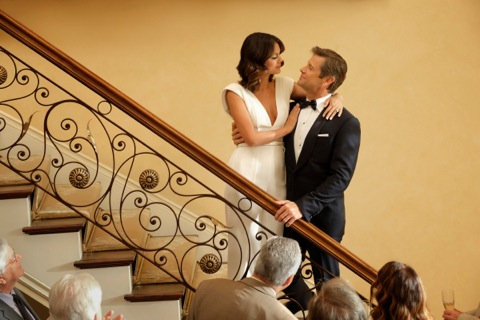 Natalie Kelley/Grant Show play a pair of new Carringtons.
CW photo
By ED BARK
@unclebarkycom on Twitter
Follow the bouncing reboots. Earlier in the week, ABC officially became the new network of
American Idol
after Fox rode it to ratings gold for 15 mostly glorious seasons.
Now The CW, intent on broadening its audience beyond 18-to-34-year-olds, is hoping to make a soapy splash with one of ABC's onetime hits.
Dynasty
is joining the network's new fall lineup, with former
Melrose Place
heartthrob Grant Show now grown into the role of business tycoon Blake Carrington while Nathalie Kelley (
The Vampire Diaries
) steps in as Krystle Carrington. Except it's now spelled Cristal. The original roles were played by the late John Forsythe and Linda Evans.
Dynasty
ran from 1981 to '89 on ABC, which also offered an appreciably less successful spinoff,
The Colbys
.
The CW otherwise is adding the military drama
Valor
this autumn. It still fills only two hours of prime-time on weeknights, so the cancellation corral again is smallish. Not invited back are
Reign, Frequency, The Vampire Diaries
and
No Tomorrow
(indeed).
Here are The CW's two new fall series:
Dynasty
(drama) -- Vixen Fallon Carrington (Elizabeth Gillies) thinks she's set to become her father's COO until his fiancee, Cristal, pops into the picture. Fallon immediately begins scheming to bring her down, with help from her father's biggest rival, Jeff Colby (Sam Adegoke). There's also Cristal's nephew, Sammy Jo (Rafael de la Fuente), who blows into town with a "suitcase full of secrets" from his aunt's past. In the original
Dynasty
, Sammy Jo was a woman played by Heather Locklear. So far there's no Alexis Carrington Colby, portrayed with storied scenery-chewing intensity in the old
Dynasty
by Joan Collins.
Valor
(drama) -- Matt Barr, formerly a recurring character on the newly canceled
Sleepy Hollow
, quickly bounces back as commanding officer Leland Gallo, whose Shadow Raiders helicopter unit just had a very bad outing. Only Gallo and the unit's lone woman pilot, Officer Nora Madani (Christina Ochoa), return from a top-secret mission to Somalia. So what really happened and did anyone else survive? Gallo and Madani soon "find themselves torn between duty, honor and desire" while wondering who to trust.
Here is The CW's night-by-night fall lineup:
Monday
Supergirl
Valor
Tuesday
The Flash
DC's Legends of Tomorrow
Wednesday
Riverdale
Dynasty
Thursday
Supernatural
Arrow
Friday
Crazy Ex-Girlfriend
Jane the Virgin
These are The CW's two announced midseason series:
Black Lightning
(drama) -- Charter high school principal Jefferson Pierce (Cress Williams) has a secret. Nine years ago, he used to be Black Lightning, a masked superhero with the power to harness and control electricity. Then he got burned out. But then crime, corruption and gangs began re-infesting New Orleans. So here we go again.
Life Sentence
(comedy/drama) -- This one has an awfully long and tedious description. Suffice it to say that for eight years Stella (Lucy Hale) thought she was dying of cancer, but suddenly isn't. Now she must face the long-term ramifications of all those impulsive "live in the moment" decisions she made.
Email comments or questions to:
unclebarky@verizon.net