Back to the future: Williams' return to MSNBC could be a purgatory with a silver lining
06/18/15 02:29 PM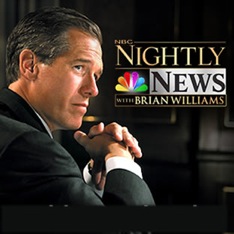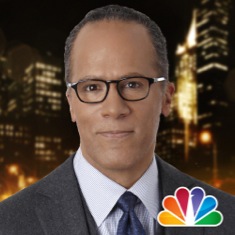 Out & in on Nightly News: Brian Williams/Lester Holt. NBC photos
By ED BARK
@unclebarkycom on Twitter
This much is certain. Brian Williams certainly can't hurt MSNBC, which has been a third place near-corpse in the cable news network ratings for the past 10 months.
Whenever he arrives, Williams cannot help but call attention to the network where it all began for him back in 1996. MSNBC's pronounced tilt to the left, in direct reaction to No. 1 Fox News Channel's conservatism, has led to a sharp fall in audience levels while CNN has vaulted to the No. 2 spot in both total viewers and the major news programming demographic of 25-to-54-year-olds.
In April, the last full month for which Nielsen ratings are currently available, CNN averaged 400,000 total viewers in the full-day Nielsens, compared to MSNBC's 312,000. Among 25-to-54-year-olds, it was CNN, 130,00 and MSNBC, 82,000. The same big gaps between the two are reflected in the prime-time ratings.
Ironically, Williams had disassociated himself from MSNBC's 2012 presidential election coverage because it had become so highly partisan. Now he'll be going back and perhaps some day be seen as leading the charge toward a more balanced approach. Williams initially will anchor breaking news and special reports. And he no doubt will be something of a ratings magnet in the early going.
This was all made official on Thursday, when NBC News president Andrew Lack announced Williams' demotion and acting anchor Lester Holt's promotion to official status on the
Nightly News
. Holt, 56, will be the first African-American to be named permanent solo anchor of a broadcast network dinner hour newscast. From 1978 to 1983, the late Max Robinson was part of ABC's
World News Tonight
threesome with Frank Reynolds and Peter Jennings, both also deceased.
Holt has "performed remarkably well over the last few months under very tough circumstances," Lack said in a statement. "He's an exceptional anchor who goes straight to the heart of every story and is always able to find its most direct connection to the everyday lives of our audience. In many ways, television news stands at a crossroads, and Lester is the perfect person to meet the moment."
As principal anchor of the oft-tawdry
Dateline NBC
for a number of years, Holt wasn't exactly a guardian angel of solid, straight-ahead journalism.
Nightly News
ratings slipped during his interim tenure, with ABC's boyishly handsome David Muir topping the key 25-to-54-year-old ratings in recent weeks while Holt for the most part held on to a narrow lead in total viewers.
Both races have been exceedingly close, though. And Holt now will have the benefit of finally being promoted in much the same manner as Williams was -- a trustworthy and experienced news veteran who can be counted on to get it right.
Williams, who led
Nightly News
to the top of the ratings during his decade in "The Chair," ran afoul of his own damning exaggerations and "mis-rememberings," particularly in the case of claiming to be aboard a U.S. helicopter that drew enemy fire during the Iraq war. Claims he made about his on-site coverage of Hurricane Katrina also came into question.
"I'm sorry. I said things that weren't true," Williams said in a statement released Thursday. "I let down my NBC colleagues and our viewers, and I'm determined to earn back their trust."
Williams, scheduled to be interviewed on Friday's
Today
show by co-host Matt Lauer, pledged to support Holt "100 percent as he has always supported me. I am grateful for the chance to return to covering the news. My new role will allow me to focus on important issues and events in our country and around the world, and I look forward to it."
NBC said that Williams also will fill in on breaking news coverage for the parent broadcast network when Holt is unavailable. But that does not include any sit-ins on
Nightly News
.
An internal review of Williams' transgressions determined that his "statements in question did not for the most part occur on NBC News platforms or in the immediate aftermath of the news events, but rather on late-night programs and during public appearances, usually years after the news events in question."
"Brian now has the chance to earn back everyone's trust," Lack said. "His excellent work over 22 years at NBC News has earned him that opportunity."
Don't discount the possibility that Williams, 56, will someday wear a white hat again. At beleaguered MSNBC, he at least has a chance to ride to the ratings rescue and begin altering the network's image as an overflowing fount of liberalism.
MSNBC began going that route during its Keith Olbermann era because it seemed to be the best way to combat Fox News Channel. For a while, CNN suffered from a lack of identity and severe ratings erosion. But under the direction of former NBC Universal chairman Jeff Zucker, CNN has re-set its course as an all-in, all-the-time destination for big breaking news stories (including its much parodied and criticized missing Malaysian airliner coverage) and a destination for prime-time, somewhat newsy series starring the likes of Anthony Bourdain and Morgan Spurlock. The network also has added the very capable Jake Tapper to its A-team while sticking with gaffe-prone anchor-reporter Don Lemon under the assumption that he at least draws further attention to the network.
Williams probably got the best deal possible for him in terms of remaining with NBC News. MSNBC isn't the end of the world, even if it's currently in ratings Siberia. Second-, third- and fourth chances abound in this country. Having presumably bottomed out, Williams now will get -- and should have -- a chance to restore the credibility he once had in abundance. For now, MSNBC is hardly stuck with him. In fact, it could really use him.
Email comments or questions to:
unclebarky@verizon.net