NBC's My Own Worst Enemy: a brain-twister that ties its knots too tight
10/13/08 04:28 PM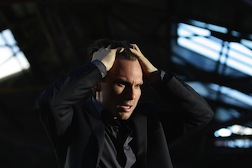 Christian Slater's mind is pretty much blown. How about yours?
Premiering: Monday, Oct. 13th at 9 p.m. (central) on NBC
Starring:
Christian Slater, Alfre Woodard, Madchen Amick, Tom Grady, Saffron Burrows
Produced by:
John Eisendrath, Jason Smilovic, David Semel
By ED BARK
At last here's a drama series that makes even
Lost
seem about as densely plotted as
Deal or No Deal
.
Complex to the point of incomprehensibility, NBC's new
My Own Worst Enemy
might give Albert Einstein a headache. Monday night's premiere, facing both CBS'
CSI: Miami
and ABC's
Boston Legal
, scores points for being ultra-daringly different. As for ratings points -- well, that may be a
Mission: Impossible
.
Christian Slater, in his first weekly TV series role, plays both run-of-the-mill efficiency expert Henry Spivey and trained-to-kill operative Edward Albright. It's a mindbending proposition, with elements of
The Manchurian Candidate, The Bourne Identity
and
The Prisoner
. Or maybe not.
It feels deep, looks great and certainly pushes the envelope to the point of bursting it into little pieces. The only problem is figuring out what the hell's happening. And that may be an insurmountable mountain to climb from almost the very first minutes.
NBC press materials describe
My Own Worst Enemy
as a tale of "polar opposites who share only one thing in common -- the same body. When the carefully constructed wall between them breaks down, Henry and Edward are thrust into unfamiliar territory where each man is dangerously out of his element."
Also along for this wild, bumpy ride is the estimable Alfre Woodard as Mavis Heller, a blunt-talking puppetmaster holed up at "Janus Headquarters."
"You ARE the experiment," she tells Henry after he literally poses the same question asked by Ross Perot's running mate James Stockdale, at the start of the 1992 debate with Al Gore and Dan Quayle : "Who am I? Why am I here?"
Indeed. Slater/Henry, unknowingly Edward Albright, begins in Paris by bedding a comely
femme fatale
.
"Am I the girl of your dreams?" she asks him.
"I don't dream."
"You're a bastard."
She then tries to kill the bastard, but instead takes his single shot to the forehead. Then it's off to L.A. -- in a flash.
Throughout the first hour, Henry is battered and terrorized by thugs who think he's Edward. Meanwhile, back home, Henry's wife, Angie (Madchen Amick), and their two children are utterly unaware of the double life that's threatening to drive him mad.
NBC can't be accused of playing it safe with
My Own Worst Enemy
. It's beyond distinctly different, with more twists and turns than a State Fair taffy-making machine.
As for what's going on, you tell me. This is an oddly mesmerizing, but super-perplexing opening hour that unfortunately looks like way too much trouble to puzzle out.
GRADE:
B