Mid-season merry-go-round: HBO's Angry Boys goes to extremes
12/29/11 10:34 AM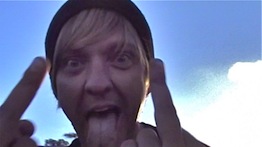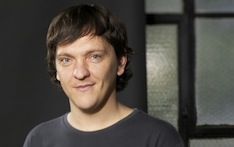 Chris Lilley in twitter photo and in sedated publicity shot.
Premiering:
Sunday, Jan. 1st at 9 p.m. (central) on HBO
Starring:
Chris Lilley
Produced by:
Chris Lilley, Laura Waters, Debbie Lee
By ED BARK
Far more prominent people than Chris Lilley have been lashed for using a still rampant, six-letter slur in place of "gay" or "homosexual."
The Los Angeles Lakers' Kobe Bryant aimed this particular f-bomb at an NBA ref last April. He then profusely apologized while being fined $100,000 by the league.
Comedian Joe Rogan, now hosting NBC's
Fear Factor
again, "retired" the word from his vocabulary after being ripped for using it on a writer he didn't like. His explanation: "When I call someone a (. . .) it has nothing to do with their sexual preference, but try convincing some offended gay person (of) that. In this ultra-sensitive world we live in that word is just too much of a liability, so I'm going to retire it from my vernacular."
Australian actor/comedian Chris Lilley isn't about to stop, though. His latest series, the otherwise inventive
Angry Boys
, is marked and marred by continual use of the word during its two-episode premiere New Year's night on HBO. Lilley, 37, voices the slur via an unsteady, unrepentant 17-year-old named Daniel Sims, one of six characters he plays in the 12-episode series. HBO earlier carried Lilley's 2008 series,
Summer Heights High
, in which Lilley played the three lead roles.
Lauded in Lilley's homeland,
Angry Boys
is "bold, aggressive and unafraid to trample on some very shaky ground," in the view of the
Sydney Morning Herald
. Lilley is an "outrageous comic genius," enthused the
Australian Telegraph
, crediting him with "pushing the boundaries of political correctness to the breaking point."
This particular "breaking point" serves no useful purpose. That is, unless Lilley really wants the impressionable younger viewers of
Angry Boys
to join him in giggly new rounds of gay-baiting.
The Daniel character, twin brother of the mostly deaf and somewhat "retarded" Nathan, is also a frequent dispenser of the derogatory insult "nob" (slang for penis). Why not just use it throughout? Would
Angry Boys
be bereft of derring-do without any use at all of that lightning rod f-word? Of course not.
Lilley otherwise has a fertile imagination and the wherewithal to bring it to life. His fictional town of Dunt, South Australia is home to the Sims twins, who live on a rag-tag family farm with their younger siblings and a patient but oft-flustered mom who lately has a new man in her life. Dad died in a car crash when the twins were 11. Daniel still longs for him, and thereby despises the new guy.
Grandma Ruth Sims, who lives elsewhere Down Under, is known as "Gran" to the teen inmates under her thumb at the Sydney Garingal Juvenile Justice Center. She's a benevolent dictator who makes superhero jammies for the kids and dotes on her collection of guinea pig pets while also playing a sometimes mean-spirited game of "Gotcha."
Lilley likewise plays Gran, a funny and oddly endearing character who easily merits a series of her own. "They might be the worst boys in the state, but they're still boys," she says near the end of Sunday's Episode 1. And there's not a trace of ridicule or condescension in her voice.
Episode 2 introduces another Lilley character, the egocentric black L.A. rapper known as S.Mouse. His connection to the Sims twins is a renegade youtube video in which S.Mouse rebels against his clean-cut image -- and a hit record titled "Slap My Elbow" -- by fully immersing himself in a sea of contractually prohibited expletives. S.Mouse's climactic defecation on a police car hood in his "Poo on You" manifesto is imitated back in Australia by the dense Nathan. Neither deed goes entirely unpunished.
In upcoming half-hours, Lilley also will be playing Jen Okazaki, Japanese mother of an aspiring skate boarding champ, and former surfer stud Blake Oakfield from fake Narmucca Bay, New South Wales.
Sunday's back-to-back episodes are better than any of this may sound in print. Lilley's humor obviously is an acquired taste. And as detailed earlier, some of it is in excusably bad taste. It's tempting to say that he still needs to find his voice and grow beyond his formative years. But at age 37, Lilley already is nearing middle age while still playing characters half his age -- in addition to the 65-year-old Gran.
Angry Boys
showcases his considerable talents in the notably imperfect world he's created. A little restraint -- of the admirable sort -- wouldn't harm his "artistic integrity" in the least. On the contrary, he'd be a better man for it.
GRADE:
B