Svetlana gives HDNet a singular and single-minded woman of the night
06/08/11 12:31 PM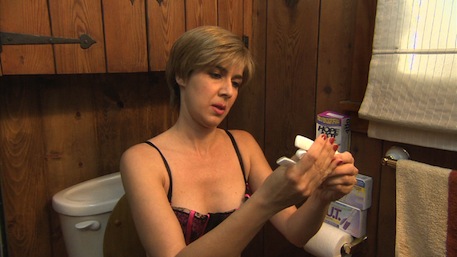 Iris Bahr stars in the whore-ific comedy series Svetlana. HDNet photo
By ED BARK
A Russian whore with a dirty mouth continues to give Mark Cuban his money's worth while the Dallas Mavericks wage their ongoing war of attrition in the NBA Finals against the Miami Heat.
Svetlana
, midway through its second season on Cuban's HDNet, has emerged as the network's signature unscripted comedy series. It can be wildly uneven but is frequently as funny or funnier than many of its peers on broadcast or cable. That's all due to
Iris Bahr
, a one-woman dynamo who plays the title role while also producing, directing and writing each episode. Catering apparently is left to someone else, assuming it's in the budget.
Born and raised in the Bronx, Bahr has been around, but not so much that you'd know it. She's had a small, recurring role on Larry David's
Curb Your Enthusiasm
as an Orthodox Jewish woman named Rachel Heinemann while also dropping in as a guest star on episodes of
Friends, Commander In Chief
and
The Big Bang Theory
.
But
Svetlana
is her David-ian
tour de force
, with Bahr exaggeratedly playing a former mail-order bride who got hitched in Minnesota before ditching hubby and relocating to Los Angeles to open a brothel dubbed the St. Petersburg House of Discreet Pleasure.
As Svetlana Maksimovoskaya, Bahr pronounces her H's as though she's clearing her throat. She's easily upset, exceedingly vain and regularly profane. But in her own way, she also nurtures daughter Marina (Angela Gots) and bosomy Natasha (Irina Voronina), both of whom join her in turning tricks. There's also Svetlana's layabout latter day spouse, Vlad (Alex Veadov), who's long of hair but short on ambition.
The half-hour series airs
Wednesdays at 7 p.m. central
on HDNet, with the June 8th episode (seventh of 12) subtitled "Milking It." Natasha decides she wants to have a baby, but Svetlana is averse to having her on the shelf for that long. So they agree to adopt a kid, paging through an adoption agency booklet that in Svetlana's approving words has "a nice assortment. Really all colors and sizes."
But the new adoptee instead shows up in the form of an adult man who at first greatly enjoys breast-feeding and watching Natasha at work, but isn't at all fond of his diaper changes.
It's all basically preposterous, although perhaps not all that much more so than some of
Curb
's fuller blown flights of fancy. Bahr has a knack for making these things work, at least in fits and spurts. And she's certainly willing to make fair game of herself, whether battling her homemade implant leaks in an earlier "Corkage Fee" episode or going on a crash diet after a corpulent client called the "Commander" tells her, "You let yourself go when I was away. It's like your way of saying, 'I don't care about the American troops.' "
Bahr isn't unduly concerned -- if concerned at all -- about political correctness. In the previously aired "Me Love You Decent Amount of Time" episode, she faced down a threat from a copycat whorehouse run by an Asian madame. They ended up dueling with rubber penises.
Svetlana
isn't good enough yet to be unabashedly recommended as a half-hour of largely undiscovered comedy gold. But it's making progress, with Bahr fashioning a central character who's brassy, sassy and sexy, even when daughter Marina tells her, "Mom, you look like Peter Pan" after her implants are removed without any substitutes added.
Bahr throughly runs the show, and there's no equivalent anywhere else of a woman doing all of the on- and off-camera heavy lifting. So bravo for that, and here's hoping that
Svetlana
will see a new and further improved Season 3 with Cuban's HDNet as its continued benefactor and beneficiary.
GRADE:
B