Idol: Do you smell what the Cook's rockin'?
05/22/08 06:18 AM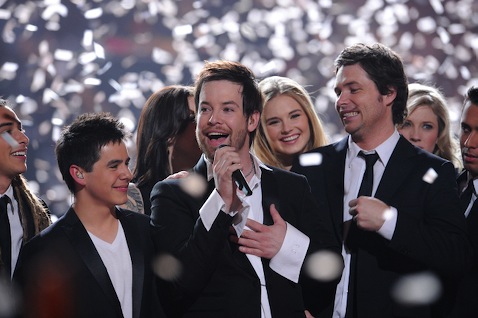 Beam him up: David Cook becomes 7th Idol. Fox photos
By ED BARK
Simon Cowell must have known something. Otherwise it's not like him to suck up.
"I think I was verging on disrespect for you, and I don't think you deserved that," he said in apologizing to David Cook seconds before host Ryan Seacrest anointed him the seventh winner of
American Idol
Wednesday night.
Cowell had all but crowned eventual runnerup David Archuleta after Tuesday's sing-off. Bowing to that night's heavyweight boxing motif, he declared Archuleta's three performances a clear "knockout" over Cook's.
But the 25-year-old rocker from Blue Springs, MO won in a comparative blowout, amassing 56 percent of the record 97.5 million viewer votes, according to Fox.
"Good God," he said after composing himself. His mother and brother, Andrew, with whom he "tagged along" to an
Idol
audition, briefly joined him onstage.
"This is all your fault," he jokingly told Andrew, who failed to make the cut while David got the show's coveted gold ticket to Hollywood.
Cook then performed "Time of My Life," the reliably syrupy new closer that emerged from
Idol
's season-long songwriting contest.
The two-hour extravaganza reunited the show's top 12 finalists and included appearances by ZZ Top (with whom Cook performed "Sharp-Dressed Man"), Donna Summer, Seal, Bryan Adams, Graham Nash, One Republic, Mike Myers (in costume to crassly promote his new film
The Love Guru
), Jimmy Kimmel, previous
Idol
champs Carrie Underwood and Jordin Sparks, and most notably, George Michael.
In an amusing but overlong taped spoof, Ben Stiller, Jack Black and Robert Downey Jr. played would-be Pips singing backup for Gladys Knight. And both Cook and Archuleta already have a commercial under their belts, doing sendups of Tom Cruise in
Risky Business
on behalf of the Guitar Hero music video game.
Michael had a show-stopper near show's end with his superb performance of "Praying For Time." It takes less than little to move judge Paul Abdul to tears, but this time they were well-founded. Michael has a lot of history to say the least. But now he's seemingly back on track with his first tour in 17 years and recurring appearances on the ABC fantasy drama
Eli Stone
.
Grand champ Cook earlier got to sizzle with old goats of ZZ Top.
Rockwall's Jason Castro, the sleepy-eyed, dread-locked fourth place finisher, got relatively short shrift. His early solo of Leonard Cohen's "Hallelujah," which he also performed to good effect during
Idol'
's competition rounds, seemed liked a sop to someone who lasted longer than the show's producers would have preferred.
In contrast, fifth-place finisher Brooke White landed a duet with Nash while third-placer Syesha Mercado got to sing with both Seal and Summer. Earlier evictees Michael Johns and Carly Smithson (voted off before their times had come, said Seacrest), were showcased together on "The Letter."
Underwood, named female vocalist of the year at the Academy of Country Music awards Sunday night, has become
Idol
's ruling class after deposing inaugural champ Kelly Clarkson. She returned in a short-skirted, low-cut, white-caped eyecatcher to sing the hard-drivin' "Last Name."
Also in a cape was rejected auditioner Renaldo Lapuz, this season's William Hung. His oddly hypnotic rendition of "I Am Your Brother, Your Best Friend Forever" was accompanied by Southern Cal's Trojan marching band and a gaggle of cheerleaders.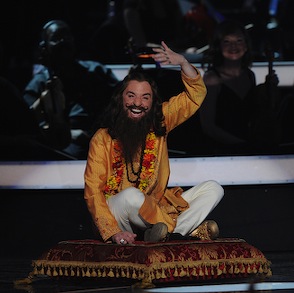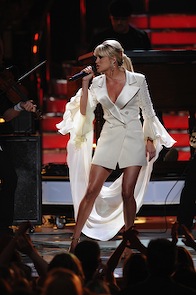 Crass and class: Mike Myers and country queen Carrie Underwood.
Post-finale, Fox4 devoted the entire first half-hour of its 9 p.m. local newscast to
Idol
chatter and highlights.
Co-anchor Steve Eagar laid out, except to say of Lapuz, "He speaks for America." That left desk partner Heather ("The whole show was just great") Hays to chat it up with Season 4
Idol
contestant Celena Rae, who humbly said of Cook's victory, "I saw this coming 12 weeks ago."
Even so, Mercado's her girl.
"If you're askin' me," said Rae, "this girl should have won
American Idol
. This girl is going to be crazy successful."
For inexplicable reasons, Hays also had a brief phone chat with the highly excitable "Stylin' " Steve Kemble, who worked himself into a near-orgiastic frenzy over what he'd just seen. Let's just say he lost the Bubba crowd big-time.
Eagar stepped in to mostly tote the second half of the 9 p.m. newscast, which oddly enough had some news. In the closing "Viewers' Voice" segment, a caller complained about the station devoting the first half-hour to
Idol
.
In this particular case the customer's always right.